Gasquet leads France to Hopman Cup win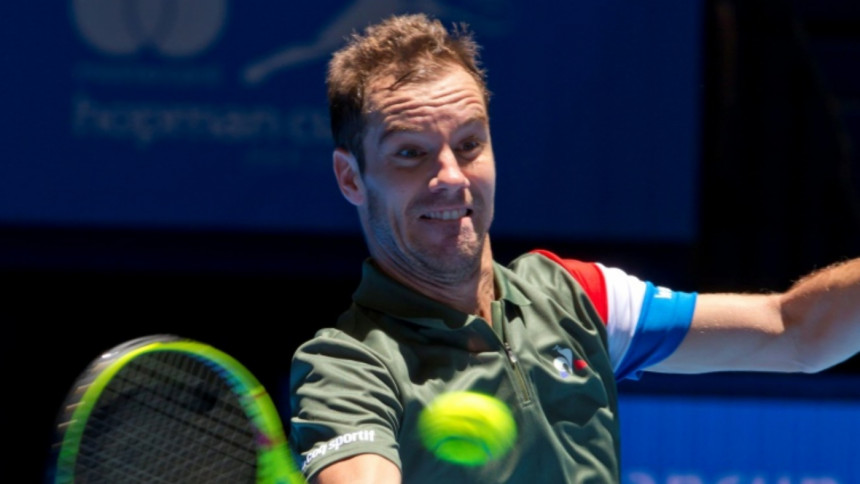 Cagey veteran Richard Gasquet led France to a 2-1 win over Germany at the mixed teams Hopman Cup in Perth on Monday.
Gasquet beat rising star Alexander Zverev in their men's singles match and then teamed with Kristina Mladenovic to win the deciding mixed doubles rubber.
Although Gasquet, 30, is ranked six places above the teenage Zverev, the German last year became the youngest player to break into the top 20 since Novak Djokovic in 2006.
Zverev's power was on display early as he unleashed a string of winners off both wings and was rewarded with the first break of serve in the seventh game.
Gasquet immediately broke back to level at 4-4, withstood break points in the ninth game and clinched the set with another break in the 12th game.
He needed just one break of serve in the second set, in the sixth game, to see off the challenge of a frustrated Zverev 7-5, 6-3 in 86 minutes.
Gasquet then teamed with Mladenovic for a comprehensive 4-2, 4-1 win over Zverev and Petkovic in the mixed doubles under the quickfire Fast Four format.
Germany had earlier taken the lead when Andrea Petkovic benefited from an early arrival in Australia and an unorthodox preparation to put in a quality performance against Mladenovic, winning 6-2, 6-1.
"I normally spend Christmas with the family but I decided it was time to make a sacrifice," said Petkovic.
"I spent Christmas in Melbourne watching Seinfeld and eating burgers, but it has paid off."
Petkovic broke the Frenchwoman's serve five times in the match and said she was primed for a big start to the year.
"I was in full focus today and I have been working really hard," she said.