Kvitova out indefinitely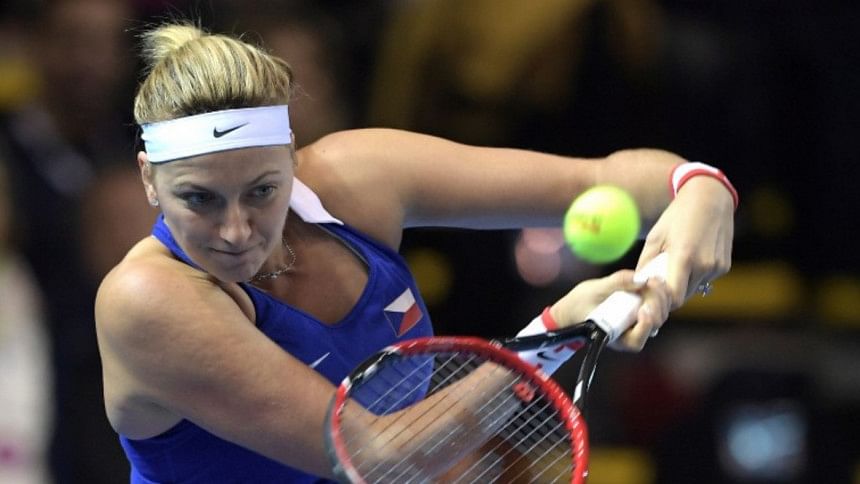 Two-time Wimbledon champion Petra Kvitova will need at least three months of rest after surgery to her left hand cut by a knife-wielding burglar on Tuesday, her spokesman said.
Kvitova suffered an injury on all five fingers and two nerves in her left hand, her racket hand, after fighting with the burglar at her home in the eastern Czech town of Prostejov.
Doctors "stitched the injured finger tendons" during the surgery that took three hours and 45 minutes, Kvitova's spokesman Karel Tejkal told AFP.
"The hand will now be bandaged for two days, then put in a splint for 6-8 weeks.
"She can't burden the tendons for at least three months.
"The injury is serious, but the surgeon says Petra is young and healthy and there is no reason why she can't resume tennis."
Earlier on Tuesday, Tejkal said the burglary was a random crime as "nobody was going to attack or rob her as Petra Kvitova".
The 26-year-old world number 11 said on Facebook she was shaken but "fortunate" to be alive.
"I was attacked in my apartment by an individual with a knife," said Kvitova, adding she tried to defend herself.
"I trust the doctors and I believe it will all end well. Don't worry about me."
Local police spokesman Frantisek Korinek said the attack had occurred before 0730 GMT on Tuesday near the Prostejov town centre and that the burglar was still at large.
Meanwhile, support poured in from fellow tennis stars.
"So upset hearing the news about @Petra_Kvitova. Hands down one of the nicest people I've ever met. All my thoughts with her," tweeted world number eight Madison Keys.
"Just finding out about @Petra_Kvitova and the awful stabbing and injury to her hand - pulling for you Petra," added Czech-born former great Martina Navratilova.
And Oracene Price, the mother of Serena and Venus Williams, tweeted: "@Petra_Kvitova I'm very sorry to hear what happen to you. I'm praying for your speedy recovery. Blessing to you and your family."
The burglary adds a sombre ending to a rather lacklustre year for Kvitova, who slid from sixth in the world in January to 16th in August.
She sacked two coaches before winning the Wuhan Open in China in October after a 13-month title drought.
She added a victory at Zhuhai, China in November and was on the Czech Republic team that won the Fed Cup later that month, beating France for their fifth title in six years.
On December 1, Kvitova hired a new coach, Czech Jiri Vanek, who had led her Fed Cup teammate Karolina Pliskova to this year's US Open final.
Bronze medallist from the Rio Olympics and Wimbledon champion in 2011 and 2014, Kvitova is also recovering from a stress fracture to her foot.
Just hours before the attack, she said the injury had forced her out of the mixed doubles Hopman Cup starting on January 1, where she was due to play alongside her former boyfriend Adam Pavlasek.
She said she hoped to start next year at Sydney on January 8 to warm up for the Australian Open -- a plan that she will have to drop following doctors' orders.