We have the same DNA as Real Madrid: Modric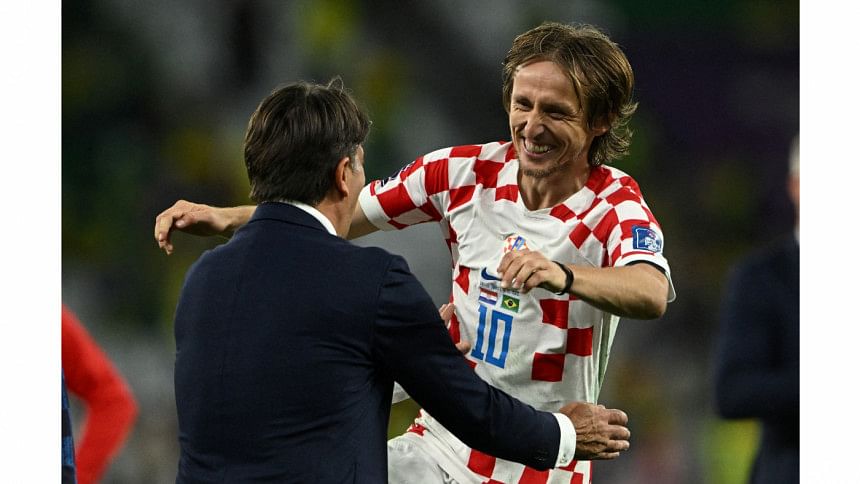 Real Madrid stalwart Luka Modric after yet another fine performance against Brazil in the quarter-final of FIFA World Cup 2022 in Qatar revealed that he sees glimpses of his club mentality in the Croatian side.
Mordic-led Croatia sent hot-favourites Brazil packing to cement successive semi-finals for Zlatko Dalic's side.
The 2018 Ballon d'Or winner will once again be the focal point in Croatia's much-accomplished midfield trio that includes Marcelo Brozovic and Mateo Kovacic as Croatia will take on two-time champions Argentina in the semi-final on Tuesday.
Croatia has shown tremendous resilience and expertise, particularly in midfield to manage the game and set things in motion for their team.
With a semi-final against Lionel Messi's Argentina beckoning, Croatia must rest and recover, because they will be required to give every ounce of sweat again. Dalic's side will however have fond memories of facing the Albiceleste as they handed the two-time winners a 3-0 drubbing in the group-stage of the 2018 World Cup. 
That resilience and determination is a key part of their game and would not be possible if players like Modric did not give their all, despite his status as a Ballon d'Or winner.
Such qualities have often taken Real Madrid to numerous triumphs in the recent past with the Los Blancos making remarkable turnarounds from bleak outlooks with only their grit and experience to take them through. Modric said that he has found those traits in his Croatian side.
"You could say we have the same DNA as Real Madrid because we always keep going until the end, and never give up", the 37-year-old told in an interview with EL Chiringuito, reported via La Sexta.
Croatia's midfield was able to help them keep the ball for an hour of the game, stopping the likes of Neymar, Vinicius Junior and Raphinha, racking up even more opportunities.
"I said several times that Croatia has the best midfield in the world," proud coach Zlatko Dalic told a press conference after Friday's game.
"We can pass the ball, control the game and control the ball, we did that today. Our midfielders were not hasty, that was the most important part.
"I believe the midfield is the best part of our team, they (kept) possession and blocked our opponents."
When they finished runners-up in 2018 it was with Ivan Rakitic on the side, but Kovacic has stepped into his shoes.
Inter Milan's Brozovic plays the deepest of the trio and never allowed Brazil to be comfortable, while Chelsea's Kovacic is highly mobile and always offering options.
However, it is Real Madrid midfielder Modric, 37, who earned special praise, both for his quality and his longevity.
Modric also stepped up in the shootout, sending Brazil goalkeeper Alisson Becker the wrong way with a coolly-taken spot-kick.
"Again Luka led for 120 mins (at) a great rhythm and took the penalty when he needed to," said Dalic.
"It's unbelievable how he plays. He is not tired, he didn't fall behind, and he played the whole 120 minutes.
"At 37 years of age it is unbelievable but that is Luka Modric and it shows he is one of the best players in the world."