Rio Olympics: Drouin joins Canadian greats with high jump gold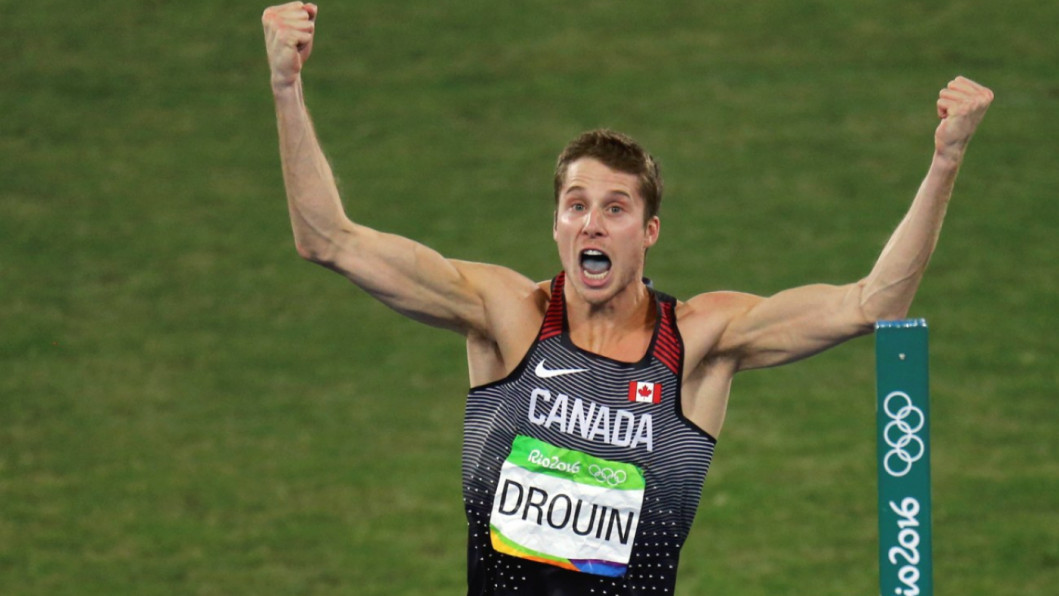 Canada's Derek Drouin beat a quality field to add the Olympic high jump crown to his world title after a cliff-hanger of a final in Rio.
Drouin cleared 2.38 metres in Tuesday's competition, edging Qatari Mutaz Barshim into the silver medal spot to become Canada's first Olympic high jump champion since 1932.
Barshim, the world indoor silver medallist, took silver after posting a height of 2.36 while Ukraine's Bohdan Bondarenko, who was runner-up to Drouin at last year's world championships, took bronze with 2.33m.
"There was obviously some pressure but I'm very proud of the way I jumped," Drouin told reporters.
"I didn't feel anxious at all. I certainly was calm and I was hungry to come out here and win gold.
"I'm sure people are going pretty crazy back home," added the 26-year-old, who won bronze in London four years ago.
"Four years ago I was very, very relieved but I didn't think it was my best day. Now I thrive in situations like this and I would have been disappointed with anything less than gold."
The last Canadian to capture gold in the men's high jump was Duncan McNaughton, whose medal was subsequently stolen from his car and American Bob Van Osdel, who finished second and was a dentist, made a replica to replace it using a cast of his silver medal.
"I didn't realise that," smiled Drouin, confessing he was not completely up to speed on Canadian Olympic history.
"Canada has a pretty strong history in track and field so it's been awesome to try and find my place in history."
Drouin blushed slightly when asked if he thought he deserved to be mentioned alongside the likes of sprinter Donovan Bailey, the 100m gold medallist at the 1996 Olympics, or speed skater and two-time gold medal winner Catriona Le May.
"When you grow up idolising people like that it's really, really difficult to see yourself as one of them," he said.
"I don't know if I could ever consider myself in that company. It's going to take a little while to sink in."