'100m is always the hardest one for me'
After having completed an unprecedented treble of 100m sprint titles on Sunday night, Usain Bolt entertained questions from the media. The 20-minute press conference, where silver medallist Justin Gatlin and bronze medallist Andre de Grasse were also present, was mostly about Bolt, his achievement, his relationship with Gatlin and his future goals. Here are some of the excerpts from that press conference.
On the race
The start wasn't as good as I wanted but after the semis, I was a lot more confident. I knew I got a bad start but I told myself, 'Don't panic, take your time'. I knew (Justin) Gatlin was going to have a good start but I told myself to take my time and chip away the lead.
On winning his fifth individual Olympic sprint gold medal
This is very important. I never knew how nervous I was until I started competing. I could tell that in my mind it was very important so I had to get it done. For me it is big because to do this three times... no one has ever done it before or even attempted it.
On his achievement
Somebody said I can become immortal. Two more medals to go and I can sign off. Immortal.
On his bid for three gold medals in Rio
It's a good start. There will always be doubters. But I'm in better shape than last season.
On his rivalry with Gatlin
He is a great athlete without a doubt. He always pushes me to run fast. He makes you be at your best at all times.
On the booing of Gatlin
That's the first time I've gone into a stadium and they've started to boo (Gatlin). It surprised me.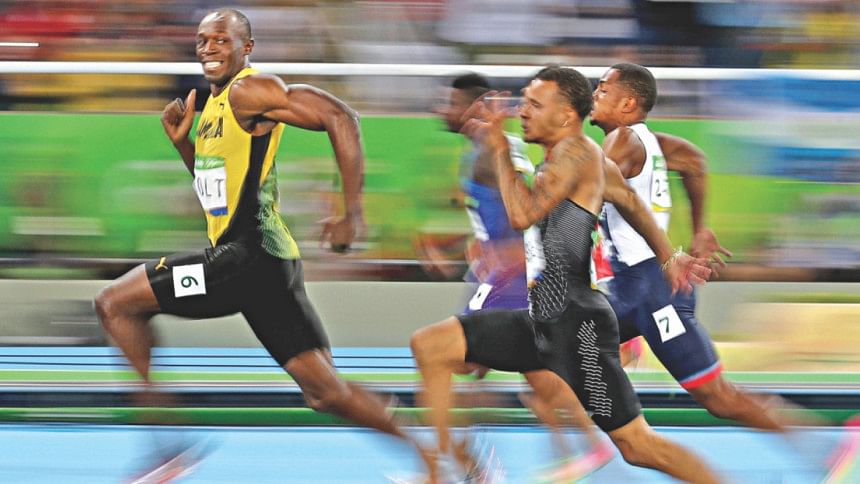 On how he feels after his first race
I'm feeling good. I'm happy. As I said, I've got the first one out of the way so I'm happy about that. So now it's all about execution and getting it right when it comes to the finals.
It's definitely going to be a good semifinals. There are a lot of guys running fast. So there's going to be some stacked semifinals. It's good. It gets you running and gets you up to speed to go out there in the finals.
On the schedule in which the semifinals started at 21:00 and the final at 22:25
It was very hard to run fast because the turnaround time was really, really, really short. It was ridiculous as far as I am concerned because I felt so good in the semifinals.
That is why the race is slow. There is no way you can run and go back around and run fast times again. It was hard for us.
On a potential showdown with 400m world record holder Wayde Van Niekerk
He can't beat me over 200m. I am not worried about that but I am really proud of him because when he came to Jamaica I said to him, 'Listen, you are the only person that I think can break this 400m world record'. He keeps on going, so for me I wasn't really surprised that he got it tonight. He looked in good shape.
On turning his gaze towards the 200m
I am always confident about the 200; the 100m is always the hardest one for me.
On a recurring dream he has where he is being chased
Hopefully the dream will stop. It is always that same dream every now and then, but it is a good dream because they never catch me.