NBA stars open gold chase against China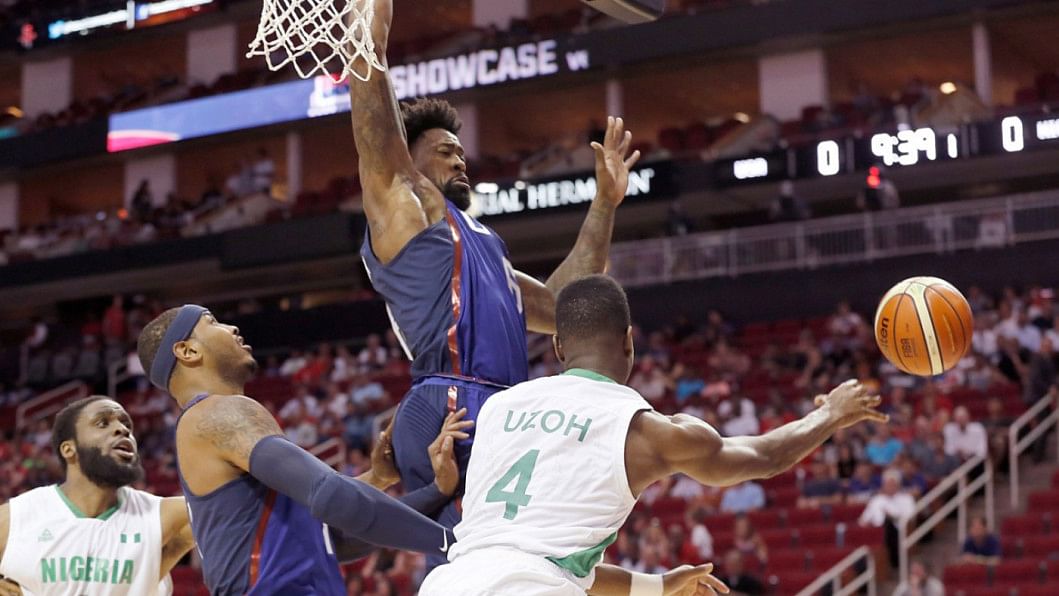 It would be easy for the US team of NBA stars to overlook China in Saturday's opening game of the Rio Olympics after routing the Asians twice in pre-Games exhibitions.
But the Americans, who have not lost in 10 years, look at such games as a chance to grow and build, first and foremost by not taking anyone for granted in their path to a third consecutive Olympic crown.
"Every team is a threat," US guard Kyrie Irving said. "We understand it's going to be a fight every single day and I'm looking forward to it."
The US squad ripped China 106-57 at Los Angeles and 107-57 in Oakland in warm-up games just after the squad was selected.
How well they do in their Group A match against China will tell how far they have come.
"These games are very important," Irving said.
"Every single game is a chance for us to get better. We have to find out lineups. We have to find out just what rhythm we want as a team. And, going in, what we want to expect from one another. In order to do that, we have to play high level games and against other great countries."
And the Chinese squad as NBA experience in Yi Jianlian as well as experience on how to play the Americans already.
"They are physical. They play hard," said US center DeAndre Jordan.
"We know Yi Jianlian, who was playing in the league for a while. And I really like Zhou Qi, the young kid the (Houston) Rockets are drafting. Both of the point guards are really aggressive. They will definitely be a tough opponent. We can't take those guys lightly. We have got to come out and play USA basketball."
Other Group A men's games include Serbia against Venezuela and Australia, with six NBA players, against host Brazil.
The US NBA squad has an 80-1 record under coach Mike Krzyzewski, the 69-year-old veteran from Duke University who finishes as coach after the Rio Games.
"I've learned from my players. I've learned from the international community. I've learned about the beauty of international play," Krzyzewski said.
"Over the last 11 years I've gotten better as a result of being given the honour of coaching, so it has been a beautiful thing for me."
Between fatigue after a long NBA season and health concerns after talks with family, many top NBA players said no to Rio, including LeBron James, Stephen Curry and James Harden.
But former NBA Most Valuable Player Kevin Durant, who left Oklahoma City to join Golden State last month, doesn't see this team as any less formidable because it lacks a few familiar stars.
"It would be challenging even if they were here, but we have some great players here," Durant said.
"Just because they haven't been here before, or might not be MVPs, we've got some damn good players on this team.
"It doesn't matter what anybody says, I got nothing but confidence in everybody here, and I feel as though we have a great chance to do something special."
And Irving, who teamed with James to mount the greatest comeback in NBA Finals history and bring the Cleveland Cavaliers the title, has "King James" just a phone call away.
"I'm talking to him almost every single day while he's somewhere doing some vacation stuff while I'm over here," Irving said.