Ironman Arafat urges for proper structure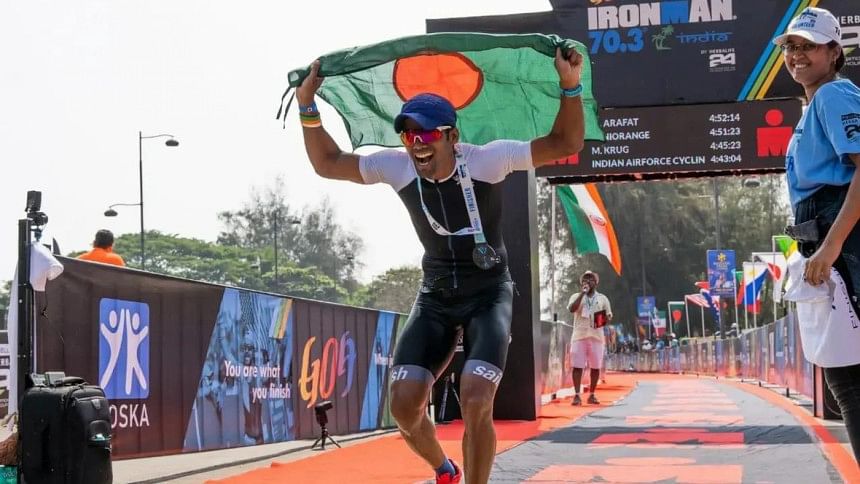 In a nation that lives and breathes cricket, it is ever so difficult for other sports to stand out and make its own position in the country's sporting culture. Another factor is the mindset of the sports industry as the focus given to the non-cricket genres of sports and its athletes is predominantly dependent on success.
Such a genre is the Ironman competition -- series of long-distance triathlon races organised by the World Triathlon Corporation (WTC), consisting of a 3.86 km swim, a 180.25 km bicycle ride and a marathon 42.20 km run, completed in that order.
However, with the achievements of Mohammad Shamsuzzaman Arafat, Mishu Biswas, and Abdullah Al Imran at the Ironman Championships, the endurance sports sector is making small yet assured strides in Bangladesh's sporting landscape.
In the Ironman Malaysia in November 2021, Arafat, who works at the Bangladesh Bank, exceeded expectations by leaps and bounds as he finished second in his age-group and 11th overall, while policeman Mishu was placed 11th in his age-group and 151st overall.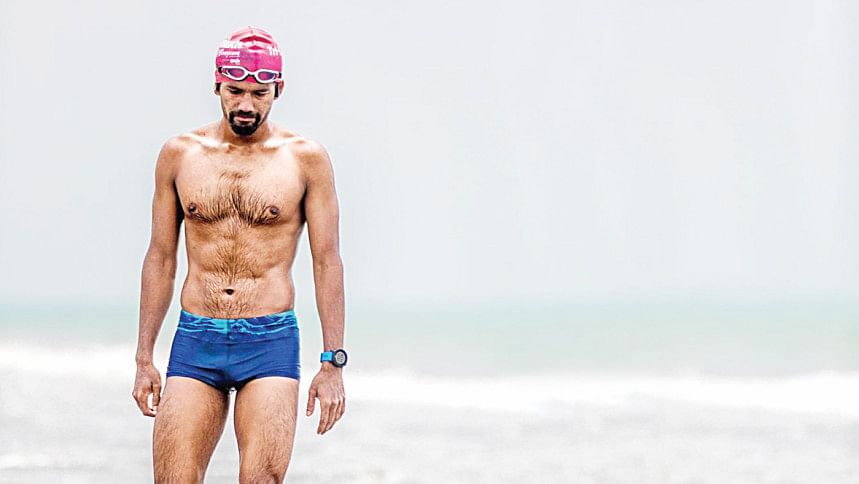 And Imran, who completed two Ironman races in 2018 and 2019, opted to test his passion for swimming in the Oceanman Asian Championships in Thailand last year. There, contestants had to swim 10 kilometres in open water. In his age-group, Imran stood 13th with an overall rank of 34th, a performance that saw him qualify for the 2024 Oceanman World Championships in Thailand.
For many in Bangladesh, the triathlon is a memory of a multi-faceted sport broadcasted on an American TV channel, but these three individuals are putting Bangladesh on the map with promising results. Moreover, they are inspiring the next generation to take up the global sport.
The Daily Star's Shabab Chowdhury caught up with Mohammad Shamsuzzaman Arafat to know how they pursue the challenges of competing in global sporting events while having a regular job.
The Daily Star (DS): You have produced the most promising results by any Bangladeshi in Ironman competitions so far and you have been doing this for years now. What's next?
Mohammad Shamsuzzaman Arafat (MSA): I have gained a lot of self-belief after coming second in my age group, and 11th overall, in Ironman Malaysia. That result was even beyond my expectation. It gave me confidence and helped me believe more in my abilities. I want to build a sporting habit and a sporting culture in Bangladesh. We don't have any achievements in the Olympics and that bothers me. I trained with an American team a few days back where there were a few Olympians. There were children between the ages of 10-12 as well and the surprising thing was that they were there willingly, not because they had any sort of obligation to their parents or schools.
DS: How can competitions like Ironman Championships get the spotlight in a sporting culture dominated by mainstream sports like cricket and football?
MSA: It [Ironaman competitions] is still a long way from being a mainstream sport in our country, but we are trying. We see a lot of enthusiasts reach us on social media platforms. They seek advice and guidance and I try as much as possible with my limited resources to help them but I can only do so much as I am a government employee. Hence, it is not possible for me alone to build an institution and give structure to this particular discipline in Bangladesh but I have those aspirations.
About a month ago, I had discussions with the Ministry of Youth and Sports regarding the matter. I submitted an application to the National Sports Council stating the need for a federation to aid us with training facilities that can help us prepare and participate in global events, primarily the Olympics. I am still waiting for their reply.
DS: How much has the sport been picked up by up-and-coming athletes?
MSA: The next generation will get more into it, surely. It is an expensive sport which is why you may see that most of the participants are full-time job-holders who almost entirely have to fund this journey by themselves. The bright side is that gradually we are seeing an increase in participation as more people are starting to know about Ironman competitions or just the running, swimming, and cycling community in general. Just, for example, we had only eight swimmers when we crossed the Bangla Channel in 2015 while we had 80 participants last year.