'Smalley is irreplaceable, Choton not'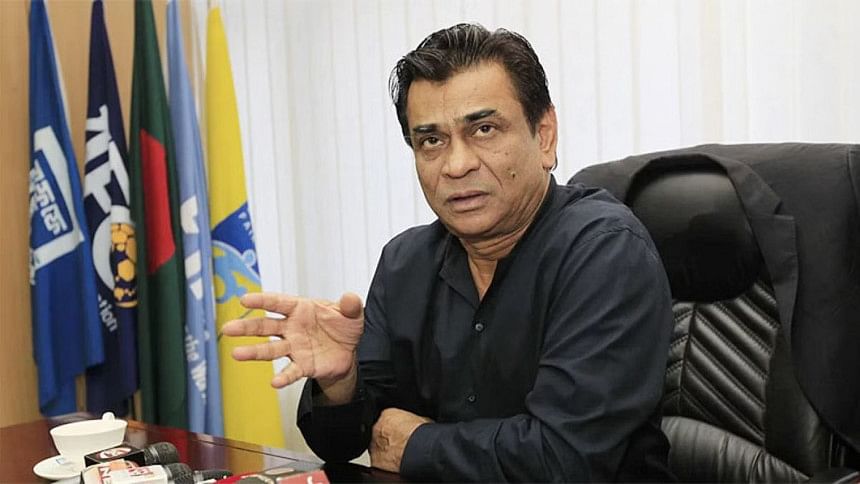 Kazi Salahuddin, the Bangladesh Football Federation (BFF) president, claimed that the success in women's football is largely due to the effort of technical director Paul Smalley. He also said that while Golam Rabbani Choton's sudden departure is a setback, the long-serving head coach is not irreplaceable.
The BFF president said the above while reacting to a report published on The Daily Star's May 28 issue, titled 'Wheels finally fall off', retorting that "wheels are not falling off at all".
"I phoned Choton today and he said he wouldn't reconsider his position," Salahuddin said yesterday. "Choton could have talked to me if he had any issues. I think he chose the time, when the BFF is under pressure, to malign me and my organisation."
"Choton is an honest and hardworking person. But he is not irreplaceable. Paul Smalley is irreplaceable. If Smalley leaves today, women's football will be finished.
"I'm not taking credit away from Choton and others, but success in women's football is due to Smalley's effort. He is the one who keeps pushing me for increasing facilities for the women footballers. If I put a local coach in his place or take him out of that position, I can bet women's football will not win a trophy in a year," the 69-year-old opined.
Smalley was appointed as technical director of the BFF in 2016 and barring one year when he was the manager of Brunei football team, the Englishman has been working with various aspects of Bangladesh football, with special emphasis on women's football teams.
According to a BFF spokesman, Smalley gets a monthly salary of 16,000 dollars post-tax, and has reportedly negotiated a hefty raise in recent weeks while in contract, with his current one running till August, 2024.
Asked whether Smalley gets a proportionately higher salary compared with BFF's other coaches, Salahuddin asserted, "Smalley more than deserves what he gets."
This development comes at a time when the women's team members have staged two protests at the camp in demand for raise in wages and improvement of overall facilities, without getting anything concrete except for assurance.
The senior team, since winning the SAFF Women's Championship title in September last year, have not played a competitive game while their Indian counterparts played five international friendlies since SAFF Championship till the Olympics qualifiers, from which the BFF pulled out the Bangladesh women's team citing financial shortcomings.
Moreover, Sabina Khatun and company had to let go off offers from the Indian league due to the lure of the proposed Women's Super League in Bangladesh which, however, remains far away from seeing light.
Despite having no qualms about raising Smalley's wages, Salahuddin said he is helpless in regards to the demands of the players, citing a lack of funds and lack of interest from sponsors.
Regarding Sirat Jahan Swapna's retirement and Akhi Khatun's intended departure from the camp, Salahuddin said he expected more players to leave, not due to financial reasons but for personal and societal issues.
"Akhi [Khatun] is going to China for personal reasons. There is, I'm sure, a personal reason behind Swapna's departure too," Salahuddin opined. "These girls are 22-23 years old. At this age, they may leave due to pressure of getting married. Others will come and fill their void."