Shock decisions rock women's football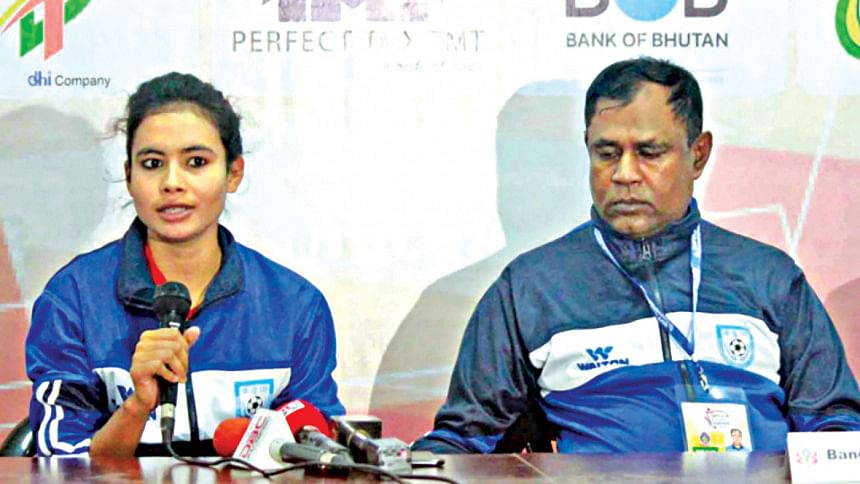 The Bangladesh women's football was rocked to its core yesterday after the departure of two of the most important members -- the team's successful coach Golam Rabbani Choton and prolific striker Sirat Jahan Swapna.
Choton expressed his desire to leave the national and age-group teams in the afternoon soon after Swapna had relayed that she was retiring from professional football through a social media post.
The announcements come at a time when Bangladesh football is already reeling from a number of scandals, including FIFA's suspension of BFF general secretary Abu Nayeem Shohag, a hullaballoo over the federation's decision not to send its women's team to the Olympic Qualifiers and BFF president Kazi Salahuddin's disrespectful remarks about journalists.
Although neither explicitly expressed the reasons behind their sudden decisions, it is believed that a lack of rewards and matches had led to the surprise decisions.
Choton, who led Bangladesh to the senior SAFF Championship title after leading the age-group teams to a number of trophies and remarkable results in South Asia and beyond, said he wanted to take a break.
"I have been working continuously for women's football for the past seven-eight years. I am tired. I want to take a break and give more time to my family," the successful coach told The Daily Star.
Choton also said he would relay his intention in writing at the end of this month to the BFF and that he might work in club football again soon, but will not return to BFF.
BFF women's wing chairman Mahfuza Akter Kiron said she was not informed about the coach's decision.
Choton's decision came right after Swapna announced her retirement through social media.
One of the national's team most reliable strikers, Swapna had played a major role in the senior team winning the SAFF Women's Championship title by scoring four goals in Nepal in September last year.
"I am retiring from professional football of my own accord. I have been fortunate enough to play professional football for about eight years. I got a lot of things after coming to football. Thanks and gratitude to Almighty Allah for everything. I have met many people through the game. So if knowingly or unknowingly I have hurt someone, take that with forgiveness. And everyone pray for me," Swapna's post on her personal Facebook account read.
If Swapna sticks to her decision, she would become the third footballer from the team that lifted the SAFF title to quit the game after Anuching Mogini and Sajeda Khatun.
It is believed that Swapna, who is now 22, took the decision due to frustration over not being able to play matches. The senior team have not played a single game since winning the SAFF title.
The BFF had said it would arrange international friendlies against Cambodia and Singapore, but failed to stay true to its words.
It has been learnt that Swapna had offers to play in the Indian Super League but could not accept that due to the proposed Bangladesh Women's Super League, the details of which are yet to be ironed out.
The striker could not be reached for a comment as she turned off her phone after giving the social media post.