Sanjida gets iPhone, others money they had lost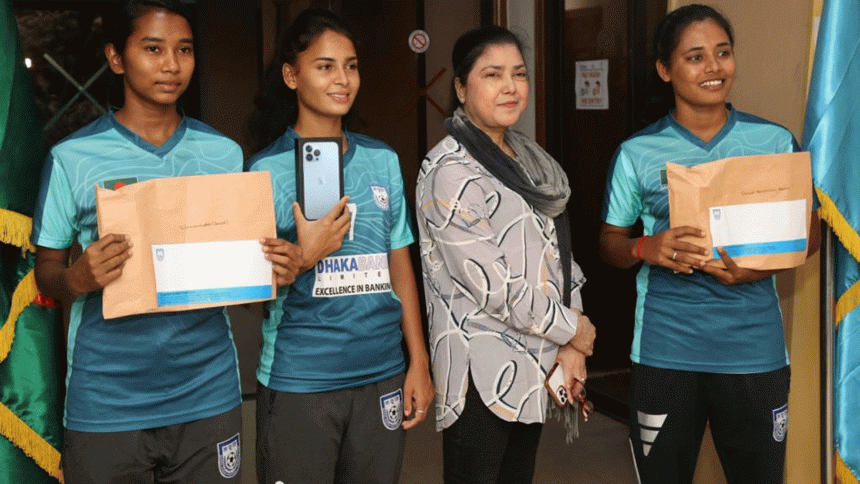 Bangladesh Football Federation on Saturday reimbursed money to the SAFF Women's Champion team members, some of whom had lost dollars and valuables following their arrival from Kathmandu on Thursday.
After receiving a grand reception on their arrival in Dhaka, in which the team was put on an open-top double-decker and paraded from the airport to the Bangladesh Football Federation (BFF) headquarters in Motijheel, Krishna Rani Sarkar, Shamsunnahar Sr and Sanjida Akhter discovered that their valuables have been stolen.
Their bags were found unlocked and the money missing. Krishna lost $900 and Shamsunnahar $400. Some of the money also belonged to Sanjida Akhter, who had saved up for buying an iPhone, it had been reported.
As it could not be found from where the money was lost, the BFF took it upon itself to reimburse the lost money to the players.
"The little girls lost their money. The ones who sit here have a responsibility towards these girls. Out of this responsibility, we gave them the money so that they stay happy," BFF president Kazi Salahuddin told the media following a meeting of the professional league committee on Saturday.
"The money has been given from personal fund of Mahfuza Akter Kiron, [BFF women's wing chairman and FIFA council member] not from BFF's fund or my own fund," the BFF boss added.
According to a BFF official, Krishna and Shamsunnahar Sr have been given much more than what they had lost while Sanjida got the phone she had saved up for.