FIFA WC trophy comes to Dhaka but will it 'strengthen our football'?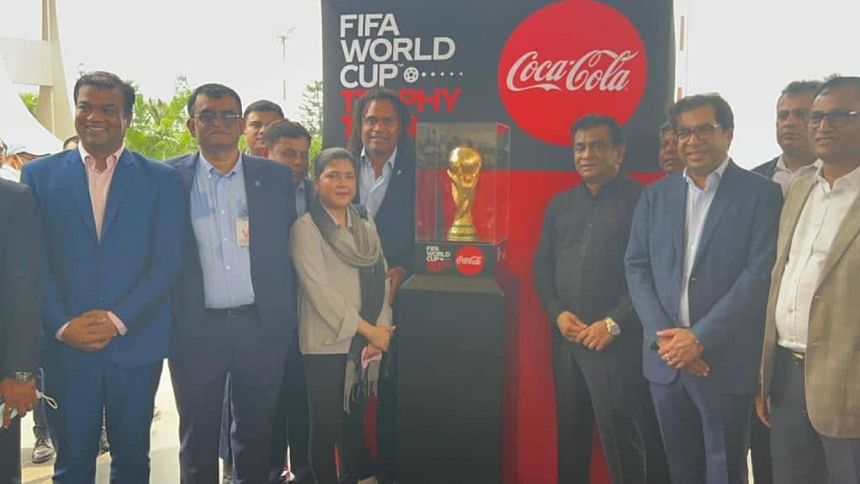 The Bangladesh Football Federation (BFF) president Kazi Salahuddin once promised to see Bangladesh qualify for the 2022 World Cup. The promise did not age well, so to speak. However, the BFF boss would now probably be pleased to have ensured that the World Cup trophy gets to visit the country again as part of its global tour.
The original trophy of the FIFA World Cup arrived in Dhaka earlier this morning for a 36-hour tour accompanied by a seven-member FIFA delegation including former French World Cup winner Christian Karembeu.
Back in 2012, Salahuddin had promised Bangladesh would make the cut at the 2022 World Cup, scheduled to get underway on November 21 in Qatar, as part of BFF's "Vision 2022". Since then, Bangladesh slipped further 20 places below in FIFA rankings and now find themselves in the 188th position. Asked if there is any new vision this time, Salahuddin remarked in quite a contrasting fashion compared to his 10-year younger self.
"No one can tell. It [World Cup qualification] only depends on the players. We can only keep trying [as organisers]," the BFF president told the media today.   
The World Cup trophy was taken to Radisson Blu Water Garden Hotel in Dhaka in presence of tight security. Afterwards, the trophy is scheduled for a visit at the President's official residence, Bangabhahan, in the afternoon before being taken to the Prime Minister's residence, Gono Bhaban, in the evening.
"The trophy will be displayed for all at the Bangladesh Army Stadium in Banani on Thursday afternoon. Some invited guests and winners of Coca Cola draws will get an opportunity to take pictures with the trophy," Abu Nayeem Shohag, general secretary of the BFF, informed the media yesterday.
"We believe the trophy tour will be the talk of town and strengthen our football."
The journey of the World Cup trophy has started from May 12 with the aim of spreading the message of peace. Earlier, the trophy came to Bangladesh for two days in December 2013.