Kohli wins ICC's Cricketer of the year award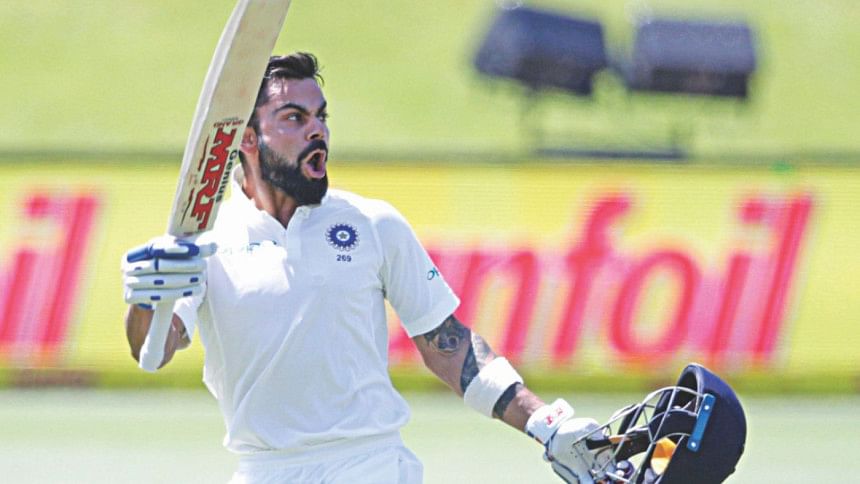 Indian cricket captain Virat Kohli has been named as the winner of the Sir Garfield Sobers Trophy at the 2017 ICC Awards for his exceptional performances across all formats, succeeding his teammate Ravichandran Ashwin.
29-year-old Kohli has been named as captain of the ICC Test and ODI Teams of which were announced today by the International Cricket Council.
In the qualification period from September 21, 2016 to the end of 2017, Kohli scored 2,203 Test runs at an average of 77.80 including eight centuries, 1,818 ODI runs at 82.63 including seven centuries, and 299 T20I runs at a strike rate of 153. He also captained his country with distinction, with India flying high at the top of the ICC Test rankings.
It was Kohli's second gong at the 2017 ICC Awards, with the 29-year-old also being named the ODI Player of the Year.
Reacting to the award, Kohli said "it means a lot to win to win the Sir Garfield Sobers Trophy for becoming the ICC Cricketer of the Year 2017 and also the ICC ODI Player of the Year,"
"I won that back in 2012 also but it's the first time winning the Garfield Sobers Trophy and it's a huge honour for me. It's probably the biggest of all in world cricket and two Indians getting it back-to-back makes it more special," he said.
The Indian skipper said "last time, it was Ash [Ravichandran Ashwin] and this time I'm getting it, so I'm really really honoured and I'd like to thank the ICC for recognising all the hard work that we all put in for our respective sides and I want to congratulate all the other winners also."
In July 2016, Kohli was yet to hit a Test double-century but since then he has hit six, taking his long format game to new heights. He has blended his superb stroke play with a determination to bat for long periods. Against Sri Lanka in November and December last year, he hit 213 and 243 in consecutive matches.
By hitting seven ODI centuries in the qualification period, Kohli took his career tally to 32, surpassing great names such as Ricky Ponting of Australia and Sri Lankan Sanath Jayasuriya and Kumara Sangakkara.
It is fitting that Kohli is awarded a trophy named in honour of the great West Indian all-rounder Sir Garfield Sobers. Ahead of Sobers' 80th birthday last year, Kohli paid tribute to the Barbadian with a special video message. "Your performances on the field will always remain iconic and you were one of the very few who have changed the way the game is played," Kohli had said.
Apart from his own stellar performances across both the formats during the period between September 21, 2016 and December 31, 2017, Kohli also inspired India to the number-one and two ranking positions in Tests and ODIs, respectively.
This is the first time Kohli has been selected in the ICC Test Team of the Year but the fourth time – after 2012, 2014 and 2016 – that he has been picked in the ICC ODI Team of the Year.
Kohli is also one of four players to feature in both the Test and ODI sides, with the other three being Australia's David Warner, Ben Stokes of England and South Africa's wicketkeeper-batsman Quinton de Kock.
Warner, Ashwin, Stokes and Australian Mitchell Starc were members of the ICC Test Team of 2016, while Warner, de Kock, Kohli, AB de Villiers, Starc and Rohit Sharma have been selected for the second year running in the ICC ODI Team of the Year.
For de Villiers, this is the seventh time in eight years that he has been chosen in the ICC ODI Team of the Year.
The Test side includes three South Africans (Dean Elgar, de Kock and Kagiso Rabada), three Australians (Warner, Steve Smith and Starc), three Indians (Kohli, Cheteshwar Pujara and Ravichandran Ashwin) and two Englishmen (James Anderson and Ben Stokes).
The ODI side comprises players from seven countries and is made up of one Afghanistan player (Rashid Khan), one Australian (Warner), one Englishman (Ben Stokes), three Indians (Kohli, Rohit Sharma and Jasprit Bumrah), one New Zealander (Trent Boult) two Pakistanis (Babar Azam and Hasan Ali) and two South Africans (AB de Villiers and de Kock).
ICC Men's Test Team of the Year 2017 (in batting order): 
Dean Elgar (South Africa)

David Warner (Australia)

Virat Kohli (captain) (India)

Steve Smith (Australia)

Cheteshwar Pujara (India)

Ben Stokes (England)

Quinton de Kock (wicket-keeper) (South Africa)

Ravichandran Ashwin (India)

Mitchell Starc (Australia)

Kagiso Rabada (South Africa)

James Anderson (England)
ICC Men's ODI Team of the Year 2017 (in batting order):
David Warner (Australia)

Rohit Sharma (India)

Virat Kohli (captain) (India)

Babar Azam (Pakistan)

AB de Villiers (South Africa)

Quinton de Kock (wicket-keeper) (South Africa)

Ben Stokes (England)

Trent Boult (New Zealand)

Hasan Ali (Pakistan)

Rashid Khan (Afghanistan)

Jasprit Bumrah (India)
(source: ICC media release)