The stroke that spoiled a golden knock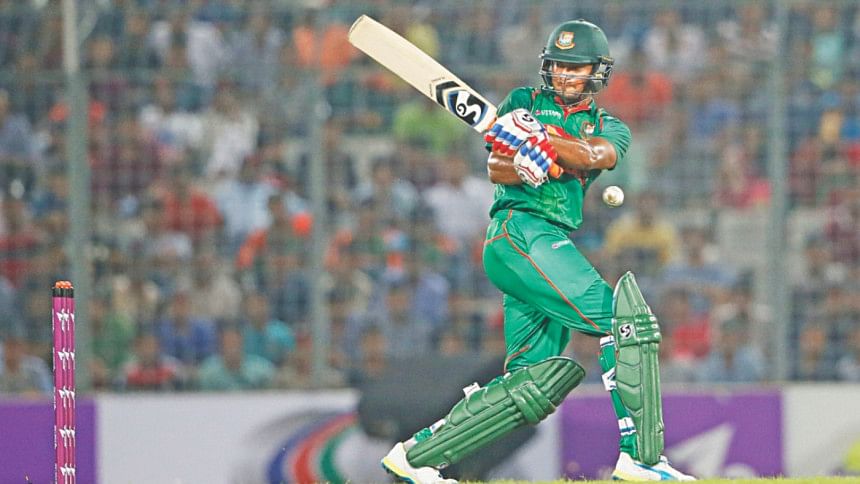 There are a few moments that will haunt you for a long long time. And Friday's painful 21-run defeat of Bangladesh by England is one those moments on a cricketing plain that fans in this part of the world would consider as a cruel betrayal from what could have been a desired conclusion. It's not the first time Bangladesh threw away a game from the grasp of victory. The defeat against India in the World T20 at the M Chinnaswamy Stadium in Bangalore is still fresh for that explosion of mind when the best of the Tigers failed to score just two runs off three deliveries.
It was not that close but the equation was almost the same at the Sher-e-Bangla National Stadium in Mirpur with Shakib Al Hasan in imperious form and a limping Imrul Kayes still building on his magnificent century. With six wickets still standing, Bangladesh needed another 39 runs off 51 balls to topple England's imposing total of 309. In the middle, the body language of the England Lions resembled the face of a defeated team. But what happened after that is inexplicable -- six wickets tumbled for just 17 runs courtesy of another collective explosion of minds.
It all started with Shakib, on 79, playing an attempted pull straight to the lap of the mid-wicket fielder. He could have easily played it along the carpet. But if we are not mistaken, his intention was to be spectacular like Mushfiqur Rahim and Mahmudullah Riyad against India.
True, it was a game where Bangladesh committed a lot of mistakes. They dropped four catches and Mushfiqur and Mahmudullah later threw their wickets away playing injudicious shots. But Shakib's dismissal was the defining moment of the game. Many may argue that there were still five more batsmen after the departure of Shakib, but the Bangladesh vice-captain knows better than anybody else how fragile the Tigers' tail is. Ask him privately and he might also bracket his inspirational captain Mashrafe Bin Mortaza into that uncertain lower-order.
The left-hander was sublime with his trusty bat. He was using his feet perfectly and picking the gaps immaculately. It was one of those days Shakib seemed in his prime. He is not only the champion all-rounder but also one of the better cricket brains that the country has ever produced. He is perhaps one of a kind in the Tigers' rank with the mental toughness to quickly put behind mistakes and start afresh the next day. He is also an outright professional in the team and someone who excels in the face of adversity.
And with all these ingredients in one, it was quite natural to expect Shakib to finish off the chase, something he had done with aplomb against Scotland in the 2015 World Cup. Ask Shakib and he will tell you: "If it's your day, it's your job to finish it."
Unfortunately, on Friday he erred in judgment. He was a bit disrespectful to the opposition and was forgetful of the fact that he had dished out enough punishment and it was about time to resort to an approach that would have made sure of a slow and painful demise for his prey. We can only hope and pray, sanity prevails over that self-destruct mode.