Steyn's India series in doubt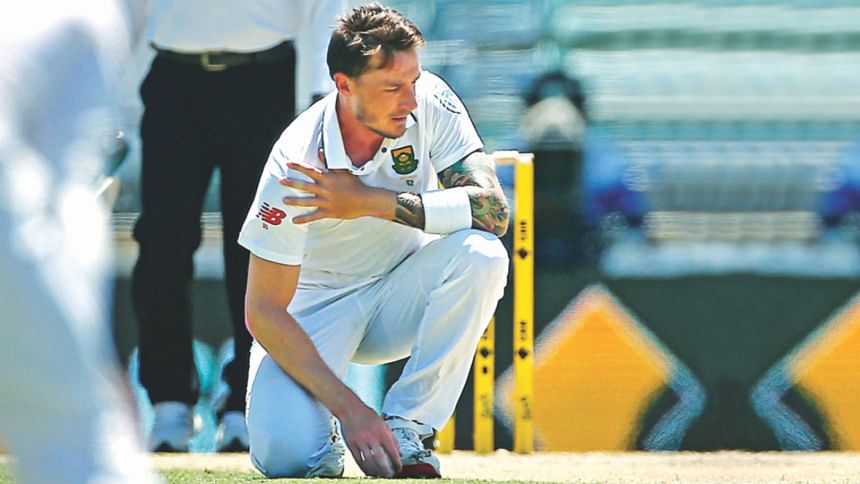 South African fast bowler Dale Steyn is likely to miss the rest of the Test series against India after what was described as a "freakish" injury on the second day of the first Test at Newlands on Saturday.
It was yet another injury setback for Steyn, who was playing his first match in more than a year after suffering a fractured shoulder in Australia in November 2016.
Team manager and doctor Mohammed Moosajee said what he described as a "freakish" injury was unrelated to bowling workload or being match ready after his long lay-off.
"He was in his delivery stride and landed awkwardly in the foot holes," said Moosajee. "This caused a significant strain to the foot, leading to tissue damage on the underside of the foot."
Moosajee said the type of issue usually needed a recovery period of four to six weeks, which would rule him out of the rest of the match as well as the two remaining Test matches.
Steyn had taken two wickets for 51 runs in the first innings, taking his career total of Test wickets to 419, two short of Shaun Pollock's all-time South African record.
Steyn, 34, has played in only six of South Africa's most recent 27 Test matches. He has broken down in four of them.
He suffered a groin injury in the first Test of a series in India in November 2016, then had a shoulder injury against England in December that year.
He played in two Tests against New Zealand in August 2016 before his more serious shoulder injury in Australia.