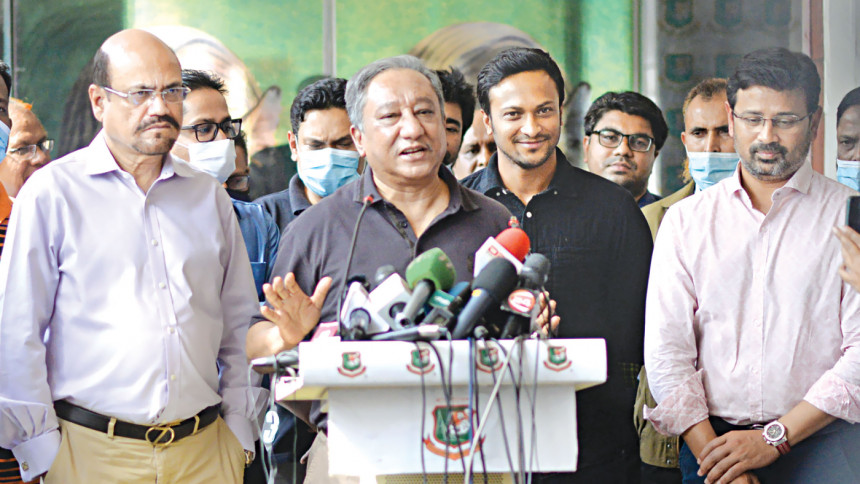 Bangladesh cricket set a unique example in regards to dealing with a player's mental health. When a player wants to skip an international commitment citing a mental health issue, it deserves utmost attention and the highest levels of sensitivity.
It is not unheard of for players to take breaks to focus on their mental well-being, especially during these times of added pressures compounded by Covid-19. Recently, England all-rounder Ben Stokes, Japanese tennis player Naomi Osaka and American gymnast Simone Biles were seen opting out of events to focus on their mental health and how carefully their cases were handled by the concerned authorities.
It is no small matter when a player brings up issues related to mental health and mental fatigue. But when it comes to the Bangladesh Cricket Board (BCB) and Shakib Al Hasan, there are reasons that may give people some pause.
On March 6, the premier all-rounder said that he was neither mentally nor physically prepared for the upcoming tour of South Africa.
On March 9, the BCB granted him a break from cricket till April 30 after Shakib had reconfirmed his unavailability due to mental health issues the same day. Ideally, the issue should have ended there.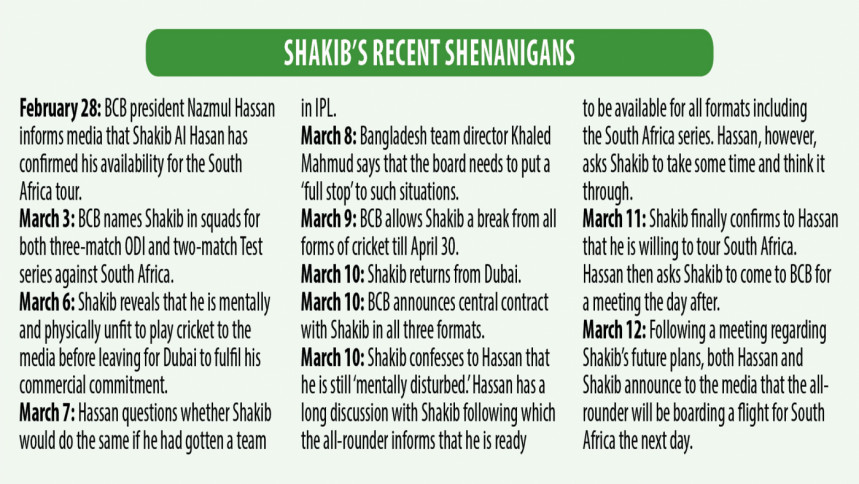 But that was far from the end. Instead, the two parties came together in front of the media at the Sher-e-Bangla National Stadium in Mirpur yesterday to reveal that the all-rounder was going to play the series in South Africa after all.
Thus, a 'mental health' issue had been solved. All that was needed was just one day for Shakib to change his mind and the BCB wasted no time making up their minds.
It seems that Shakib's trip to Dubai for a commercial commitment made some wonder about a possible reversal of his decision. In that case, what can a player do if the cynics find other reasons like the barring him from participate in the more lucrative -- in terms of financial package -- Dhaka Premier Division Cricket League.
It could be the case for any athlete that they may reverse a decision about their mental health reason in the quickest timespan. But you still cannot say anything about it when it comes to mental health issues.
However, there were some statements from both the BCB president and Shakib yesterday that cannot be overlooked.
"If he skips a match in this series, please accept it. He wants to play. That is the most important thing. If Shakib wants to stay out of the game in South Africa, if he wants some rest, he is allowed. It should end here. The board has no problem with any player. I want to make that clear," Hassan said.
On the other hand, Shakib said: "Now I'm in a better situation [mentally]. After going to South Africa, I may get better. That can happen. When you go to a better environment, you feel good."
So Shakib may act at will during a most demanding assignment for the Tigers to take care of his mental health. Is it not a unique initiative in the world of professional sports?
In the whole episode between the BCB and Shakib, the 'Bangladesh Team' seemingly became a simple spectator. Its team management and other players may understand that there is a 'reserve seat' for a very special player, but they may not understand what plan they should actually make: one with or without Shakib?