Tanzim's Misogynistic Posts: BCB parrots player's defence, says he is sorry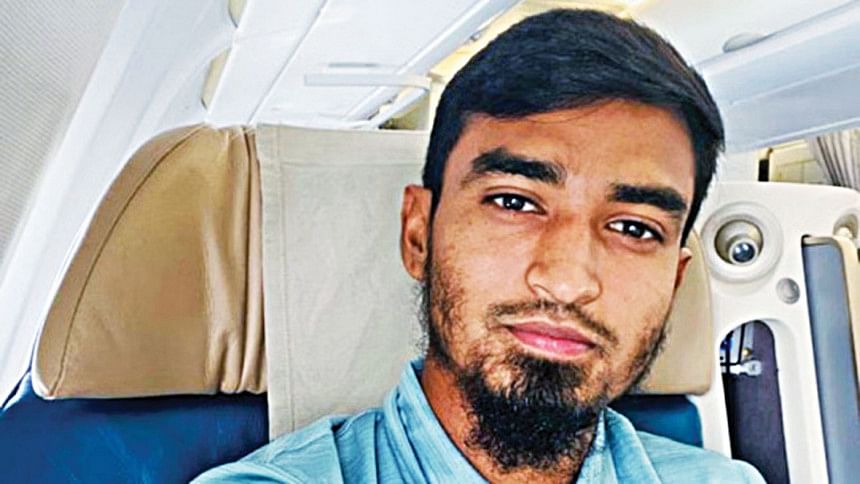 Four days after screenshots of Bangladesh pacer Tanzim Hasan Sakib's misogynistic social media posts went viral, Bangladesh Cricket Board faced the media yesterday, but could only offer what amounted to a mere apology on the player's behalf. 
As of late last night, Tanzim himself did not apologise directly for the posts that questioned the right to employment and freedom of at least half the country's population.  
Moreover, in the course of yesterday's press conference, BCB Cricket Operations Committee Chairman Jalal Yunus's words raised doubts about whether the sport's national governing body indeed understood the extent of the problem and damage Tanzim's posts caused.
"About the posts on women, he [Tanzim] said 'I take responsibility for this' … He said, 'My mother is a woman; I can never be a misogynist'."
Jalal was repeating what Tanzim had supposedly said during a "discussion" with BCB officials regarding the posts.
The cricket operations chairman said Tanzim told them he did not make the posts to hurt anyone, and that if his posts did hurt anyone, "he was sorry for that".
He also said they would monitor Tanzim's activities from now on, and that they had cautioned him. In that, there was a tacit admission that there was no monitoring of a young cricketer's activities on social media thus far – a cricketer who came under BCB's wing at a tender age.
In September 2022, Tanzim said in a post on Facebook that women being gainfully employed deprived their husbands and children of their rights, and brought ruin to family and society.
More recently, he said in a post that if one married a woman habituated to "free mixing" addas, he would be depriving his children of a modest mother.
These were the two posts that went viral after Tanzim, an Under-19 World Cup winner in 2019, bowled superbly on his ODI debut to help deliver a consolation win against India in the Asia Cup on Friday.
He has deleted both posts, but not before those garnered hundreds of comments expressing approval and support. A national cricketer may thus have influenced many others to follow a line of thinking that, according to the BCB, he has now apologised for.   
The BCB is a signatory to the International Cricket Council's anti-discrimination policy, in which the sport's global governing body says that all of its members should "not at any time offend, insult, humiliate, intimidate, threaten, disparage, vilify or unlawfully discriminate between persons based on their race, religion, culture, colour, descent, nationality, ethnic origin, sex, gender, sexual orientation, disability, marital status and/or maternity status".
The cricket board also has a code of conduct that contracted players must abide by. Although Tanzim is not yet on the list of those players, a BCB official, preferring anonymity, said a player comes under the code of conduct once he or she plays for the national cricket team.
This code of conduct includes instructions on how to conduct media interactions and what he can or cannot say publicly, according to the BCB official.
But the BCB apparently does not think his indiscretions warrant a public apology, nor any kind of official censure. Jalal said they would definitely take action if Tanzim did something like this again.
"He said he was sorry. He said he would refrain from making such posts in the future," Jalal said. "As he has admitted his mistake … he said a big thing -- he is not a misogynist. He said 'My mother is a woman; how can I be a misogynist?'"
Tanzim's surge to fame and national popularity apparently increased people's scrutiny of his activities, and the BCB moved to address it only after that scrutiny caused an uproar that refused to die down.
That they then chose, not once but twice, to parrot one of the most transparently disingenuous defences against the charge of misogyny, that one can't hate women because their mother is a woman (as if there are exceptions to that reality), is a disservice to women, obviously, but also to Tanzim.
A mitigating factor in Tanzim's discriminatory speech can be that he is just 20 years old and therefore not yet quite hardened enough to be immune to bigoted influences.
But what of the apparently wise old heads in the BCB? Have they provided him any guidance since the time he came under their guardianship as an impressionable mid-teen?
The cricket operations that Jalal oversees involve both men and women cricketers. By choosing to make excuses for Tanzim, what message is he sending to the women cricketers who have arguably brought more plaudits for the nation than their male counterparts?
The BCB had an opportunity to set an emphatic example yesterday against discrimination and misogyny.
They could easily have pointed out the error in Tanzim's assertions – he lives and plies his trade in a country that earns a chunk of its foreign currency through a majority-female workforce in the RMG sector, a country that prides itself on women empowerment, and one that has been led by women for the past 32 years.
They could have arranged for Tanzim to make a public apology on the platform where his posts brought out similarly misogynistic echoes.
The governing body could also have made a statement about the fact that he is a role model, and as such the "freedom of speech" argument offered does not hold. As a national cricketer, who earned the blue check beside his name because of his status, Tanzim has a greater responsibility than the ordinary social media user.
That BCB's policy and code of conduct implementation is failing the cricketers and the nation at large was exemplified by a more senior national cricketer, Mehedi Hasan Miraz. The all-rounder, who has been part of the national team for the last seven years, posted on Facebook in defence of Tanzim yesterday evening, before deleting it a short while later.
If Mehedi, who has played 146 matches and is talked about as a future captain, does not know better than to inflame sentiments with his social media presence, what hope was there for Tanzim or others of his scant experience? 
There is precedent for taking action in such cases. England bowler Ollie Robinson, having taken seven wickets in his debut Test in 2021, was banned for eight matches after racist and misogynistic Tweets from a decade ago resurfaced. In taking the action, the England and Wales Cricket Board sent a strong message of zero tolerance against hate speech.
The BCB missed that opportunity yesterday. Instead, they chose to talk about how mothers cannot birth misogynists.
That is true to an extent. Misogynists are not born; they are shaped by the ills of society and the indifference of those in power, and unfortunately, the BCB yesterday played its part to that end.