Shoriful enjoying the big shift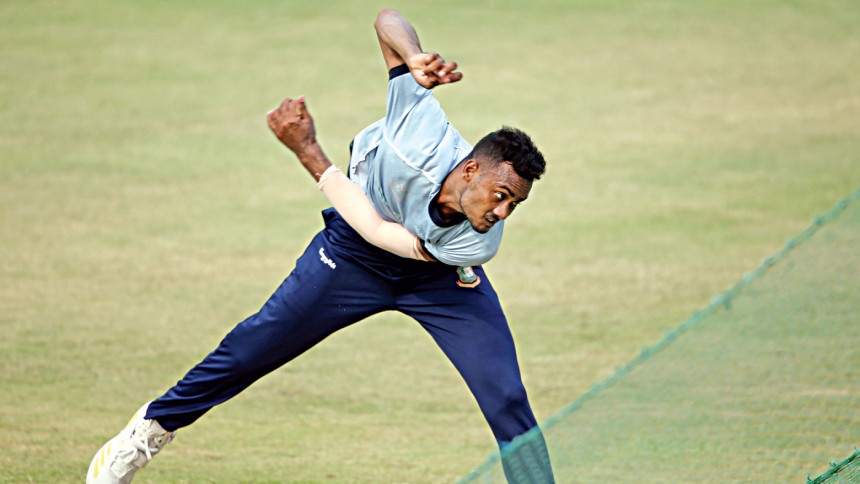 Pace bowler Shoriful Islam, still recovering from a fractured hand, is set to travel to the West Indies to take part in the limited-overs formats for the Tigers. The 21-year-old has established himself as a vital component for the Tigers across the formats since making his international debut last year and will be hoping to impress further in the coming days. The Daily Star's Mazhar Uddin caught up with the young seamer, speaking to him about his bowling alongside a few other topics during an exclusive interview. The excerpts are below:
The Daily Star (DS): How is your hand?
Shoriful Islam (SI): It's much better now. I feel a lot better. Hopefully the plaster will be removed by May 9 and then let's see what happens. I will start rehabilitation and will be a part of the Bangladesh Tigers camp. Since this is my non-bowling arm, I think there won't be much of issue with bowling once I return to training.
DS: As a fast bowler, how do you adjust as a cross format cricketer who plays all the three formats?
SI: It requires a lot of hard work and determination. I try to give my best during the training sessions. I think it's also about mentality. When you think about your game constantly, it helps you adjust to different situations and conditions. It is not easy at all but this is why I started playing cricket, to represent my country and represent it in all the three formats.
DS: What are the differences from when you made your international debut from the Under-19 level compared to now?
SI: Nowadays I don't require much time to adjust compared to my early days in international cricket. Since making the shift from the U-19 level to international cricket, there was a matter of adjustment. There were no experienced bowlers during my U-19 days because we were all the same age but now I am getting a lot of support and guidance from seniors like Taskin (Taskin) and Fizz (Mustafizur Rahman). They constantly share their experience in the dressing room and it actually helps me a lot.
DS: Did you get a chance to talk to Mustafizur Rahman recently?
SI: Yes, I had a chat with Mustafizur bhai yesterday (Sunday). I always want to know how he adapts during pressure situations. He shares his knowledge and his recent experience in the IPL. The last two days, I worked with Taskin bhai. I am a huge fan of his work ethic and dedication. He puts in a lot of effort in the gym and off the field, which is why he is getting success.
DS: How are things going with pace-bowling coach Allan Donald?
SI: The best thing about Donald is the way he provides confidence to players, which boosts morale. Since he was a legend of the game, I try to learn the most from him. He is working with my wrist work but we didn't get enough time to practice because we were busy with matches. I am looking forward to working with him in the coming days.
DS: You will be touring West Indies for the first time and will feature in the white-ball formats. What are your plans for the tour?
SI: I have never been to the West Indies but I heard pacers gets a lot of assistance in those conditions. Recently, I witnessed spinners also get some purchase from the pitch so I think it will be a sporting wicket. If we can bowl in the right areas, we can do better as a pace-bowling unit.
DS: What are your strengths as a fast bowler?
SI: I think my main strength is bowling in a specific area consistently and maintaining a tight line and length. You have to be cunning and anticipate what is going in the batter's mind. At times, you need to adapt as the conditions and pitch may not suit you. So, it's important to know your strengths and work accordingly. I normally follow Mustafizur bhai and Taskin bhai and previously I used to follow Mitchell Starc during my childhood days.