Play called off on day 4 with Afghanistan on top
Afghanistan 342 and 260, Bangladesh 205 and 136/6 (Shakib 38*, Soumya 0*)
5:16: Play has been called off due to rain with Afghanistan firmly on top. To compensate for lost time, play will begin at 9:30 am tomorrow. With the Afghan spinners on fire, they should be able to wrap things up pretty quickly tomorrow if not interrupted by rain. Bangladesh require another 262 runs with four wickets left.
4:39 pm: Overcast skies gives way to rain again as the players go off the field and the pitch covers coming on. Bangladesh are in deep trouble with Afghanistan eyeing victory. Shakib Al Hasan is fast running out of partners as rain gives momentary respite.
41.6 - Ban 125/6  Rashid has cast his spell on the Tigers and it's Mahmudullah this time who wilts. Rashid bags his third wicket of the innings. This one turns and bounces and Riyad only manages to provide a catch to short leg. Mahmudullah c Ibrahim Zadran b Rashid Khan 7 (21b 0x4 0x6) SR: 33.33
36.4 - 106/5: Bangladesh have lost their fifth wicket and this time it's Shadman who had been playing spin quite well who falls. Straighter one from Nabi and hits the left-hander on the pads. Gone.Shadman Islam lbw b Mohammad Nabi 41 (114b 4x4 0x6) SR: 35.96
4:01 pm: The players are back on for the final session of the day with Bangladesh staring at defeat.
3:42 pm: It's Tea on Day 2 with Shakib Al Hasan and Shadman surviving after Rashid Khan had bagged two wickets. Bangladesh batsmen have struggled to read the deliveries, especially the googlies from Zahir Khan and Rashid Khan. Bangladesh 296 runs behind with just six wickets left.
25.4 - Ban 82/4: The Afghanistan captain has bagged another one. It's another important wicket but this time with a regular delivery. Pitches outside the off stump and comes into the left-hander. Mominul misses and ball hits his pads. Umpire gives out. Mominul Haque lbw b Rashid Khan 3 (8b 0x4 0x6) SR: 37.50
23.1 - Ban 78/3: It's a googly again from Rashid. Mushy looks to go forward and counter the spin. Ball pitches in line and umpire raises his finger. Mushy looks preplexed and decides to review but third umpire confirms that it's out. Bangladesh staring at defeat as Mominul comes to the crease. Mushfiqur Rahim lbw b Rashid Khan 23 (25b 4x4 0x6) SR: 92.00 
16.5 - Ban 52/2: Mosaddek wilts under pressure. Tries to break the pattern by looking to go over the top. Doesn't clear the in field. Brilliant catch at mid off.  Mushfiqur Rahim arrives at the crease. Mosaddek Hossain c Asghar Afghan b Zahir Khan 12 (17b 0x4 0x6) SR: 70.58
10.3 - Ban 30/1: Bangladesh have lost their first wicket as Liton Das falls leg-before. Beaten all ends up as the ball turned in sharply. Bangladesh send in Mosaddek Hossain to keep the right-hand left-hand combination going. Liton Das lbw b Zahir Khan 9 (30b 0x4 0x6) SR: 30.00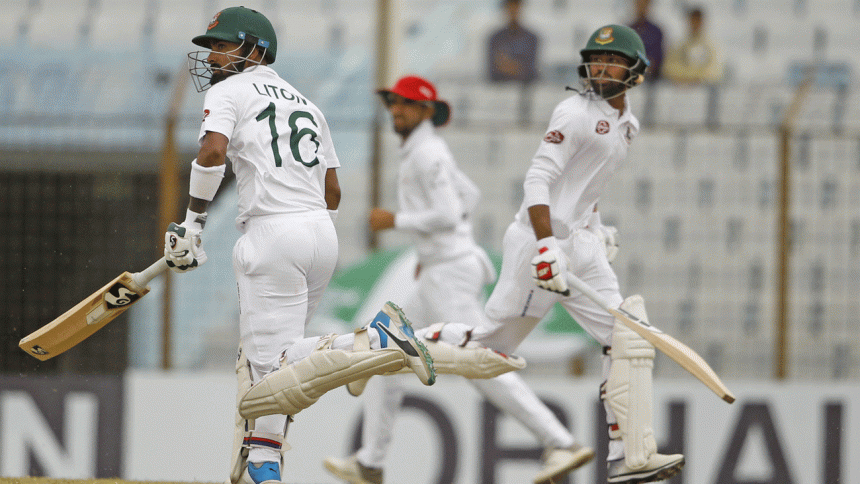 Lunch: Openers Liton Das and Shadman Islam saw off nine overs to take Bangladesh to 30 for no loss at delayed lunch on the fourth day of the one-off Test against Afghanistan at the Zahur Ahmed Chowdhury Stadium in Chattogram today.
Shadman was unbeaten on 21 while Liton, who came in to open the innings for the first time in Test cricket, was unbeaten on nine.
Earlier, Afghanistan were bowled out for 260 runs in their second innings, taking a massive lead of 397 runs on the delayed first session of fourth day of the one-off Test against Bangladesh at the Zahur Ahmed Chowdhury Stadium in Chattogram today.
Overnight and early morning showers delayed the start of the day's play by almost two hours, but once play started, the visitors added 23 quick runs in 6.3 overs. Tail-ender Yamin Ahmadzai was run-out for nine while last-man Zahir Khan was dismissed for zero by Mehedi Hasan Miraz. Wicketkeeper-batsman Afsar Zazai remained unbeaten on 48.
Bangladesh will need to chase 398 runs, with five sessions left in the game. However, there is forecast of more rain