'I feel I am playing my best T20 cricket again'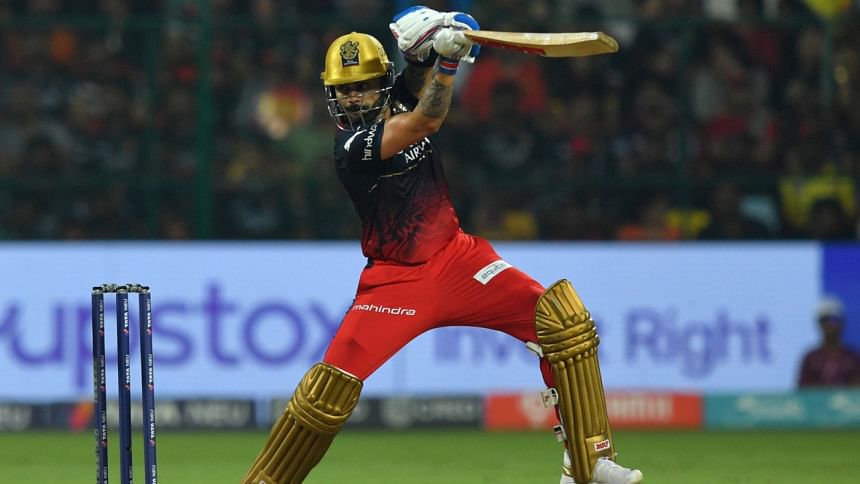 India star Virat Kohli has issued a warning ahead of next year's ICC Men's T20 World Cup by declaring he is at the top of his game and feels like he is playing his best T20 cricket.
Kohli finished as the leading run scorer at the most recent edition of the T20 World Cup in Australia when he amassed an eye-catching 296 runs for his country at a Bradman-esque average of 98.66 and a strike rate greater than 136, but was expected to face greater competition from India's bevy of young batters in the lead-up to next year's event in the Caribbean and USA.
But the 34-year-old is showing no signs of slowing down based on his recent efforts in the Indian Premier League and has given every indication he wants to continue playing 20-over cricket for his country.
The champion right-hander has scored 639 runs from 14 matches while opening the batting for Royal Challengers Bangalore, with his most recent contribution an unbeaten 101 from just 61 balls as his side fell out of the playoffs race to Gujarat Titans.
It was Kohli's second century on the trot for his IPL franchise and the veteran said he is back playing his best when asked by former India coach Ravi Shastri at the completion of his innings.
"Ya, I felt great. A lot of people feel my T20 cricket is declining, but I don't feel like that at all," Kohli said.
"I feel I am playing my best T20 cricket again. I'm just enjoying myself, this is how I play T20 cricket. I look to hit gaps, hit a lot of boundaries and the big ones in the end if the situation allows me to.
"Strike rates, all those kind of things like I said in the past as well...you have to read the situation and rise up to the occasion when the situation demands, and that's something I take a lot of pride in doing, and I've been doing it for a while now. I feel really good with my game at the moment and how I'm batting out there in the middle."
Kohli hasn't been the only experienced campaigner performing well at the top of the order for Royal Challengers Bangalore this season, with South Africa batter Faf du Plessis also in good touch having scored 730 runs to be the leading run scorer for the tournament thus far.
Kohli and du Plessis combined for a total of 939 runs across 14 innings - equalling the previous record from IPL 2016 set by Kohli and AB de Villiers' of most runs by a pair in a T20 tournament - as Royal Challengers Bangalore narrowly missed out on a spot in the playoffs.
Du Plessis was full of praise for Kohli and believes his fellow opener still has plenty to offer in the shortest format of the game.
"He (Kohli) has played really good cricket throughout the season," du Plessis said.
"It just shows you Virat has got a lot left in the tank in T20 cricket as he is playing really well still."