Gavaskar urges match suspension on Kohli-Gambhir spat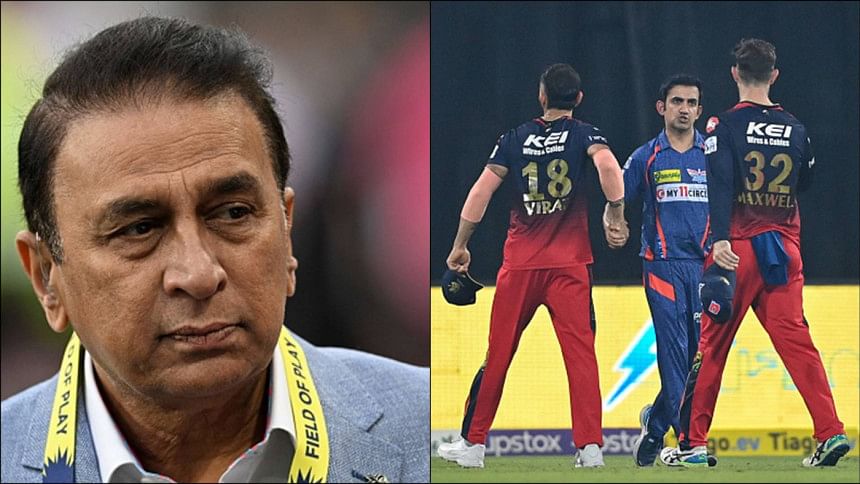 A day after the Royal Challengers Bangalore (RCB) batsman Virat Kohli and Lucknow Super Giants (LSG) mentor Gautam Gambir involved in a spat, former Indian cricket legend Sunil Gavaskar has sought for a stricter action against the players so that such an incident would not happen in future.
Kohli and Gambhir were docked their full match fees following their altercation. Bangalore successfully defended 126-9 in a low-scoring contest to exact revenge, and Kohli, well known for his combative nature, looked animated throughout the match, screaming, punching the air and gesturing to the Lucknow crowd with every dismissal.
When the players were shaking hands Kohli appeared to have a blunt exchange with Lucknow bowler Naveen-ul-Haq and was then confronted by Gambhir.
In conversation with Star Sports, Gavaskar questioned the extent of punishment to both players, calling the penalty to both players of their match fees not enough. He said, "Well, I saw the visuals only a while ago, I did not see the match live yesterday. These things never look good. What is a 100 per cent match fee? What exactly is a 100 per cent match fee? If it is Kohli, who is on maybe ₹17 crore for RCB, which means ₹17 crore for a possible 16 matches, including the semi-finals, and finals. So you are talking about a crore of rupees. Is he going to be fined ₹1 crore and more? Well, that's a very, very stiff fine".
Kohli, 34, initially looked like he was trying to reason with Gambhir but the conversation became heated and the pair, who previously clashed in a 2013 IPL match, had to be separated by team mates. Gambhir, 41, was fined 100% of his match fee for breaching the tournament's code of conduct, organisers said in a statement, with Kohli handed a similar fine.
"I don't know what Gambhir's situation is. They should ensure that this is not repeated. You are hoping that this is not repeated because it's such a stiff fine, such a stiff punishment. You want to play it hard, play it competitively. During the time that we played, there was a bit of banter, but there was none of this aggression that we see now. A lot of it has got to do with the fact that everything is on TV too. Because of the fact that you are on TV, you tend to do maybe just that little bit extra," Gavaskar added.
The batting legend in fact called for suspension for a few games as one of the solutions so that even their respective teams bear the brunt.
"So, my point, is do something which will make sure, these things don't happen again. If it has to you know, like it happened with Harbhajan and Sreesanth 10 years ago, that you have to ask them to maybe step aside for a couple of matches. Make sure you do something that ensures that these things don't happen and also something that will hurt the team. That's a stiff one," he added.