Shakib, Mustafizur leave for India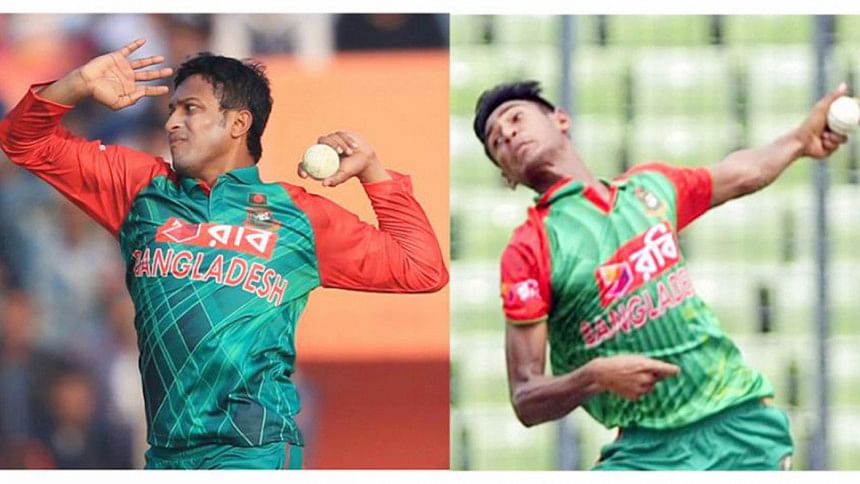 Bangladesh allrounder Shakib Al Hasan and pacer Mustafizur Rahman have left for India to take part in the Indian Premier League which is set to begin on April 9.
While Shakib will be featuring for the Kolkata Knight Riders, Mustafizur, in his first stint, will be playing for Sunrisers Hyderabad. Both the players left this evening and will be raring to continue their good run in T20 cricket.
Following the return of the national team, both Mustafizur and Shakib did not get much free time as they were both busy with their respective commercial activities. In the last two days Shakib was introduced as an ambassador for two different companies. In the same vein, Mustafizur spent most of his time shooting for advertisements.
Both the players, while speaking to the media before leaving, expressed their desire to do their best in the most lucrative T20 tournament in the world at the moment.
There is a good chance for the duo to face each other as well when the Knight Riders take on the Sunrisers on April 16. It will be interesting to see as to how Shakib negotiates Mustafizur's cutters.
Both Shakib and Mustafizur performed well in the ICC World Twenty20. While Mustafizur scaled nine wickets in three matches and also recorded the best bowling figures in the World Cup with a five-wicket haul against New Zealand, Shakib scored a half-century and also recorded his career-best bowling figures in T20 cricket of 4 for 15 against Oman during the tournament.