England tour of Bangladesh, 1st Test
Bangladesh 253 for 8 at stumps on day-4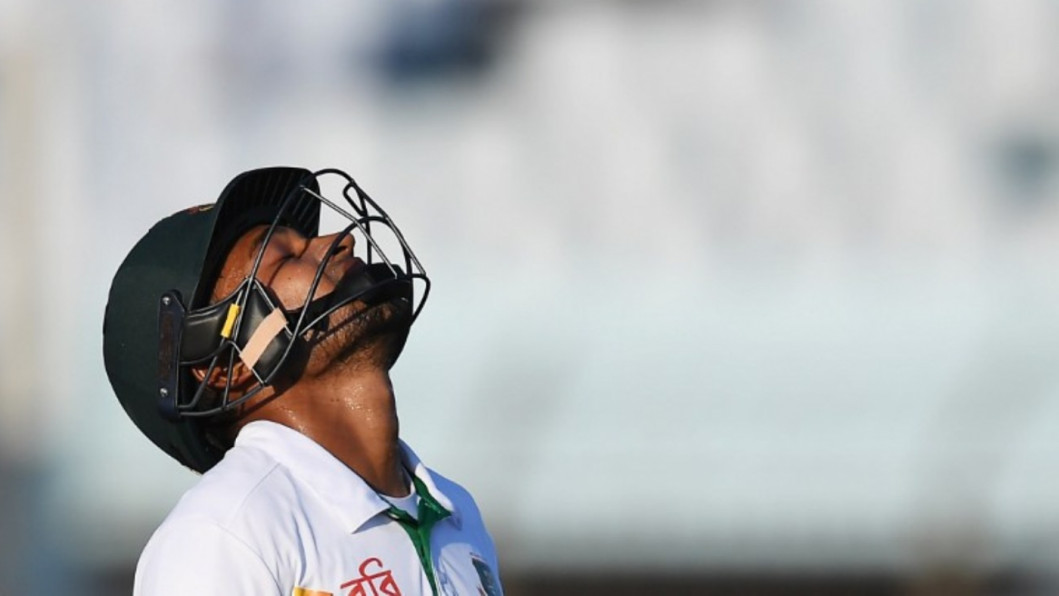 5.25 pm: Stumps on day-4…twilight at Chittagong. Another absorbing day of cricket…Bangladesh need 33 runs for their first victory over England…visitors need 2 wickets to go one-up in the two-match Test series.
England will have to come back tomorrow morning to finish their job; Bangladesh would want Sabbir to take them home.
Day-5 will decide the outcome of this gripping encounter.
England tour of Bangladesh, 1st Test
Bangladesh:

248, 253/8 (78.0 overs)

  
England: 293 and 240
5:13 pm: Bangladesh lose their 8th wicket in the 73 over when Stuart Broad sends back Kamrul Islam Rabbi for 0 to put the visitors in a strong position late in the day.
Kamrul Islam Rabbi c Ballance b Broad 0 (3b 0x4 0x6) SR: 0.00
Fall of wicket 238/8 (72.4 ov); Partnership: 4 runs, 1.5 overs, RR: 2.18 (Sabbir Rahman 4, Kamrul Islam Rabbi 0)
4:48 pm: Another wicket falls, and Bangladesh lose their grip on the match they had when Sabbir and Mushfiqur were batting sensibly…the tide has turned as far as the visitors are concerned…England players have their tails up.
Mehedi was struck in line with off, and the ball would have crashed into leg stump according to Hawk-eye. Visitors get two in quick succession, and it looks bleak for the hosts.  
Mehedi Hasan Miraz lbw b Broad 1 (9b 0x4 0x6) SR: 11.11
Fall of wicket 234/7 (70.5 ov); Partnership: 7 runs, 3.0 overs, RR: 2.33 (Sabbir Rahman 6, Mehedi Hasan Miraz 1)
4:28 pm: Turn and bounce…poor Mushy, nothing much he could do, and the Bangladesh captain walks. Just when it looked like Bangladesh were in control of the chase, Batty throws a spanner in their works…big wicket!
Mushfiqur heads off looking dejected, though it was a jaffa of a delivery, ripping and jumping off a length to be snapped up as he fended it away.
Mushfiqur Rahim c Ballance b Batty 39 (124b 3x4 0x6) SR: 31.45
Partnership: 87 runs, 27.0 overs, RR: 3.22 (Mushfiqur Rahim 31, Sabbir Rahman 45)
3:20 pm: The sixth-wicket partnership between Sabbir and Mushfiqur crosses 40 in 12 overs…Bangladesh need these two to stay at the wicket as long as possible. They must persevere, and not throw away their wickets recklessly after doing the hard work.
England pacers were getting the ball to reverse, and the old ball is the key for the visitors.  
2:50 pm: Tea on Day 4 and this Test is intriguingly balanced…Tigers need another 107 runs with 5 wickets remaining…Sabbir counter-punched after the fall of Shakib, and Mushy looks calm and composed… Bangladesh scored 93 runs in this session, England took 3 wickets.
There are 34 overs scheduled in the day…the last session of day-4 will be critical for the hosts. Can Bangladesh move closer to a historic victory? Will England have the last laugh? Only time will tell…
2:01 pm: Moeen has struck and the crowd has been silenced once again…big wicket…Shakib AL Hasan goes. Lovely off-break from Moeen, gets it to drift, pitches on off and turns away, Shakib lunges forward and gets a thick edge to the keeper.
Shakib Al Hasan c †Bairstow b Ali 24 (39b 1x4 1x6) SR: 61.53
Fall of wicket 140/5 (40.5 ov); Partnership: 32 runs, 10.5 overs, RR: 2.95 (Mushfiqur Rahim 8, Shakib Al Hasan 23)
1:17 pm: Big appeal from Batty…umpire raises his finger, Mahmudullah goes for the review… HawkEye shows ball hitting middle…and the on-field decision stays.
Mahmudullah has to go, and leaves his team in trouble at 108 for 4. England are on a roll…
Mahmudullah lbw b Batty 17 (36b 0x4 0x6) SR: 47.22
Fall of wicket 108/4 (29.6 ov); Partnership: 5 runs, 2.1 overs, RR: 2.30 (Mahmudullah 4, Shakib Al Hasan 1)
1:05 pm: Six overs after lunch, the worst news for Bangladesh, another batsman bites the dust…Mominul Haque falls after a handy knock of 27. England go for the review, and celebrate when they see the replay on the big screen…they have their third wicket!
Mominul Haque lbw b Batty 27 (47b 4x4 0x6) SR: 57.44
Fall of wicket 103/3 (27.5 ov); Partnership: 22 runs, 7.4 overs, RR: 2.86 (Mahmudullah 13, Mominul Haque 9)
Bangladesh batsmen Mominul Haque and Mahmudullah Riyad took the responsibility to counter the English threat on a difficult pitch on day-3 in a calm, composed manner, but were never in total control with the pitch assisting the bowlers considerably today.
12:08 pm: Players go for lunch…will it be the final lunch the players enjoy given the pace this game has moved so far…25 balls were needed to take the last two England wickets, Tamim perished after an anxious stay at the crease…the wicket of Imrul would hurt Bangladesh, and England will have their tails up once again heading into a break in this absorbing Test match.
11:57 am: After a stand of 46 in 10.2 overs, England taste success, and get rid of Imrul Kayes to pull things back in their favour. Imrul goes for the sweep, the ball loops up for a simple catch…Joe Root gladly takes it…big wicket in the context of this contest.
Imrul Kayes c Root b Rashid 43 (61b 6x4 0x6) SR: 70.49
Fall of wicket 81/2 (20.1 ov); Partnership: 46 runs, 10.2 overs, RR: 4.45 (Imrul Kayes 24, Mominul Haque 18)
After the fall of Tamim, both Imrul and Mominul had to endure some testing spells, with England spinners extracting appreciable turn and bounce on the wearing pitch at Chittagong. As the Bangladesh batsmen managed to put the bad balls away, runs kept flowing at a good rate.
11:10 am: Oh no…Tamim falls, and Bangladesh lose their first wicket after a decent start…turn and bounce on off-stump line…takes the inside edge and a sharp catch from Balance at short-leg.
Tamim Iqbal c Ballance b Ali 9 (33b 0x4 0x6) SR: 27.27
Fall of wicket 35/1 (9.5 ov); Partnership: 35 runs, 9.5 overs, RR: 3.55 (Tamim Iqbal 9, Imrul Kayes 19)
10: 56 am: In the ninth over, Tamim would have been out, but Hameed could not take a tough chance backpedalling at cover…it was a skier and dropped inches in front of the fielder…Tamim survives to fight another day.
Tamim had a rush of blood in the sixth ball he faced, and he is lucky to survive. Premeditated…Tamim was nowhere close to the ball - but still went ahead with the lofted drive, nearly offered a simple catch to Broad at mid-off, went to him on the bounce…close shave.
Bangladesh openers Tamim Iqbal and Imrul Kayes begin their chase of 286 positively, with Imrul taking the attack to the English spinners to throw them off their game…the odd ball is beating the bat, and batting is not getting any easier in the fourth innings.
10:20 am: That's gone…Taijul strikes and after the review the decision is confirmed by the on-field umpire…Bangladesh manage to bowl out England twice in a Test for the first time…and their target…286 to win…
GJ Batty lbw b Taijul Islam 3 (8b 0x4 0x6) SR: 37.50
Fall of wicket 240/10 (80.2 ov); Partnership: 7 runs, 2.3 overs, RR: 2.80 (Batty 3, Woakes 3)
10:15 am: Good morning…and the perfect beginning to day-3 for Bangladesh…ninth wicket down for England as Stuart Broad falls to a run-out. Sharp glovework from Mushfiqur Rahim to smash the stumps.
SCJ Broad run out 10 (27b 2x4 0x6) SR: 37.03
Fall of wicket 233/9 (77.5 ov); Partnership: 20 runs, 9.1 overs, RR: 2.18 (Broad 10, Woakes 10)
Teams:
Bangladesh
Tamim Iqbal, Imrul Kayes, Mominul Haque, Mahmudullah, Sabbir Rahman, Mushfiqur Rahim (Captain, Wicketkeeper), Shakib Al Hasan, Mehedi Hasan, Taijul Islam, Kamrul Islam Rabbi and Shafiul Islam
England
Alastair Cook (Captain), Ben Duckett, Joe Root, Gary Ballance, Jonny Bairstow (Wicketkeeper), Ben Stokes, Moeen Ali, Chris Woakes, Adil Rashid, Stuart Broad and Gareth Batty