Game is still open: Walsh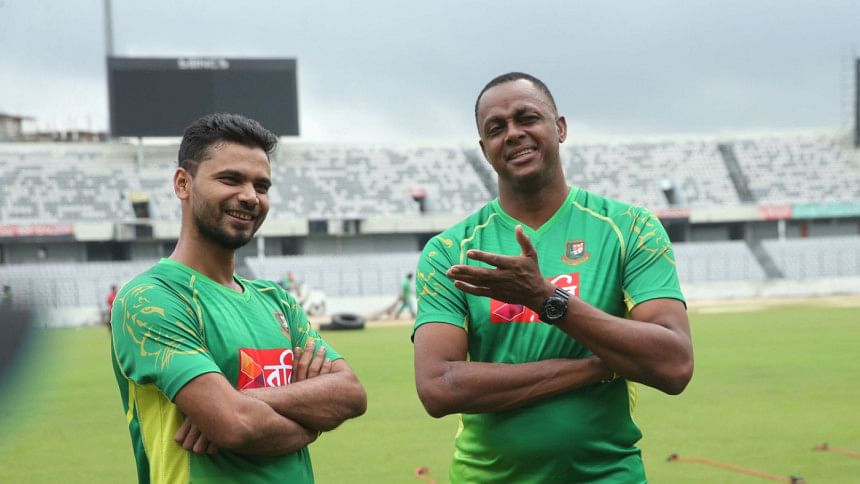 On the first two days of the first Test, the performer of the day from either side had made their way to the media centre of the Zahur Ahmed Chowdhury Stadium in Chittagong. After the third day yesterday, while England sent their runaway performer of the day, Ben Stokes, for Bangladesh it was fast bowling coach Courtney Walsh who fronted up to the press after Shakib Al Hasan bagged his 15th five-wicket haul and in the process went past 150 Test wickets.
The day that ended so well for Shakib started in quite the opposite fashion. Being the only Test-experienced batsman left when Bangladesh resumed 72 runs behind England's first innings 293, Shakib stepped out to the second ball of the morning and had a wild swipe, but was beaten by Moeen Ali's off spin to be stumped. That set off a collapse of five wickets for 27 runs and a deficit of 45 runs which may prove decisive as England sit on a 273-run lead with two wickets in hand.
Therefore, the Jamaican legend's appearance -- while always welcome -- disappointed those who wanted to know the thinking behind the shot, as well as Shakib's thoughts on his superb bowling performance.
"It was disappointing. He came out today with big expectations," said Walsh when inevitably asked about Shakib's dismissal. "He knew he was the mainstay. He batted very well yesterday but it was a fresh day, when you start back over. Unfortunately he got out in the first over and that put a lot of pressure on the other batsmen. If he has to bat for us in the second innings, he will bat well again."
About the state of the game, Walsh was still optimistic as England have not yet run away with the game.
"I think we have to first get the two wickets early tomorrow. The game is still open. Probably, England got about 20-30 runs more than what we would have liked, at this stage," said Walsh. "I think the bowlers fought very well today. At one stage it was looking very, very good but they got a good partnership. This is what Test cricket is all about. Stokes played reasonably well, he had a good partnership with Bairstow. For me the game is still in the balance.
"We have to be positive. Play it as you see it. Put away the loose balls," Walsh said about what Bangladesh's batting outlook should be in the chase. "If we can get two or three good partnerships, we are in with a good chance. The aim has to be to get them under 300. It is not going to be easy but the game is still wide open."