'You're never set on this wicket'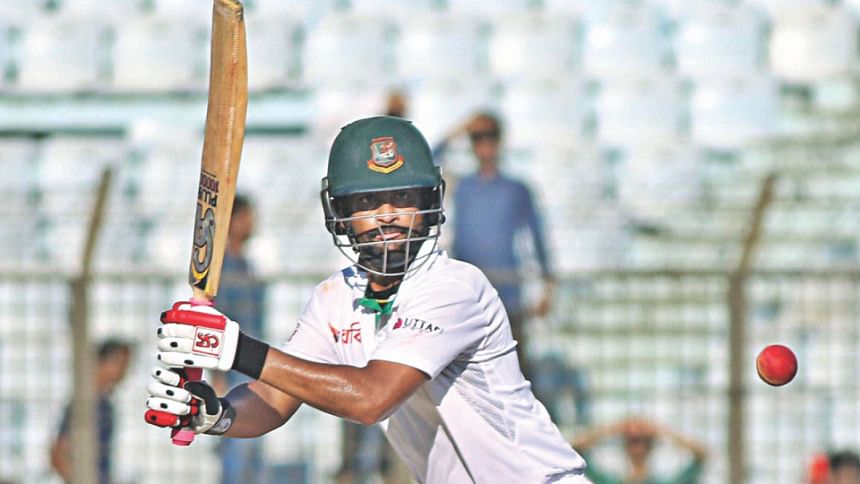 Tamim Iqbal answered the call manfully when he was most needed yesterday. His innings of 78 off 179 balls, while falling short of his cherished century mark, was probably worth a hundred on a pitch where, in his words, a batsman could never feel settled. It was all the more valuable as he took the team through three crucial wickets, two (Imrul Kayes and Mominul Haque) before lunch and one before tea (Mahmudullah Riyad) and put Bangladesh in a position to overtake England's first innings score of 293.
"Look, I have really, really worked hard to score my runs today," said Tamim with a quiet chuckle when asked if he was disappointed at not scoring a third century against England, and his eighth overall. "I had to work hard to take every run. If I got out playing the wrong shot then of course it would have been very painful. But I think the way I was playing, it was within my control, but it was just not to be.
"If it was [a] bigger [score] of course I would have been happy. But I'll take it."
This innings was another example of a more aware and cerebral Tamim. He quietly negotiated England's spell of good bowling, which saw rarely a bad ball being bowled until about after lunch. His first boundary came off the 48th ball he faced, off an Adil Rashid full toss that he creamed through cover in the 19th over.
He hit two boundaries off Ben Stokes in the 29th over but that over also contained an airy shot when he was lured into chasing a wide, slower ball. He then reset himself to concentrate and scored only 19 runs in the next 12 overs, hitting his next boundary off Moeen Ali to bring up his 50 off 131 balls. He now seems to have picked up the priceless ability to pace his innings.
"I think I didn't try to do anything more than just the basic," Tamim said. "I tried to play straight. The delivery that I got dismissed off, I could have got a single or two from it. I know that a bigger score would have helped the team but I am still hopeful that Shakib [Al Hasan] and the two batsmen can take us to a strong position."
Regarding the wicket, Tamim said that it was difficult because the ball was turning a fair bit, but that the bounce was consistent. "The ball is turning a lot while the bounce is still fine. You may want to do many things when you are set but this is not the sort of wicket to think in that way.
"A batsman is never set on this wicket, even if he is batting on 70, 80 or 100. You will be in trouble if you think you are set. Something keeps happening every over. It is a difficult wicket."
He also thought that Bangladesh were slightly ahead in the match while admitting that Mushfiqur Rahim's wicket late in the day pulled things back to near even.
"I think we are slightly at an advantaged position at the end of the second day. We still have wickets in hand and will gain the upper hand if we can bat well in the first session. If Mushfiqur didn't get out, I would have said that we had a good day."