Mehedi makes mother proud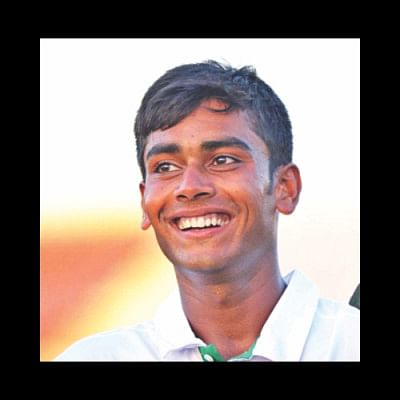 Although Mehedi Hasan Miraz just began his international career last week, he has already garnered plenty of attention. His six-wicket haul in his debut match led to him getting acclaim from various corners, including India's ace off-spinner Ravichandran Aswin.
The figures he recorded, 6 for 80, were the second-best by a Bangladeshi debutant in Test cricket. However, it's not just the numbers that have impressed. Mehedi's demeanour on the whole has excited many in the cricketing fraternity.
Earlier this year he had to take the brunt of the pressure of the Bangladesh Under-19 team during the U-19 World Cup and he managed to handle that period with ease. He showed a similar sense of calmness when he was given the red cherry in the first innings by Mushfiqur Rahim.
This attitude of course, did not develop overnight. It has a lot to do with Mehedi's childhood and his family life.
The all-rounder hails from the Auliapur village of Barisal. His father, Jalal Hossain, was a driver by profession and is now retired. While Mehedi loved to play cricket, he was often asked by his father to concentrate on his studies more.
"His father never allowed him to play outside all day. He even scolded him at times. But as he went from one level to another, he understood what gifted child he had. We are all proud of him. I am a proud mother," said Minara Begum, Mehedi's mother.
With a lack of income, Mehedi's family often found it difficult to buy him cricketing gear, but that was when the people in the village who noticed Mehedi's talent stepped in.
"Honestly, I don't think I supported my son enough. But my wife, my daughter and my neighbours helped him a lot. Sheikh Yusuf, our neighbour, helped him by buying him cricket bats and pads," said Hossain, Mehedi's father.
While Mehedi started playing cricket at the age of six, he first started coaching at the Hazi Shariatullah Biddyapith under coach Al-Mahmud.
"The unique aspect about him was his enthusiasm. He knew that cricket was a means through which he could make his life better and he worked towards that," said Al-Mahmud.