A time for introspection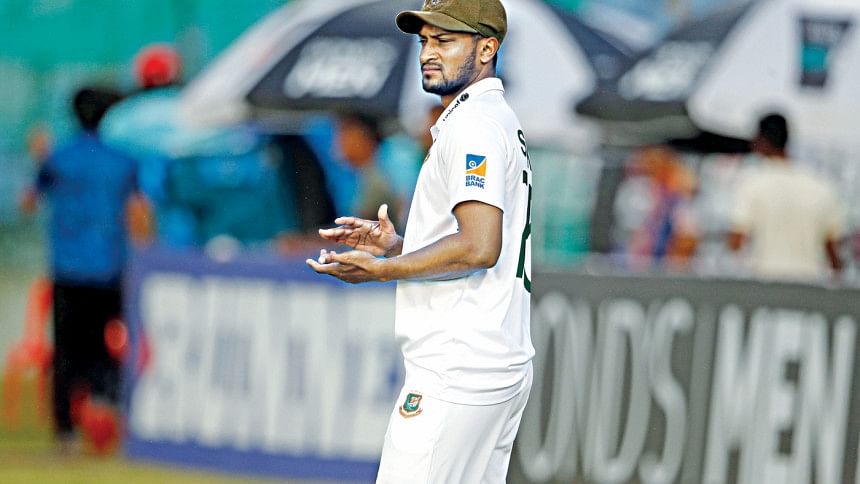 There was much that was discouraging about Bangladesh's 224-run loss to Afghanistan in the one-off Test in Chattogram yesterday. It has already been mentioned ad nauseum, but bears repeating one more time. Afghanistan were playing their third Test match just over a year after playing their first. Bangladesh were playing their 115th almost 19 years after playing their maiden Test.
Given this gulf in experience, the most dispiriting aspect of the Tigers' loss was that it was not surprising. It may be seen the world over as a big upset, but can anyone closer to home say that if there were to be a second Test against the same opposition, the result would be much different?
Bangladesh Cricket Board (BCB) president Nazmul Hassan once told this paper in an interview that if there was one thing that he could not stand, it was losing. He must be in quite a fit after the most recent result, and that seemed to be the case after the fourth day on Sunday when he said that he cannot be expected to 'teach them Test cricket'.
An eighth-placed World Cup finish must also not have pleased the BCB brass, and that manifested in then coach Steve Rhodes being shown the door. What is the way forward now, who to scapegoat? Surely Russell Domingo, appointed less than a month ago, cannot be asked to follow his predecessor in a premature exit, mainly because he had very little to do with the debacle.
This was possibly Bangladesh's worst loss in Tests and now may be the time for the BCB to depart from their practice of taking credit for wins and blaming the team for losses. It does not fall upon a board president to coach the country's cricket team. Instead, Hasan should be able to answer for having overseen a culture where domestic bowlers have just been allowed to turn their arms over on slow, low pitches and wait for batsmen to make mistakes or be beaten by variable bounce. Bigger-picture decisions like changing the nature of the country's pitches are more his purview than agonising over the results of the national team.
The problem against Afghanistan was not in succumbing to the whippy wiles of Rashid Khan. Even India allowed Rashid four albeit much more expensive wickets in Afghanistan's maiden Test. The damage was done in allowing Afghanistan, widely acknowledged to be a weak batting team, to score 342 in the first innings and back it up with 260 in the second.
Even against a side still getting used to Test batting, the home attack looked toothless. That may have come as a rude shock to many who had believed the myth of home dominance that has been propagated since the 2016 Test series against England. Faulty systems thrive on such myths and the complacency they cause.
Since that series against England, Bangladesh have won just one home series -- against West Indies in late 2018. Three other previous series were drawn by 1-1 margins -- against England (2016), Australia (2017) and even Zimbabwe (2018), who Bangladesh were expected to beat much like they were Afghanistan. In early 2018 against Sri Lanka -- an opposition that was as, if not more, familiar with spin bowling -- Bangladesh lost the two-match series 1-0.
But having won the most recent home series against the West Indies, who are poor players of spin, the spin reliance and dominance myth persisted. Against Afghanistan, the Tigers played with a one-dimensional spin attack after opting not to include a single pacer in the eleven.
Spinners have of course been far more successful at home but, as mentioned, the type of spin Bangladesh bowl offers success against a limited number of teams and then too on pitches tailor-made for them and perhaps more variety in the attack would have helped.
Shakib and Co. operate in a cricketing culture where first-class cricket is of a lower standard than the one-day Dhaka Premier League. Spinners bowl on pitches that do not encourage them to give it a rip and therefore there is not a wrist-spinner in sight. Far from being incentivised to bowl fast, pacers now know that they are not likely to be given a chance in home Tests. Domestic batsmen, meanwhile, just have to ride out low-quality bowling to score big runs.
Whether this result will bring about a comprehensive review of the country's cricket is anyone's guess, but if the BCB continue believing in their own myths and sees this as blip rather than symptom, such results could become the norm.