Better pitches will induce more excitement: McCullum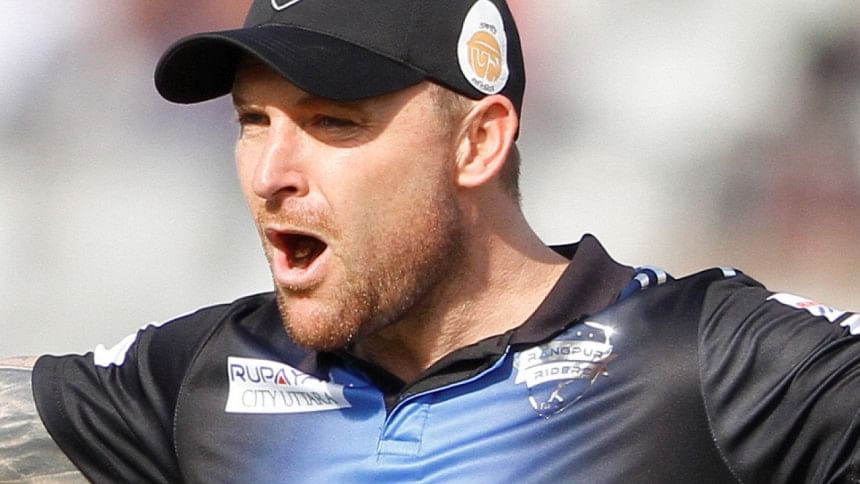 Brendon McCullum believes that better pitches for batting will induce more excitement among the fans in this year's BPL and it would also lead to bigger scores for him and Chris Gayle.
McCullum did not have the best of times in this year's BPL. While he did manage a few starts, he was not able to transform them into big scores. McCullum felt that the pitches needed to be conducive to exciting cricket as fans expect the star players to light up the tournament.
"I thought it was a very poor wicket. I think there's a lot of very, very world-class players in this tournament," he said after Rangpur's 43-run defeat to Dhaka Dynamites.
The Rangpur Riders felt that the pitches were not made for exciting cricket and said: I personally don't think that was exciting cricket. I think the tournament can benefit from better surfaces than the one we just seen today.
He also reflected on his own performance but reiterated that his style was not suited for pitches like the one that he got yesterday.
"Everyone wants to score more runs but I think you have seen over the years that my game is suited to wickets that are different than what we have seen so far.
"You can't trust the bounce and pace of the wicket. We have seen balls that have gone through the top. Guys were telling me that pitches were very good couple of years ago. It is very hard to come in to the tournament as a stroke-maker when you can't trust the pitch. Of course my performance needs to be better. But it will be nice to have a surface that is more consistent and has more pace about it; I will look forward to it.
Asked why big hitters like him and Gayle were not able to get going in the tournament, McCullum replied that there will be more runs from the dashing duo if they are provided with better pitches.