The Queen of Tinseltown
Mahiya Mahi came to the limelight with her dazzling performance in hit movies, like 'Agnee' and 'Poramon'. In this week's interview with Rafi Hossain, Mahi talks about her career and her whimsical nature.
Rafi Hossain: Welcome to Uncensored with Rafi Hossain. Today, we are here with superstar Mahiya Mahi. Mahi, the audience seems to really love you. What makes you so loveable?
Mahiya Mahi: When I did my first film, it was the first time I acted in front of a camera. Before the film got released, I heard people telling me that I would be known after this, but I never believed it. I never thought that people would come to watch my film, but when it got released, I saw so many people crowd the theatres. I would say that the main reason why the audience loves me so much is because I am extremely lucky. I have been very fortunate to have had several successive hit films.
Rafi: You have done a lot of female-centric films.
Was this planned?
Mahi: No, it just happened. However, I try to look for female-centric films as both Poramon and Agnee were female-centric films, and hits.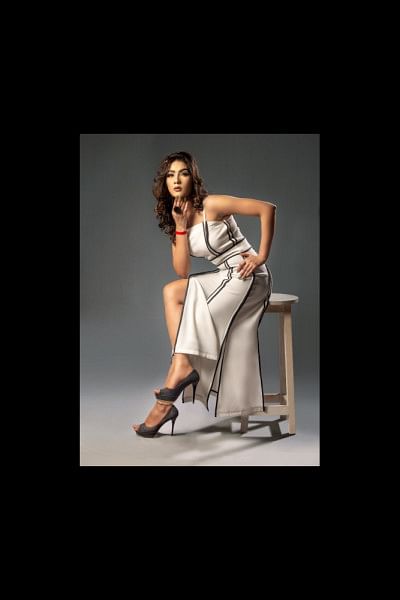 Rafi: Did you always want to act in movies?
Mahi: I never thought that I would be able to become an actor. I used to watch a lot of dramas and movies on TV, and see that the female protagonists would have a large portrait of themselves hanging in their room. I really wanted a picture like that. So, I did a photoshoot with Ashish Sengupta. After the photoshoot, he told me that the pictures came out really well and that he thinks I should send it to directors. After that, when I first got a call from JAAZ Multimedia, I told my mother that I might have gotten an offer for a drama. But, after going there, the director told me that it was for a movie.
Rafi: It is usually thought that if a new female actor does not have any prior connections in the industry, she requires a strong willpower to make a name for herself. What is your take on this?
Mahi: Yes, willpower is needed. But, in my case, I had the luck factor. My first project was with JAAZ Multimedia, and for the first three years of my career, I didn't work with any other production house, other than JAAZ.
Rafi: Were you contractually bound to only work with them for the first three years?
Mahi: Not at all; there was no such contract. They were the ones that gave me my first role, and over time, they became like my family. I didn't work outside JAAZ because I felt a strong connection with them. When I felt that my base was strong enough, I started working with others.
Rafi: You later had a fallout with 'JAAZ Multimedia', right?
Mahi: Yes; It was a case of misunderstanding. After that, I did not work with them. But, I did the shooting for Agnee 2 even after I had left JAAZ.
Rafi: At one point, you were considering quitting the film industry. Is that correct?
Mahi: After leaving JAAZ, I felt like not doing films anymore. So, I went to USA to complete my graduation. But, within fifteen days, I realised that I didn't want to stay there any longer.
Rafi: Everything you do seems to be very whimsical. Are you also this whimsical when it comes to love?
Mahi: I didn't even know that I'll get married a few days before my wedding. It all happened very suddenly. One day, Opu randomly told me that he was planning to get married, and added that he would've married me, had I not been in the film industry. I told him that I can quit, and we should get married. However, it had to be after two months as I still had some work left, but then he asked me not to. We later talked to our families, and had an Akht ceremony.
Rafi: Do you plan on doing movies for long?
Mahi: I'm not sure, to be honest. I don't plan out my life. I might wake up one morning and decide to quit the industry. But, I feel that it won't happen. I really enjoy acting. It may be a huge pain at times, but I really can't quit it.
Rafi: You came into the industry when it was going through a crisis, but you became very popular nonetheless. Why do you think the industry is still facing this crisis?
Mahi: I think that the industry lacks proper producers. When I made my first film with Bappy, JAAZ took a huge risk with us. I feel that our industry needs more production houses which aren't scared to take risks. Many production houses drastically slash the budget if they think that a film might not be a financial success. This really affects the quality of films. Another thing that needs to be improved is the quality of cinema halls.
Rafi: What are you planning on doing next?
Mahi: As of now, I have signed up for two new films, and the shooting for one has begun recently. I would much rather not do any film, than work in a bad one.
Rafi: You have also done films in Kolkata, right?
Mahi: Yes, I recently did a Kolkata-based film, called Tui Shudhu Amar, which also featured Soham and Om. I haven't received unbelievable feedback for it, but I didn't get any negative feedback either.
Rafi: We hear a lot of gossip regarding actors. How much of the gossip about you is true? How do you handle gossip?
Mahi: Well, in my case, I'd say that half the gossip is true, and the other half is completely false. I really don't care much about gossip, if I'm being honest. If I see that people are talking a lot about me, I ignore it, and just enjoy life. If people see that I'm breaking down because of the rumours about me, they'll talk about me more. However, if they see that I'm not paying heed to them, the gossip will die down.
Rafi: Mahi, I really enjoyed talking to you today. Do you have any final message for the readers?
Mahi: It is because of all your love that I have come this far. I am very lucky to have received all your adoration and support. I would like to request all of you to keep supporting me and keep me in your prayers. I would also like to ask everyone to come to the movie theatres, and watch the movies we make.
Transcribed by Ridwan Intisaar Mahbub
Makeup: Afroza Parveen, Red Beauty Parlour & Salon