Struggles of Switching to a New Operating System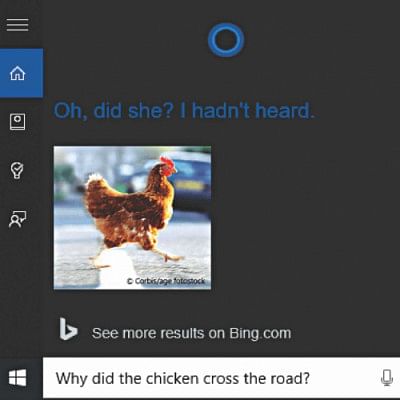 Last month I suddenly upgraded my laptop to Windows 10. Not only had I paid for it, but I also bade adieu to my favorite operating system of all time – Windows 7. I was quite satisfied with the way it worked. But despite that, I decided it would be no harm switching to the newest operating system, which, months ago, was literally given away for free. 
So I waited for it to install, what Microsoft calls the "Best Windows Ever". To be honest, I can't blame them. Windows 10 actually has a lot of interesting features, starting from the Xbox App to Cortana, a personal AI assistant. However, there is no option to change its voice to Ricky Martin's. Anyways, then the Windows 10 user interface loaded and I must say, I was blown away. The blue color was so dull that I started wondering if I was color blind. Hence, my first move was to change the background. Spoiler: Windows 10 comes with the most mundane of background pictures. There is nothing cute or colorful like Windows 7. Come on, give me something fancy! Putting aside my initial disappointment, I proceeded to check out the other features. I browsed through the Store, which gave me the level 2 disappointment. Why on earth would I ever download Talking Angela on my LAPTOP?
I went through Cortana, providing my email and password. And that is when things started to get messed up. Cortana kept grumbling that she could not log into my email and the screen froze.  I had no other choice but to restart my laptop. Now it required a password to start. As far as I remembered, I never set a password for my laptop. Inwardly cursing, I typed in my Gmail password and thankfully, it worked. My next thought was, "How do I make it password-free again?" Sadly, I still haven't figured that out. Thank you Microsoft; now most of my family members know my Gmail password. No big deal, right?
Next, when I opened Google Chrome, it wouldn't let me browse any websites at all. I kept trying but there was no luck. That is how I discovered Microsoft Edge in the Start Menu. It's way better than Internet Explorer, and I used it to download the newest version of Chrome. After a while, I realized there was no Windows Media Center, whereas the first thing that should've been removed from Windows 10 is Internet Explorer. But still Microsoft, I love you.
Even though my laptop screen now freezes more often, I have decided to stick with Windows 10. Office 2010 is similar to the previous versions and I can check my mail from the Start Menu. Then there's the best thing ever - the Xbox app.
And FYI, Cortana actually works now all of a sudden. 
Zarin Rayhana is a self-aggrandizing ambivert who ponders over philosophical epiphanies during rainy evenings and waits for her crush to jump straight out of her favorite novel. Treat her with novel suggestions at [email protected]