Where to watch anime legally in Bangladesh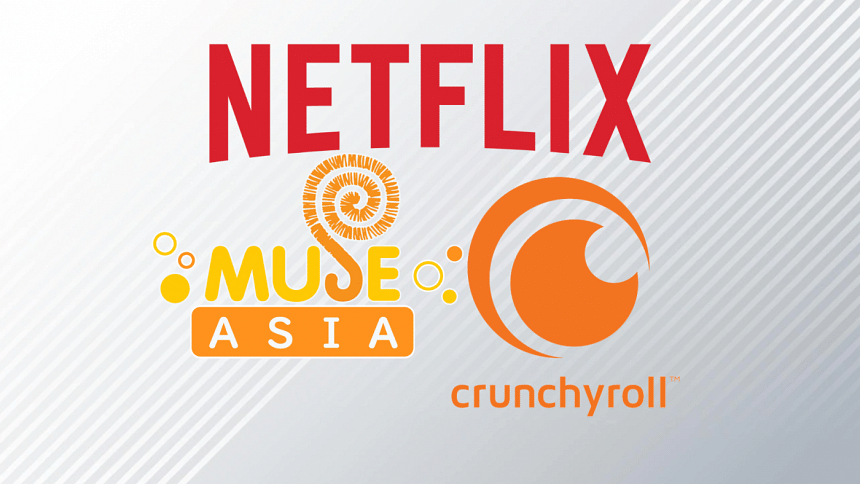 While modern anime has come a long way in terms of both diversity and visual fidelity, the same cannot be said for its global distribution. Even today, there are barely a handful of platforms which air anime legally, resulting in an abundance of piracy within the community.
However, with the recent crackdown on pirated sites and the lack of security they offer, many have started to opt for safe and legal ways to view their favourite anime shows.
That being said, even though these platforms may not contain every anime show, here are five places where you can watch anime legally in Bangladesh.
1. Muse Asia YouTube
Easily my favourite addition to this list, Muse Asia's YouTube channel buys the licence to both new releases and old ones. They air several popular shows from each season, including, but not limited to, Mob Psycho 100, Spy x Family, Classroom of the Elite, etc.
The entirety of Jojo's Bizarre Adventures up to part 6 can also be viewed on Muse Asia for free. The only discrepancy with this channel is that the quality of episodes cannot exceed 720p as of yet. Otherwise, it is a fantastic, lag-free, and safe way to legally watch some of your favourite shows.
2. Netflix
As one of the leading streaming platforms in the world, Netflix has a large catalogue of anime to choose from, including a few original shows. Classic anime like Neon Genesis Evangelion, Hunter x Hunter, Naruto, etc. are available for subscribers to watch. At the same time, popular new-gen titles like Demon Slayer and Jujutsu Kaisen are also included in their library.
When it comes to Netflix's original anime, however, the bar drops a bit low. Devilman Crybaby, Netflix's first original anime, still remains its best release to date. Other titles like Yasuke are worth mentioning, but the list doesn't go too far.
3. Crunchyroll
Owing to its longevity and robust stream of content, Crunchyroll is widely considered the best anime streaming service to date. The collection spans over 300 series but is quite limited for viewers in Bangladesh. As such, using a VPN expands the options considerably.
The free version of Crunchyroll comes with a plethora of ads before each episode. Upgrading to a premium membership will lead to ad-free viewing, offline downloads, and even access to their manga library.
4. Ani-One Asia YouTube
Similar to Muse Asia, Ani-One Asia also licences various anime for viewers to watch for free. Some shows aren't available in certain regions, but their restrictions aren't as strict as Crunchyroll's and Netflix's. Some of the most popular releases on Ani-one include To Your Eternity, Akame ga Kill!, Sonny Boy, Dr. Stone, etc.
The channel also has a premium membership that viewers can buy, which grants them access to exclusive, popular releases such as Blue Lock, Chainsaw Man, etc.
5. Anime-Planet
Anime-Planet is a free and legal anime website that is partnered with Crunchyroll and HIDIVE. Since their releases are all in tandem with their partnered platforms, most of their shows aren't available in every region, including Bangladesh. However, switching your region using a VPN considerably increases the number of shows at your disposal.
Additionally, Anime-Planet is a decent option for exploring new manga releases, reading community reviews, and tracking your watching progress.
Ayaan immerses himself in dinosaur comics and poorly-written manga. Recommend your least favourite reads at [email protected]