In conversation with Fournetsha Bangladesh – the company behind Bangladesh's latest original manga magazine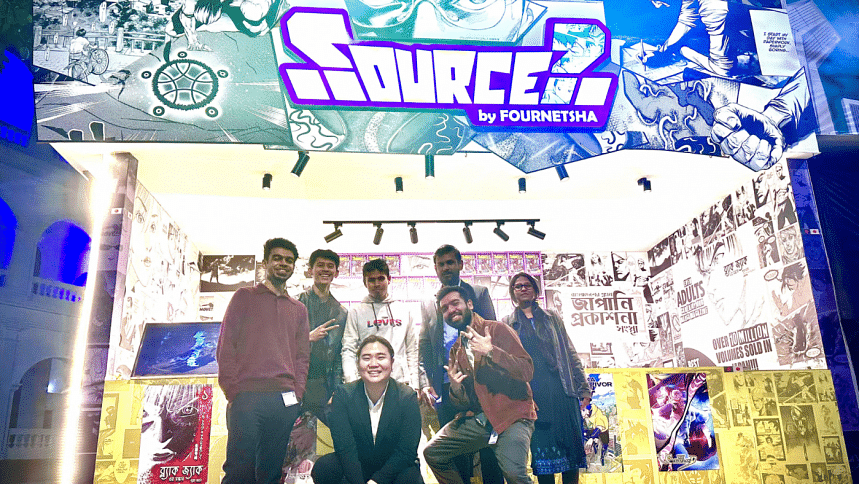 On February 1, Fournetsha Bangladesh Limited launched "Source?", our nation's newest manga magazine. Since then, the 300-page-long publication has been making waves in the country.
SHOUT sat down with the team behind "Source?" – consisting of CEO and Chairman Konosuke Takahashi, Editor-in-Chief Faiaz Ishrak, Head of Marketing Rafi Md Fahim Shiam, General Manager S M Nasir Hossain Nayan, and Head of Sales Elman Mashood – to discuss the future of "Source?" and the potential it has for cultivating manga culture in Bangladesh.
SHOUT (S): What was the inspiration behind establishing Fournetsha Bangladesh and bringing "Source?" to life? 
Faiaz: The art industry in Bangladesh doesn't have a solid infrastructure for people to take it seriously or imagine a career in it. That inspired us to bring Fournetsha, which has already established itself as Japan's largest book-binding company, to Bangladesh about six months ago. We started work on the first issue of "Source?" in late 2022, so you could say that the concept of this project has existed for a while, but was materialised only recently.
S: Walk us through the publication process of the first issue of "Source?" and the challenges you faced. 
Rafi: With a small core team of only five people, we had to conceptualise and finalise the entire issue within two months. The first substantial hurdle we faced was figuring out what "Source?" was going to be and to who we wanted to cater. Once we decided on a quarterly publication basis, we started working with artists while compiling content for the other sections in the magazine, such as the cosplay corner, travel corner, etc. Time was of the essence because we also had multiple meetings scheduled with Kodansha (a renowned Japanese publishing company) in Japan to showcase the samples of "Source?". 
It was an incredibly stressful process, but the satisfaction we felt after receiving the final copy of the magazine is something we wouldn't trade for the world.
S: What did it mean for you to be able to travel to Japan to work on the publication?
Elman: We are, first and foremost, hardcore anime fans. So, being able to visit Japan, that too under company funding, was a surreal experience. We met a popular old-gen mangaka, Haruto Umezawa-sensei, in his workspace, which increased our respect for the masters. We also became the first Bangladeshi people to set foot into the headquarters of Kodansha and sit down with the Deputy Editor-in-Chief of "Weekly Shonen" magazine. Being able to do all that, while exploring the heart of Tokyo city, was nothing short of a dream come true.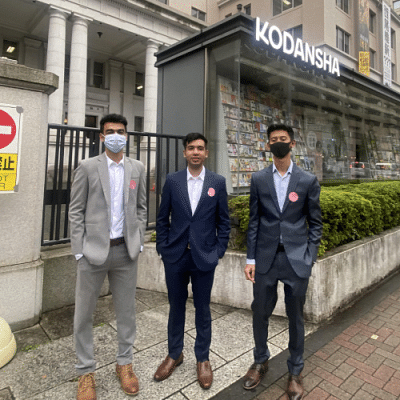 S: A large part of Fournetsha Bangladesh's philosophy is to establish manga culture in Bangladesh and put an end to piracy. Tell us more about how you plan to do that.
Rafi: The seasonal "Source?" magazine will definitely be our biggest push to promote manga culture. Additionally, we are also working on a one-shot manga that has the potential to shake up the local community this year. Besides, we will also host many anime and manga-related events in the future, including art competitions like FireworX, to encourage talented local artists to showcase their passion and craft.
As for the pirated books which plague the local market, we aim to work with the publishers' associations of Bangladesh to stop the printing and selling of fake manga volumes altogether. That way, we can push a market where consumers can finally appreciate manga in its truest form.
S: In the long run, do you think "Source?" can become a platform for young manga artists to showcase their work to a wide audience?
Nayan: We're absolutely certain that we can and will be able to accommodate local artists under a large umbrella. The first issue of "Source?" featured three writers and artists, and two more original stories are already lined up for our next issue. Moreover, within five days of our magazine's launch, over 50 artists and writers have reached out to us to get their work published through "Source?", which signals bright things for the future.
S: What other plans do you have for "Source?" moving forward?
Konosuke: Given the stratospheric organic reach the first issue brought us, we are confident that we can increase our impact. Along with original manga made by Bangladesh artists, we also plan on bringing more popular Japanese titles and translating them to Bengali, because we want to foster an audience that isn't just limited to existing fans of manga culture. 
And our expansions won't be limited to manga only. If our titles get global popularity, we will focus on anime adaptations, video games, and even feature films. We aim to be one of the premier manga publishers globally, alongside the likes of Shueisha (the largest manga publishing company in Japan) and Kodansha.
Ayaan immerses himself in dinosaur comics and poorly-written manga. Recommend your least favourite reads at [email protected]