Wedding in the Time of Corona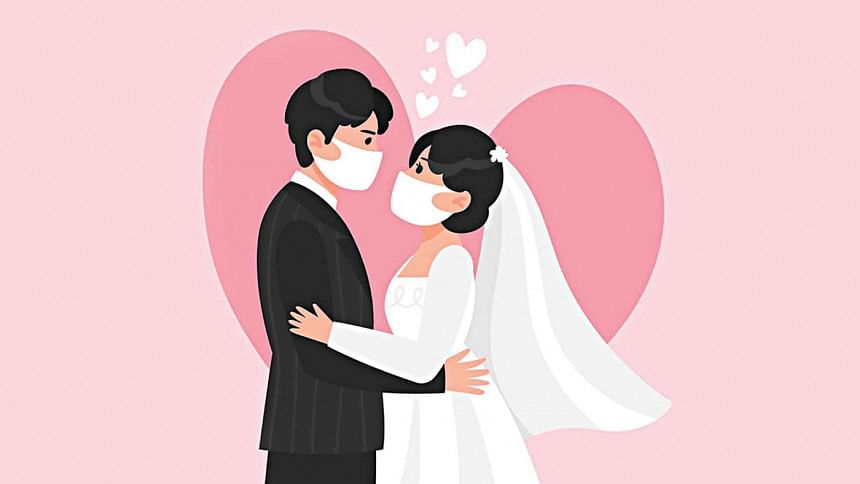 Imagine this: it's your wedding day. You expected to be in a hall decorated with fairy lights, smelling of kacchi biriyani, and surrounded by your family and friends. However, you find yourself in your living room, signing documents and exchanging rings with your spouse in the presence of an officiant and the immediate family members from both parties.
Unfortunately, this is the reality for those who planned to tie the knot this year. Like everything else, Covid-19 has impacted wedding plans of the youth. Despite the odds against them, some are going ahead with their plans, albeit at a much smaller scale.
In 2020, Shakeer* intended to have a grand wedding, with events taking place throughout the whole year. However, his plans have been abruptly cut short, leading him to compromise with a small wedding during the first weeks of lockdown, "The wedding took place on the rooftop of my wife's apartment. In order to limit the spread of disease, we maintained social distancing by inviting only twelve guests. The whole affair was small and quick."
Although Shakeer missed his extended family and friends on his special day, he consoles himself with the fact that they were present at his engagement ceremony back in January. "All of my close relatives were there. Food was ordered from outside. We had hired a photographer and a videographer to record the whole event. It was much grander than my wedding," he says.
Tarek* had a different experience. He surprised his family in the beginning of Ramadan when he announced his wish to get hitched. As he lives and works far away from his parents, he wanted to go through the proceedings as soon as possible given the difficulties of travelling during lockdown.
As a result, he had a small wedding right after Eid, in the presence of only fifteen guests. "It actually takes very little to organise a wedding. My wife's family had booked a kazi and my family had fixed the mohor. Three of our mutual relatives acted as witnesses. We said kobul when the kazi asked if we accepted each other in holy matrimony. Then, I was a married man."
Tarek had accepted the fact that he was not going to have a traditional wedding with all its grandeur. Yet, he wistfully daydreams of what could have been if not for Covid-19, "It all happened so fast. My parents met my wife in person for the first time at my wedding. If it wasn't for coronavirus, I certainly would have taken the time to let our two families get acquainted before fixing dates for our holud, wedding and reception. And of course I'd invite all of my relatives and friends."
As no one knows for sure when things will return to normal, it might be ages until the next time we wolf down biriyani dressed to the nines while two people begin a new chapter in their lives. Let's hope that the "next time" comes soon.
*Names changed per interviewee's request.
Adhora Ahmed daydreams too much. Send her reality checks at [email protected]