The subtle rivalries in England's world cup group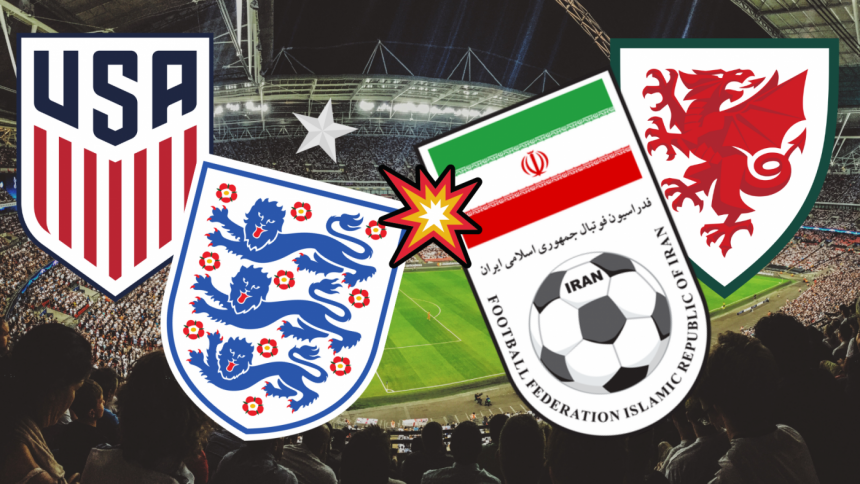 Among the groups in this year's FIFA World Cup, Group B really stands out. Consisting of USA, Iran, England and Wales, the footballing talent in this group is undeniable. However, the myriad off-field issues facing Group B's teams is sure to make the atmosphere feisty during the games.
Here are some of the standout matches to look forward to from this group:
England vs Iran
In many respects, this match represents a true clash of cultures. Both traditionalists, yet polar opposite in their ways. The free-minded, bold and Western English faceoff with the conservative Islamic Republic of Iran, giving this encounter a fascinating social dynamic. Britain's past role in the Gulf War of 1990-91, where they supported Iraq's invasion of Iran, further complicates an already complex dynamic.
On the field, it's the first ever meeting between these two countries. For an England side coming on the back of a six-game winless run, it will be imperative for them to win this and gain some confidence, while Iran will also be looking to show their credentials at the world stage.
With this being the first match of their respective campaigns, the players will be pumped up to get off to a bright start.
England vs USA
Britain's 198-year rule over America, which included British oppression of the natives and the subsequent American War of Independence is an interesting subplot casting a shadow in this game. The friendly relations between these two nations have eased American animosity towards the English in the last century.
This edition of 'Football vs Soccer' derby will be the third time England and USA faced off in the World Cup. The 1950 World Cup group-stage game has been a source of romanticism over the years – coming in with a ragtag team of part-time immigrants looking for American citizenship, US Men's Soccer team defied all odds to defeat the mighty English 1-0, which remains one of the most remarkable upsets in World Cup history.
In 2010, USA held England to an embarrassing 1-1 draw. Coming into this World Cup with much stronger sides, this match promises to be an intriguing affair too. For an England side navigating a tricky period, it's a potential curve-ball which USA might well succeed in taking full advantage of. Nevertheless, the English will be pumped up to rectify their awkward record against a tricky opponent en-route to 'Bringing Football Home.'
England vs Wales
A fixture with colonial significance, Welsh Nationalism has been rife ever since the Normans' conquest of Wales in the 12th century. Despite Wales hosting the Royal offices of the heir to the UK Throne (the Prince of Wales), Welsh resentment towards England runs deep, accusing them of destroying Welsh culture, causing Welsh language to become extinct and making them a de-facto colony. In fact, Wales are currently lobbying to be officially known as Cymru – the Welsh name for Wales.
With this in mind, Wales is certain to be pumped up. The tantalising prospect of gaining regional bragging rights will be firmly in the players' minds. This game is tremendously significant as it's the first ever World Cup game between two British teams.
The odds will be heavily stacked against Wales. Wales have lost 67 of the 102 matches against the Three Lions, and a look at the teams suggest a comfortable win for England. Still, it would be foolhardy to write Wales off… just yet. 
Bonus: Iran vs USA
One of the most intensely-hyped fixtures of this World Cup, but far from any footballing reasons. Iran and USA have played each other twice, but their encounter in the 1998 World Cup group-stage stands out. Dubbed as the 'mother of all games,' and the 'most politically charged game in World Cup history,' the aggressive match ended 2-1 to the Iranians.
Egos mattered so much that Iran's Supreme Leader, Ayatollah Khamenei, demanded that Iranians don't walk towards their opponents. 
The historic mutual animosity will keep the players on edge. The on-going protests condemning the death of Mahsa Amini, demanding for a progressive Iran free from the draconian shackles of Sharia rule, will further spice things up.
Despite the frosty relationships, fans and players alike will hope those 90 minutes will be symbols of peace and unity as footballers show their magic.
Inqiad is a passionate Bucks fan and a certified Giannis stan. Contact him at inqiadali007@gmail.com