The Raw Realism of BEEF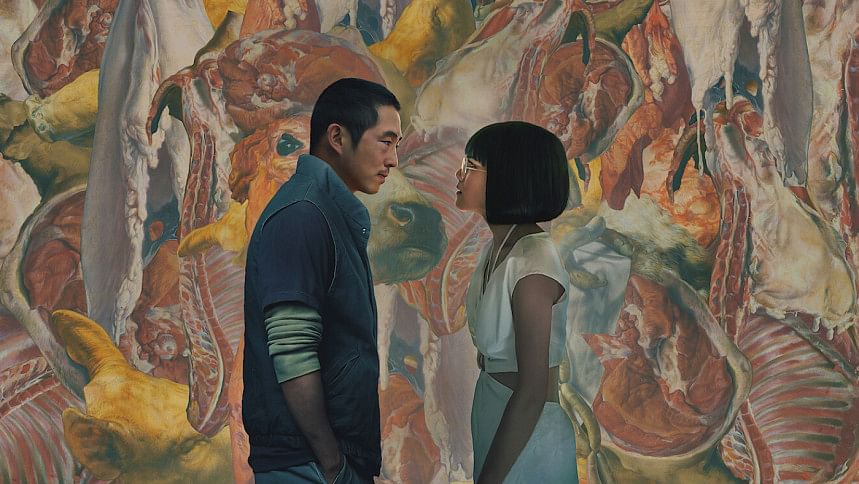 *SPOILERS AHEAD
BEEF explores the lives of two strangers from two different walks of life yet sharing the same plights. They bump into each other through a rather petty road rage incident that quickly escalates into a maelstrom of grief, loneliness, felony, and competition. Amy Lau (played by Ali Wong) is a successful plant business owner who is on the cusp of finalizing a major deal to sell her business, and Danny Cho (played by Steven Yeun) is a contractor completely distraught with life, both going through setbacks in their respective endeavors. They go down in an unfiltered, unruly, hysteria of delirium which turns their lives upside down.
Danny and Amy are flawed, complex characters who both grapple with deep-seated issues. Their distorted humanness often leads them to make regrettable decisions and exhibit toxic behavior throughout the show. As they engage in a cycle of revenge and retaliation against each other, their lives spiral out of control. No matter how picturesque and pristine Amy's life looks from the outside, it has its ugliness and muck hidden under the floorboards. Her dysthymia, falling off with her husband, George, and general dissatisfaction with life contribute to the rush she felt when messing with Danny.
Danny, on the other hand, embodies the immigrant hustle culture and the burden of being the oldest child responsible for the entire family. His strained relationship with his brother Paul only adds to his feelings of inadequacy and worthlessness. As these two damaged individuals collide with each other, their lives become entangled in a series of unfortunate events.
In a sense, both Danny and Amy are mirror images of each other irrespective of their wealth and status. Both share years of damage and generational trauma that bring out the worst in them even though they do not want to be bad people. The show also offers a poignant portrayal of the Korean American culture and its unique challenges. Danny's character is a powerful representation of the struggles faced by many Korean Americans who find it difficult to fit into their communities and feel a sense of belonging. Yeun's powerful acting in the church scene is truly spellbinding, digging into how this rat race of life leaves no room for peace and solace anywhere as he breaks down into tears at a place that is supposed to have all answers.
As their stories keep on getting wilder and unhinged, Amy and Danny realize that they are "kindred spirits". Even after going for each other's jugulars, they find comfort in knowing that they are more similar than different, and all needed in life was someone to talk to and understand them. Someone just like them. The unconditional love that they were looking for was a few Skittles and berries away.
BEEF is a visceral, dark comedy that is much more than some revenge drama. While some viewers may have mixed opinions about the show's final episode or overall level of engagement, it is safe to say BEEF is a bold and refreshing addition to Netflix's library. BEEF might not be "the best show Netflix has ever produced" but is surely a well-done steak that delivers a satisfyingly meaty experience for anyone willing to give it a chance.
Farnaz Fawad Hasan is a disintegrating pool noodle wanting to stay afloat. Reach her at [email protected]