The pursuit of theatre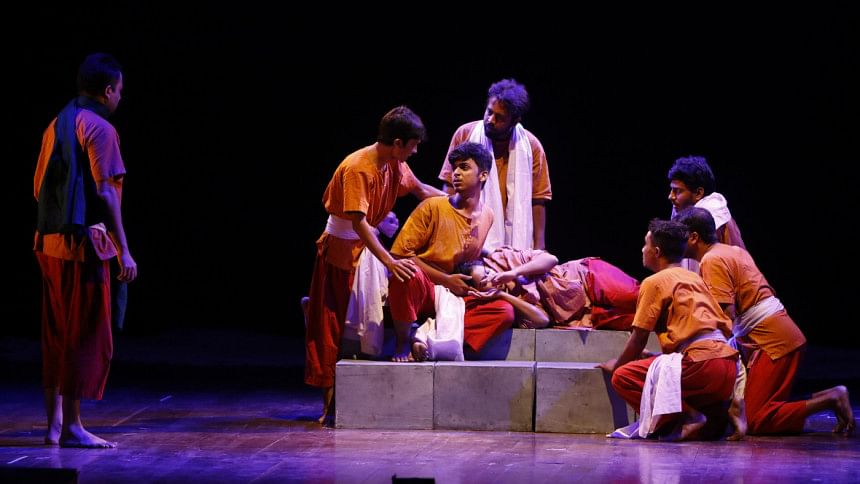 Theatre – grand stories, poetics of the stage decor, thrill of seeing a live performance. The whole affair is nothing but enchanting. But how does this dazzling world work, and how does one find their way into it?
Saim Bin Mujib is a permanent member of Prachyanat, one of the most revered theatre groups in Dhaka, founded in 1997. He explains how their productions come to be.
"There's an executive body that decides when we start work on a new play. For one to two months there's script reading and rehearsals. Then we have vocal practice, blocking, figuring out whose exit and entry is where. Parallelly we do music production, costume design, then target a start date or festival," Saim explains.
He continues, "If someone wants to work here, first they must complete a six-month course offered by the troupe. Upon completion, you are kept on a waiting list after which you are interviewed and if successful, recruited for a position in the group."
For young people who want to pursue their passion for theatre, the experience of setting foot in the industry is varied as each theatre group operates in their own way. Despite some exceptions, the overall structure of the training period is the same.
The main focus of the course is on acting but it also covers everything from vocal projection, dancing, physical exercise, improvisation, characterising, script writing and more. Students often have to make miniature versions of a set as well. This is intended to give everyone a well-rounded idea of what it is like to work in theatre. There is also a batch production at the end of the course.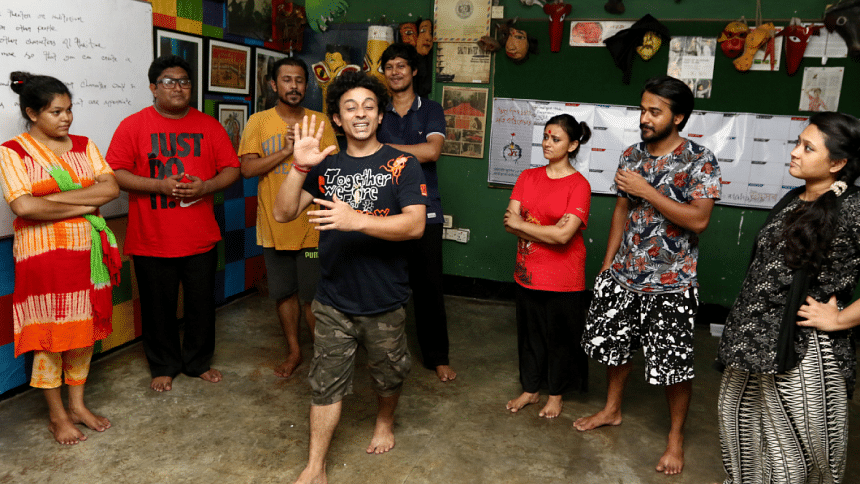 The course runs on weekends. There are people from all walks of life. Most are students but there are also parents and senior citizens. Some are even recommended to take up the course to improve their mental health. It brings positive changes in people. Introverts join and learn to become expressive people. Many actors and models join for skill building and career growth.
Zaheen Mahdee is a current student of the course at Prachyanat School of Acting & Design. He speaks of how his mindset is different now, and that his observation skills have improved. Zaheen is also a businessman, juggling with two start-ups.
"I have business interests. After the course, I want to work with OTT platforms professionally," he adds.
As interesting as the course may be, it is an arduous journey. Saim elaborates, "Theatre is a hard test. For six months, there is very cruel work, no matter where you come from. Unless someone is very lucky, they won't get major roles initially. Perhaps in commercial projects or street performances, but not in regular shows."
However, hard work often pays off, as Saim was cast as the lead in a short film through networks he made at the group.
There are, of course, avenues in theatre beyond acting. Since the introductory course covers all the areas, people take it as a starting point. Compared to acting or directing, there is more scope in sound and light or set design for example, since less people try to pursue these.
Ziauddin Al-amin Shiplu says of his experience with the theatre group Palakar, "For one and a half months, I basically lived in the studio, working on music arrangement and performance. Gaining experience in theatre is good for anyone who wants to work in Bangla music. The work is versatile and you can learn a lot. But you have to move on to apply and build a career elsewhere."
Zia now works as a member of the Multimedia team at The Daily Star. 
"You really have to be in love [with theatre] and just a tad bit crazy to go into it," comments Fazle Rabby, a natyakarmi working with Aranyak Natyadal. Aranyak was established 50 years ago by eminent actor, director and scriptwriter Mamunur Rashid.
Rabby explains, "Bangladeshi theatre is like nijer kheye boner mosh tarano, as no funding or monetary compensation exists for the beginner. You have to pay for everything on your own, starting from the training. Other than joy, there is not much that you will get in return. So, if you think about profit or money, this is not the path for you."
The earnings any group makes, such as through ticket collections, goes to the group collectively and is spent on costumes, props or other expenditures there might be. People who do individual gigs get some money from their work. This is because you can hire other people from different groups or individuals if you need support, according to Rabby.
"Theatre groups are requested to perform at festivals, corporate programs or government events where organisers ensure payment. All group members get paid for these," adds Saim.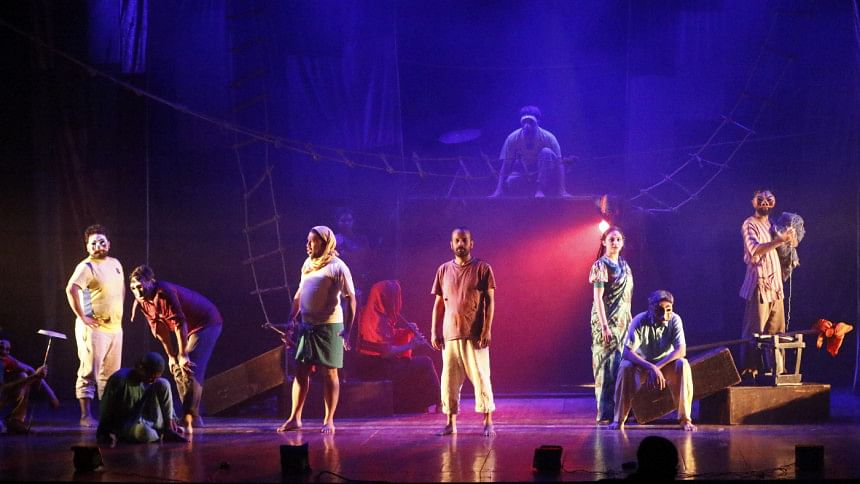 Despite the lack of financial prospects, all hope is not lost. As the CEO of Open Space Theatre Tisha Mahjabeen Chowdhury clarifies, "Theatre is not yet a sustainable profession for many, but it is in the process of becoming one. I know certain professionals who are earning a living by just doing theatre-related work. To be able to earn a living from theatre, a person needs to reach a highly demanded skill level."
Beyond that, people still love theatre because it's a process of self-development. As Tisha says, "Even if you are not interested in theatre, I would still encourage you to try it, because it gives you confidence, growth, and freedom within yourself."
"The process of taking a production from script to stage teaches you extreme resourcefulness and helps you discover new skills. No matter where you are in life, when you get involved in theatre, you start a process of personal enrichment," she adds.
On an academic note, if someone wants to pursue theatre as a career, they can always look at university programs.
Dr. Fahmida Akhter, professor at the Department of Drama and Dramatics at Jahangirnagar University (JU) says, "We focus on the technical aspects like theatre design, acting, singing, directing, lighting, costume, and makeup as well as the theoretical aspects like reading and analysing plays, studying colour theory and communicative media. We teach everything from how to sew a shoe to reading Chandi Path."
"Students of the department also get opportunities to work at the National Institute of Mass Communication, different theatre groups or jatra pala depending on the course and instructor," adds Dr. Akhter.
Beyond a career in media, acting or performative arts, drama majors pursue careers in fields that involve communication, critical thinking, and collaborative work. From working in theatre, acting, advertising, television, radio or opting for higher studies, there are examples of these all among graduates of JU'S drama department.
For a complete beginner, the world of theatre is accessible yet it is not a simple one to get into. However, considering the sheer love actors and performers have for their craft, despite the hardships, what's on the other side of the curtain must be just as beautiful if not more than what we see on stage.
Tazreen dreams of becoming a Himalayan hiker despite her inability to walk even 30 minutes a day. Expose your inner boomer by calling her a 'farmer murgi' at [email protected]
Mrittika probably missed her chance of working in theatre already but isn't too sure. You can reach her at [email protected]