Including reproductive health in the NCTB curriculum is a step in the right direction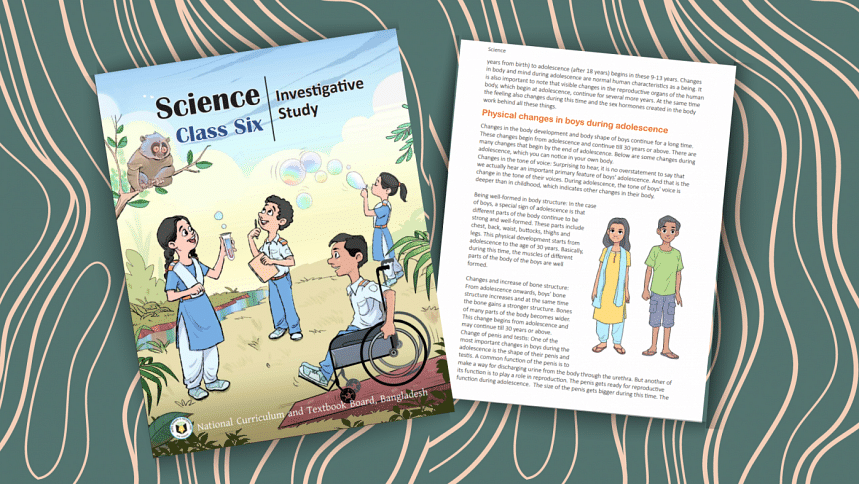 This year, the National Curriculum & Textbook Board (NCTB) has brought about some major changes to their textbooks, including the Science Investigative Reading textbook for class six. It differs from the books of the preceding years in many ways, but a particular portion of the content has been garnering some attention. In particular, a section on adolescence focusing on the physical changes children undergo during puberty has been generating discourse online.
While the detailed nature of the text may feel unsettling at first, it's quite evident that the content seeks to be purely informative without any underlying agenda. The section in question fall under the chapter Manob Shorir or "The Human Body". Physical changes during puberty fall under the territory of basic human anatomy, which is exactly what you would expect from a chapter with that title.
Previous editions of NCTB science books of the same class were either devoid of such information, or chose to gloss over the topic. As a result, many of us didn't have a reliable source of information about what puberty is, and what it entails while growing up. While we eventually acquire knowledge on these topics from various sources and experiences, many misconceptions about puberty and sexual health are still prevalent among today's youths. As such, NCTB's decision to include a straightforward and informative overview of adolescence is a step towards establishing proper sex education.
The national curriculum's textbooks tackling the topic of adolescence is nothing new. NCTB's Physical Education and Health book for class nine and ten contained a chapter on puberty and reproductive health long before this change in the science book of class six was implemented. Incorporating it in the studies of class six is commendable nonetheless, as children tend to hit puberty around that age.
The discussion of reproductive health is still considered a taboo in our society, which is why parents seldom take the initiative to educate their children about their physical changes. The stigma around the topic also bars them from expressing their concerns to a grownup, who maybe able to provide some guidance. 
As such, children seeking answers often end up searching in wrong places, which is a lot more likely in this day and age. Uninformed children are also more susceptible to reproductive diseases, sexual violence etc.
Educational institutions are to provide children with well-rounded education, so having reproductive health on the curriculum can help in the long run to accommodate a better understanding of their own bodies.
However, the implementation of the study of adolescence and reproductive health caused quite a stir on social media – proving that a huge chunk of people consider sex-ed to be inherently immoral. The contents in the book matter-of-factly describe the process of puberty along with the proper scientific terminologies for it.
Yet, the perception of the general population is such that the content is vulgar and deserves no place in the textbook. Many share the opinion that topics like these being openly discussed may lead children astray, even though it's highly effective in creating self-awareness.
The entire reason simple sex education feels out of place in textbooks is because of the scarcity of it. Be that as it may, puberty and reproductive changes are both natural phenomena, and stigmatising them does more harm than good. The vilification of sex education perpetuates the idea that any discussion on reproductive health is pornographic in nature, when in reality, it's crucial to the physical and mental well-being of our adolescents.
So, while we can't expect society's preconceived notions to change overnight due to a few textbook articles, NCTB's decision to include adolescence in the syllabus will definitely help in destigmatising the conversation around reproductive health in the long run. 
Find Zabin Tazrin Nashita at [email protected]