How to Set Up a Blind Date on Zoom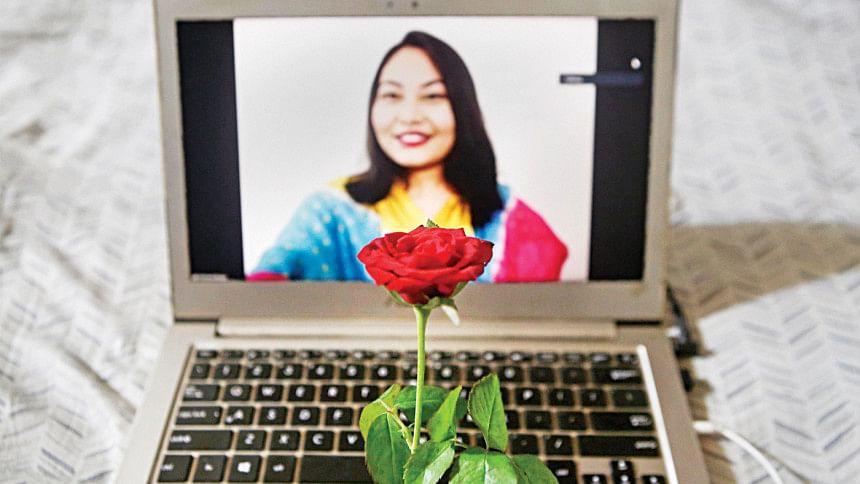 Once upon a time, I wrote an article called "When you're single, but your friends are not" which pissed off my friends to a great deal. But I think in that listicle where I mentioned what these not-so-single friends do to you, I can add one more thing that I have experienced in this current quarantine.
They set you up on blind dates. Where?
On Zoom.
Let's convince you how great this is.
This is like the new normal, right? I mean you can't just sit alone in your home, lounging, when you can be spending that precious time finding a significant other. It is so much fun and DEFINITELY not nerve wracking. You were single when you were meeting people, now you certainly can not be so single in this lockdown too. What would the neighbour aunties say? Tut, tut. Boys and girls, this is the most amazing thing ever. Why? Because you are meeting an unknown person virtually. And while their face might pop up on your screen with the stunning backdrop of floating planets in space, there will be a strong probability that a family member would walk in and see that person's face because there is no such thing as closed doors and privacy in Bangladeshi households. But you can explain to them that you are just having a small chat with an extra terrestrial species you met. Exciting, isn't it?
Also, this genius plan does save you from the stress of pining about how to dress up. Just a few options to choose from like change into a cute outfit or change into a better shirt, but without abandoning your comfy pajamas that you've been wearing for the last five days. Or should you entertain your date with your just-woke-up self? And you wouldn't want to miss out on having your own orchestra playing for you two: the sound of a frying pan falling on cue, the whistle of a pressure cooker going off, heavily backed up with the amazing vocals of your siblings bickering and your Mom pulling off a high note to tell you to change from your PJs because that's nasty or else she'll have to kick you out of the house. Beethoven who?
Moreover, there will be a wide assortment of backgrounds you can choose for yourself instead of just spending money on overpriced coffee. Rather than sitting in the same, old boring coffee shops, you can place yourself in Hawaiian beaches, the Simpsons' living room, the space in which you'll be able to float and talk for hours with a spacesuit (that's just pure science, okay?), the Amazon forest, and of course, the moon. How many people can say that they went to these amazing places on their first date? Romantic much?
The cherry on top is that you can excuse yourself just by acting like your screen froze or you can totally show off your hidden talent of talking like a robot, when things go awkward, to hint that your Wifi connection is not taking this date well.
I think we can agree that this is better than an actual blind date. So who's up for it?
The author can be reached out at [email protected]