A guide to building a bouquet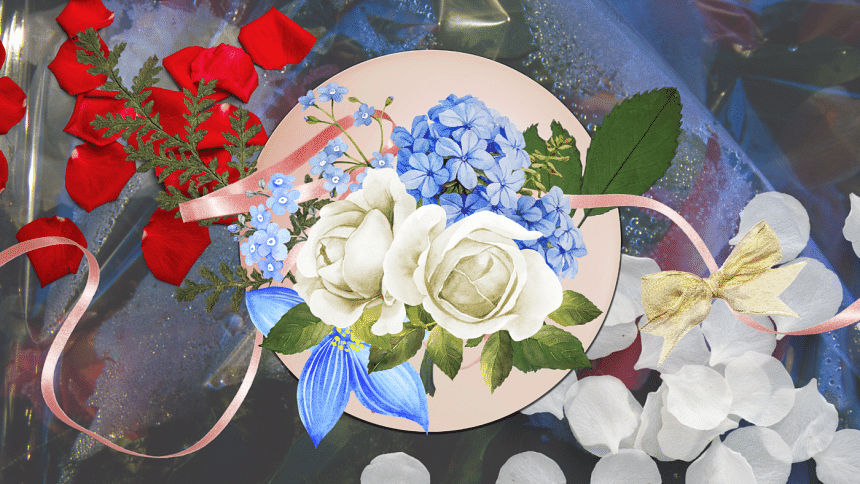 Whether it's going to friends, partners, family or just being presented as a gift of convenience before an event, there's a certain art to giving someone a bouquet. It's so much more than a bunch of flowers tied together with plastic and ribbons. Beautiful as they may be, pre-made bouquets from the store often lose the touch of personal sentiment. So, take some time and follow this easy guide to build the perfect bouquet.
Colours and Textures
Throwing in flowers of every colour, or just sticking to a single colour, is a big mistake. Find a couple of colours that work together and stick to them. Using ratios is an easy way to balance colours. A standard rule to follow would be the 6:3:1 ratio, which is primary colour: secondary colour: accents. Accents can include ribbons, papers, and leaves of different sizes. As for colour combinations, blue and orange, red and green, pink and white, and yellow and purple all work great. Feel free to play around with textures but be careful as to not make it look messy.
Arrangement and preparation
If you're making the bouquet at home, carefully remove the thorns and trim the flowers. A few stray leaves here and there can be left untouched to break the monotony of the colours. Focal flowers will be the ones that take centre stage, which can include flowers like lilies, roses, carnations, and peonies. On the other hand, filler flowers are small and delicate. These include flowers like baby's breath, fern, eucalyptus, and camomile. Wildflowers from fields can add a lot of character, with leaves and filler flowers adding a much-needed volume to the bouquet. The general rule to follow is 3 filler flowers to 1 focal. Add a few flowers which are set to bloom within 48 - 72 hours after the reception so the bouquet doesn't wilt in 3 days.
Wrapping and finishing touches
When wrapping the bouquet, be aware of three key factors: space, size and proportion.  Make sure there's a fair amount of space between the flowers. The size of the flowers must be in proportion to each other. Baby's breath works well with lilies because of the discrepancies in size.
Avoid using the tacky plastic sheets at the stores instead bring your paper. A safe bet would be brown paper, as it works well with almost everything. You can place a thinner translucent sheet inside the main paper to add texture and background to the flowers. If you're meeting someone and know what colour they're wearing, try to make that the colour of the paper or use that colour in the accents. Tape your flowers together and tie a pretty bow around the base instead of using the ribbon to hold the flowers together. Throwing in a handwritten note, song lyrics, or poetry can make your bouquet just that much more meaningful.
You don't need to spend thousands to get someone a big bouquet. A few or even a single flower with a poem around it means just as much to the person receiving it because it's not just the flowers you're giving someone.  Building a bouquet doesn't have to be daunting, it's an easy process that requires your time more than anything. So, follow this guide and impress someone with a wonderful floral arrangement.
Aryah Jamil is mediocre at everything except laughing at her own jokes Tell her to stop talking at [email protected]