Four ways Bangladeshi fans showed their obsession for the World Cup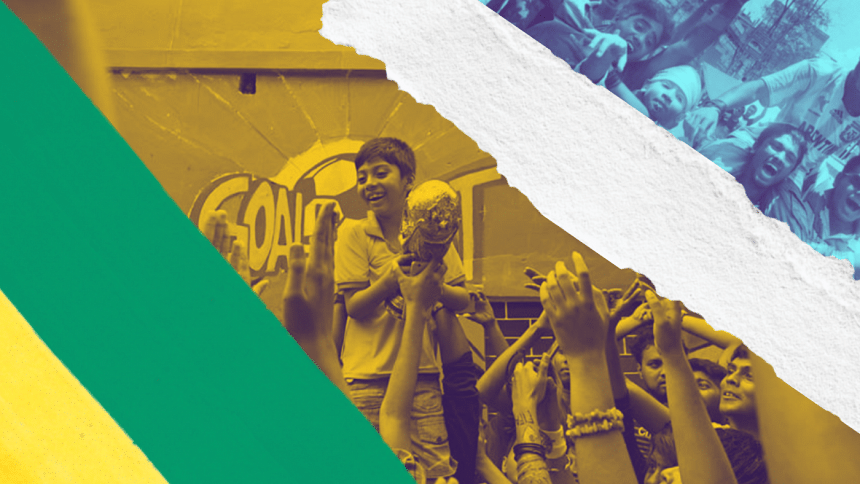 After a much anticipated four years wait, the world cup has arrived again. To celebrate the event and show love for their favorite teams, fans buy jerseys and hoist flags of the countries they support.
However, some people go the extra mile to show love for their favorite teams by doing something a little unique. Here are some stories of what football fans did that caught people's attention.
1. The Argentina and Brazil Bridges
Football fans in Rangamati reportedly went on to paint three mountain bridges, adorning them with the colours of the Argentina and Brazil flags. Supporters are already calling it the Argentina and Brazil Bridges.
The Puranabasti-Jhulikya link bridge and the Brahmantila link bridge in Rangamati city bears the iconic palette of the Argentine flag while the Asambasti Bridge has been painted in the yellow-green colour of Brazil.
2. The miniature stadiums in Faridpur
On the other hand, an Argentina fan from Faridpur decided to share the joy of the world cup with his villagers by building eight replica stadiums of the world cup venues in Qatar and also made arrangements for showing the games on a big screen.
Masudur Rahman, who lived in Qatar for ten years, worked 16-18 hours every day alongside 20-25 other young football fans from his village in order to get the job done in time and it cost him around Tk 5 lakh.
While describing how he did it, he said, "At first, I collected the stadium's designs and reviewed them back when I was in Qatar. Then I decided to go back to Bangladesh and build these stadiums." He added, "I want them to feel like they are watching the match sitting inside the stadiums in Qatar." 
3. The long South Korea flag from Brahmanbaria
Another incredible story takes place in Dariakandi, Brahmanbaria where Abu Kausar Mintu decided to show his support for South Korea by unfurling a whopping 4 kilometers long South Korean flag.  
His enthusiasm for football and South Korea started after he visited the country back in '98. In the process, he fell in love with the sport during the 2002 world cup hosted by South Korea. 20 years later, Mintu and his wife sought to pray tribute by doing something special for South Korea.
The couple saved Tk 1.80 lakh to make the special flag but the amount was not enough. Nonetheless, the couple didn't give up and went as far as selling their land to get an additional Tk 3.20 lakh more to complete the enormous flag.
4. Another lengthy (Argentina) flag in Mymensingh
Last but not least, a group of Argentina fans hoisted up a 3,000-foot-long flag in Nandail, Mymensingh. The flag was made with 1,500 yards of cloth in six days at a tailor shop in Nandail Road Bazar costing them Tk 50, 000.
Abdul Matin, the owner of the tailor shop said: "It took me and my wife six days to sew the entire flag. I have never sewn a flag of this size in my life."
He added, "I also sewed it with care because I love Argentina."
The length these fans have gone to support their favorite team shows how much our country loves football and what the World cup means to us. Football unites our country unlike anything else and this world cup is no exception.
Tamjidul Hoque is ready to be hurt again by Argentina this world cup, tell him what you think will happen this time at: [email protected]