What makes a football fan?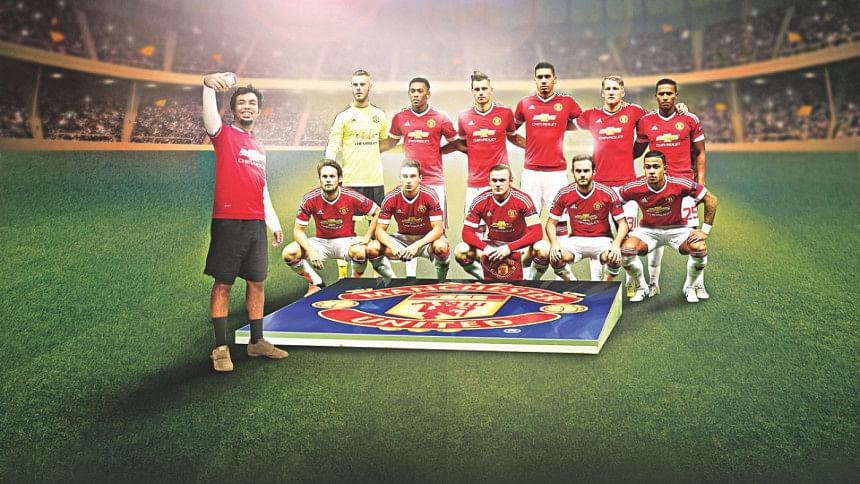 Over the course of the past decade, European football has exploded. The big European clubs have grown into global enterprises, followed closely by millions of adoring fans. Often times, whether or not these fans have a 'good week' depends on the how their club fared that weekend. But before someone can staple their heart to a team, there must have been something that drew them to that team in particular from the large number of successful European teams. This week, SHOUT takes a look at football fans and why they started supporting their clubs in the first place.
FIRST IMPRESSIONS
Not surprisingly, the first time someone saw a certain team play left a lasting impression on their minds. Often times, fans stumbled onto these games by chance but were left hooked.
Zaef Abrar, from St. Joseph Higher Secondary School, has been supporting Manchester United for over a decade now. He remembers stumbling across a highlight reel of goals by Ruud van Nistelrooy. 
"It was the title winning season of 2002/03. Ruud van Nistelrooy was the top scorer that season. After the season ended, Star Sports aired a collection of his goals. I was just a little kid then and he seemed so darn impressive. That made me curious about the team. So I started looking into Manchester United more. And the rest just took off from there," said Zaef.
The first time Awsaf Ashraf Enan, from Notre Dame College, saw an entire match live was the 2005 UEFA Champions League final between AC Milan and Liverpool FC. His brother was a dedicated Rossoneri fan and was naturally feeling smug about Milan's 3 goal lead at half time. 
He recalled, "I guess sibling rivalry took over or something and I really wanted the team in red [Liverpool] to win. Everyone knows what happened in the second half of that match. Liverpool came back and won on penalties. It blew my mind and my heart was sold."
Enan's story of sibling rivalry brings us to another reason why people often support clubs, out of sibling or friendly rivalries.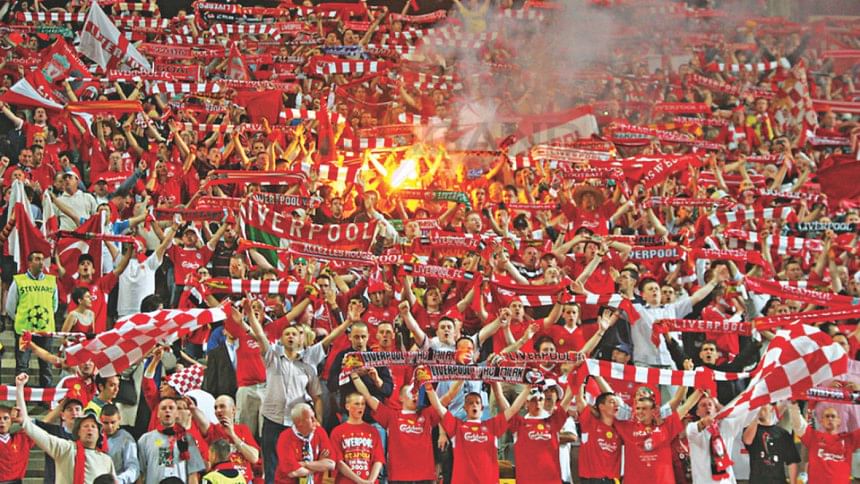 SIBLING OR FRIENDLY RIVALRIES
Ali Mashraf, from the University of Dhaka, has been an FC Barcelona supporter for most of his life. And when asked about his first memories of the team, Mashraf thinks it had a lot to do with the fact that his brother was an ardent Real Madrid fan. 
"I first followed Barca back in 2003/04. They'd just brought in Ronaldinho and had a really bad start to the season, spending a lot of time in the bottom half. My brother was a Madridista and would boast about how they were superior. Then Barca managed to regain form and finished second, ahead of Real. For some reason, that felt like a personal victory. I've been supporting Barcelona since," said Ali.
PHILOSOPHY
Although 'philosophy' is sometimes joked about in some circles these days for Louis van Gaal's use of the word, there's no use denying that football is full of philosophies which dictate almost everything from how a club is run to the style of play on the pitch. And these philosophies have also drawn in fans.
Rakeen Ahmed, from the University of Toronto, is a lifelong Manchester United fan and he says the team's style and their attitude is what drew him in. 
He said, "I fell in love with Manchester United in 2006 when I saw Wayne Rooney and Cristiano Ronaldo carry out a devastating counter attack against Fulham near the start of the season. That got me interested in the team and I started watching more matches. The speed and devastating precision with which this team attacked left me mesmerised. I started learning more about the club's history. I saw videos of the 1999 UEFA Champions League final, where United scored twice in stoppage time to come back from behind and win against Bayern Munich. This team always kept coming back; they refuse to fall. That attitude is so incredible."
Different things constitute a team's philosophy, one of them being history. And for long-time Real Madrid fan Talat Iqbal from Scholastica, the team's illustrious history was a major attraction. 
"When I first got into football I didn't know much about teams. But then I learnt that this was a team that historically won more than any other and always had the tradition of signing the very best players in the world. Quite simply they seemed like football royalty to me," he explained.
Rushnaf Wadud, poet and vocalist of Blunderware, is an Arsenal fan. He confessed that Arsene Wenger's artistic approach to the game deeply moved him. 
"When I was younger I liked Newcastle United a bit because I felt they had a really cool emblem, what with the sea horse. Then there was Arsenal and they had a cannon and that was really cool too. But after Wenger showed up and they transformed their football from the boring Arsenal of the 90's to the artistic, flamboyant Arsenal we knew in its prime, I felt a deep connection with the team. Personally for me, artistry is everything in life. And I see that reflected in Arsenal; they play to win artistically, not to force a win through no matter what. I love that," said Rushnaf.
"I liked Frank Lampard," says Nawed Nafees, from IBA, University of Dhaka, a lifelong Chelsea fan, "I watched Chelsea mostly to see Lampard play. But in 2012, when Chelsea won the Champions League, I was fascinated by the team's grit. We were clearly not the strongest team in Europe that season - far from it. But for most of the campaign, Chelsea got through on sheer perseverance. In life, I've always had to struggle to achieve whatever little I have and I saw that reflected in Chelsea's push for the trophy that year. When Drogba scored in the final, I felt like it was the fruit of years of labour, after all those years that Chelsea came close in but fell painfully short. Ever since that, I've felt a strong sense of attachment to Chelsea."
COLOURS
Fans tend to get attached to their clubs at a young age and often times when you're young, decisions aren't based on reasoning all the time. Often times you're drawn to a team simply because they have cool colours. Yes, that happens too. 
Aneek Rahman, from BRAC University, has been supporting Newcastle United for years. And his reasons for supporting them aren't as dramatic as some of the stories we've heard so far. 
He said, "As a ten year old I found their black and white stripes really cool. The shirts look like barcodes. I don't know, I guess that drew me in."
A similar story was heard from Chelsea supporter Adib Shadman from Maple Leaf International School. "I love the colour blue. And Chelsea had blue kits and the seats at Stamford Bridge were blue too so when you saw a Chelsea home game, there was a whole lot of blue. The scenery was really pleasing to my eyes."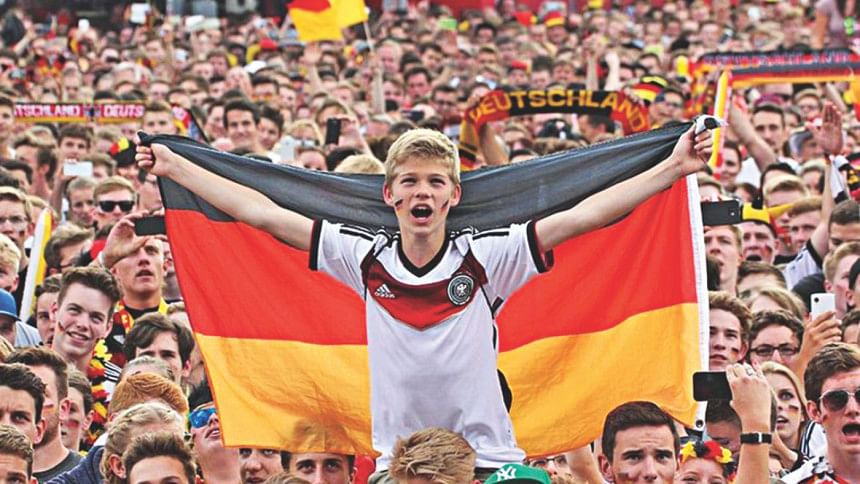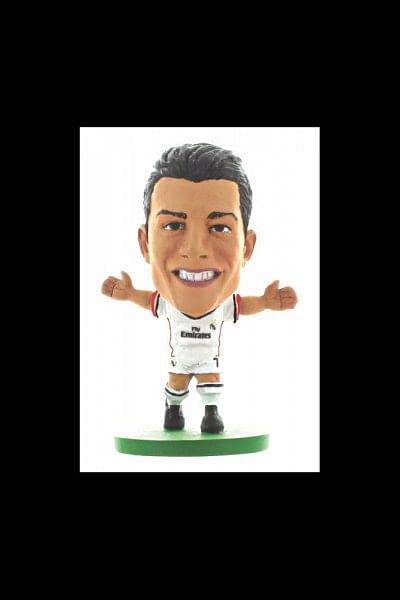 PERSONALITIES 
Syed Samiul Alam Rhine, also from IBA, an official member of the Mighty Bayern Munich Fans of Bangladesh, got drawn to the German giants because of his admiration for Oliver Kahn and Michael Ballack.
"I liked how they played in the World Cups of 2002 and 2006. At the time I wasn't really into club football. After the 2006 World Cup, I started watching Bayern games. It was difficult because Star Sports or ESPN didn't show German football and the internet wasn't very good at the time. But still, I stuck behind them. I loved how Bastian Schweinsteiger and the others like Philipp Lahm were such daunting personalities. Bayern was a club full of leaders. That really inspired me," he said.
As we saw from all these accounts, people have hundreds of different reasons for supporting different teams. The way we get attached to a club varies greatly but once we're hooked, it's pretty much the same story for everyone. Falling in love with a team and following them throughout the year truly is a beautiful experience; to live the highs and lows together, to live every moment together. The way clubs become the centre of our universe, it's always interesting to recall how we fell in love in the first place. Those will always be special stories.