Do university rankings reflect reality?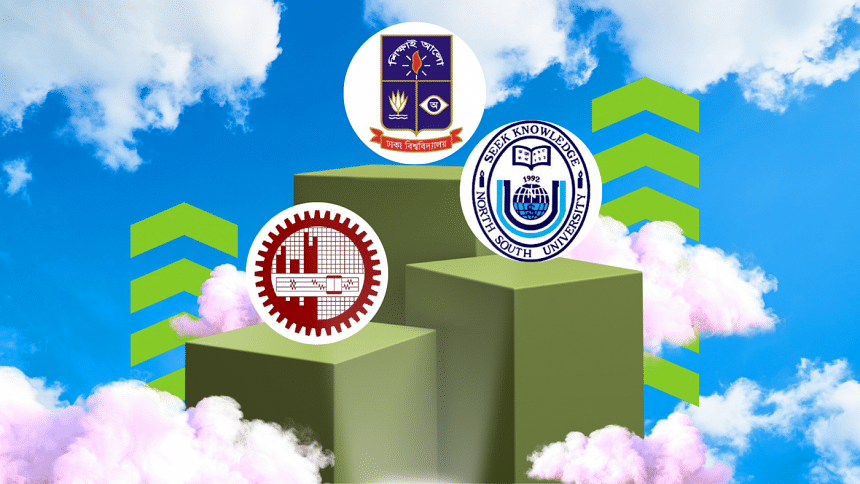 Whenever a new university ranking list is released, social media feeds for students of the respective institutions light up. Facebook groups are flooded with posts regarding the exciting news, followed by emails or phone texts from the administration congratulating the student body and vowing to go higher. This is followed by a barrage of institutional pride. Students and the administrative body wear the ranking like a badge of honour and vow to take their institution to new heights. 
The pride is further compounded by the judgment criteria for these lists. As an example, take the World University Rankings 2023 conducted by Times Higher Education (THE). According to their website, 1,799 universities were judged based on 5 dimensions: teaching, research, citations, international outlook, and industry income.
After assessing the universities based on the aforementioned performance indicators, the list was finally released. From Bangladesh, Dhaka University (DU) and North South University (NSU) ranked at the 601-800 range, making them the highest ranked institutions in the nation. Bangladesh Agricultural University (BAU), Bangladesh University of Engineering Technology (BUET), and Khulna University of Engineering Technology (KUET) followed in the 1201-1500th world university ranking.
There is no doubt that achieving such a feat is definitely a source of gratification for the universities. However, do these rankings reflect the reality of the situation, or do they serve no other purpose than boosting institutional pride from world recognition?
Sure, these accolades might sound good on paper, but the truth is that the students' reality paints a different picture. As an undergraduate student of NSU, it seems as though I receive notifications regarding these achievements almost every other month. However, I have yet to see developments that these rankings talk about.
While my student email has emails congratulating the students on our institution's success, the Facebook groups for NSU are filled to the brim with complaints regarding the abysmal air-conditioning system. Students travel in the heat of summer, only to reach classrooms with minimal to no ventilation or cooling. Even though the university charges students for activity and library fees, study halls and the library itself sometimes become unbearable from the heat. The classrooms are allegedly "equipped with latest teaching aids", but what good do these aids serve if students are distracted with desperate attempts at cooling themselves?
This begs the question of what universities in Bangladesh actually DO with these rankings and the recognition that comes with them. If we were to consider the ranking criteria, the teaching environment in these universities can be quite underwhelming. What is supposed to be a nurturing environment for future academics is tainted by poorly maintained lab facilities, unhelpful administrative bodies, lack of proper research opportunities or funding. Universities ranking considerably higher in these lists certainly have the resources to improve the academic and research facilities, but they are rarely put to use.
As for the student body itself, which represents another key statistic in these rankings, population trumps diversity. Even in 2022, there is still an alarming lack of diversity in private universities, as the pool of students hailing from different ethnic, religious, financial, etc. backgrounds is still severely low.
Financial feasibility could be a factor in low diversity. In private universities like NSU, scholarship opportunities are still low. On the other hand, Independent University Bangladesh (IUB) may have a slightly more diverse pool of students due to its generous scholarship opportunities. Be that as it may, students from different backgrounds are still massively outnumbered by the majority ethnic and/or religious background.
On the other hand, public universities may have a more diverse student body. However, these universities have their own unique problems. Rarely a week passes without news breaking of controversial incidents or severe mismanagement. As a recent example, a rally organised on Dhaka University grounds to commemorate the third death anniversary of Abrar Fahad was ravaged by an attack from Bangladesh Chhatra League (BCL). Accounts of ragging, extended session jams, harassment from seniors, etc. regularly permeate social media platforms but eventually get swept under the rug.
At the end of the day, we can't blame individuals for taking pride in these ranked lists. However, it should be coupled with the need to make improvements to the universities. After all, what good is institutional pride if the students have little to be proud of in reality?
Fatima Jahan Ena is a sub-editor at SHOUT.