Dhaka: An unwalkable city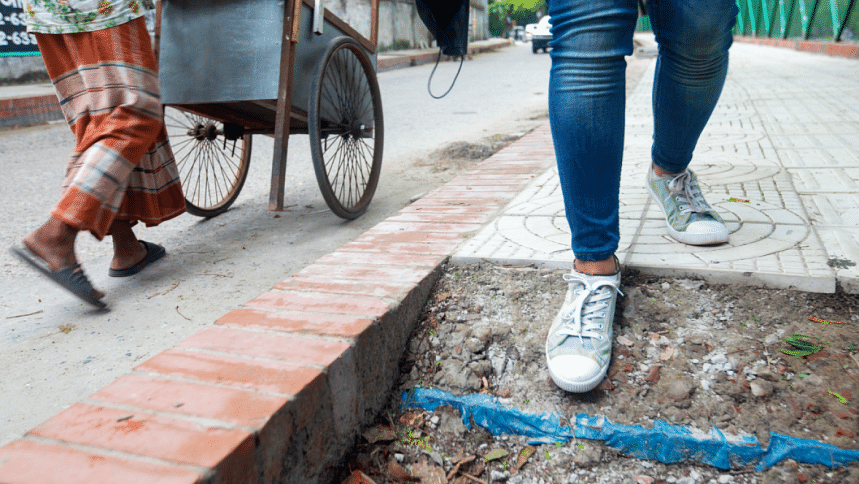 This should sound relatable – you get out at 8 AM to attend a 10 AM class, attend the two classes for the sake of attendance and by the time you start for home around lunch hour, the entire city is stuck. The bus hasn't moved an inch in the past 15 minutes and so you start walking under the heat, only to realise, there's literally no space on the road.
Whatever hint of pavement that's left is either occupied by vendors or construction materials. Standing in between a CNG and a bus, behind a queue of five people in the middle of the road as someone parkours his way over rickshaws, you realise that you, a pedestrian, is the last priority in your city's urban planning.
How people choose to move within a city is intrinsic to the quality of life in it. In a heavily vehicle-oriented era, a walkable community is considered a true, liveable one.
A walkable city prioritises its pedestrians over motorised vehicles in urban planning.
"I often walk home at night after my tuition. With broken footpaths and no street lights, it makes the entire experience difficult and quite frightening," shares Eftekhar Rahman Efti, undergraduate student at Bangladesh University of Textiles.
"Things get excruciatingly painful when you have uncovered manholes and drains. I fell into one of these manholes near Moghbazar one night. Thankfully, I grabbed onto the edge and somehow survived the fall but since then, I've been avoiding the footpaths in that area, taking the main road instead," he added.
The key factor impacting a city's walkability is the availability and quality of pavements. However, in Dhaka, roughly 515 kilometres of pavement are available in contrast to the necessary 2,600 kilometres. Most of the pavements are uneven, crooked or consist of uncovered drains and manholes.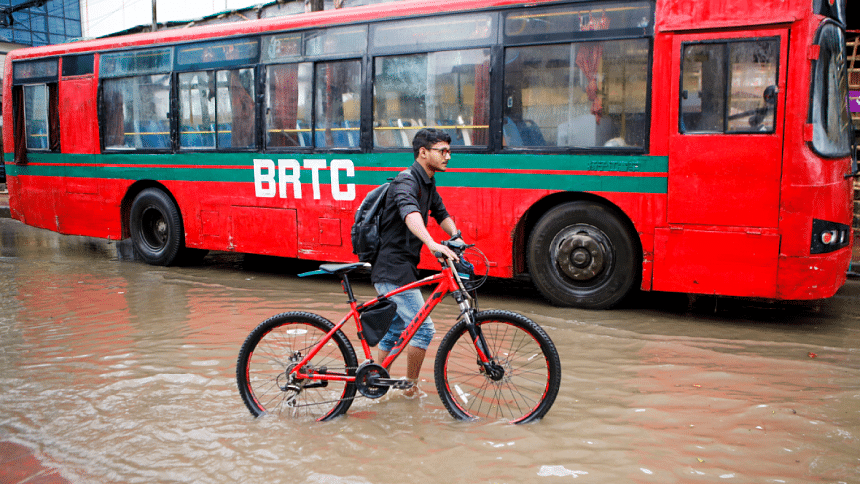 If you do find a free section of pavement, chances are it'd be occupied by construction waste, litter, roadside hawkers or stalls. Inaccessible pavements force pedestrians like Efti to use main roads for walking and cause numerous accidents each year.
Another massive issue regarding the walkability in Dhaka is water congestion. The sewage drains are often uncovered or unstable.
"During rainy season, the road beside our house gets hazardous. With the roads filled up with water, you can't even see what's under your feet. You can't tell which is a small pothole and which is a manhole," explains Holy Cross College student Nuzaima Islam Arunima, adding, "With water from drains, road-side garbage and rainwater blocking the streets, I don't even know what I'm stepping on."
In areas like Mirpur, Malibagh, Jatrabari and most of South Dhaka, water congestion makes walking a horrendous experience and one that literally poses danger at every step.
Maximum intersections have been engineered to maximise vehicle flow and allow vehicles to take turns at high speed. However, this attempt at reducing traffic congestion negatively impacts walkability by lengthening the crossing. Most of the busy streets lack foot over-bridges and the ones available are either filthy, taken over by the homeless or deemed unsafe for pedestrians.
Efti, for example, doesn't prefer using foot overbridges because of safety concerns, especially when he's returning home at night.
"I return home late and always avoid over-bridges, because it's a hotspot for muggers, pickpockets and all sorts of creeps. Even if it's a busy intersection like Moghbazar, Bangla Motor or Ramna, where there are always fast-moving vehicles, I end up parkouring my way across the traffic rather than facing the risks of getting mugged."
With pedestrians having to make choices like these, the causalities only keep on increasing. According to the statistics of the Accident Research Institute of BUET, at least 43 percent of those who lose their lives on the roads are pedestrians.
The scenario is much worse for women, like every other aspect of our country. In the crowded footpaths of Nilkhet or the deserted lanes at night, the streets of Dhaka have been nothing but unsafe for them. Be it the sickening male gazes, the fear of being groped on a busy footpath or much worse consequences reported in the news every other day, Dhaka's inability to provide a safe environment for its female pedestrians only adds to its infrastructural shortcomings.
Rezwana Saima, undergraduate at Dhaka University, shares, "I have this fear of getting teased or touched by strangers in a busy street, the thought constantly at the back of my head. Usually, I can just take a rickshaw or the bus, not that those are safe options either. But with the unbearable traffic jam these past weeks, walking's been more of a necessity for me to be on schedule. And the fear doesn't help."
Saima feels that she has to think twice before going out for a simple walk, "Let alone going out for a walk around my neighbourhood at night, I have to think before going out to buy medicines or groceries even. Why would I have to depend on a male figure for something as simple as buying medicines?"
Pedestrian amenities are viable in making a city walkable. Public toilets, benches at regular intervals, trashcans, fair amount of greenery – these are fundamentals in creating a walkable community. The absence of trash cans is one of the most common complaints among pedestrians, especially in South Dhaka.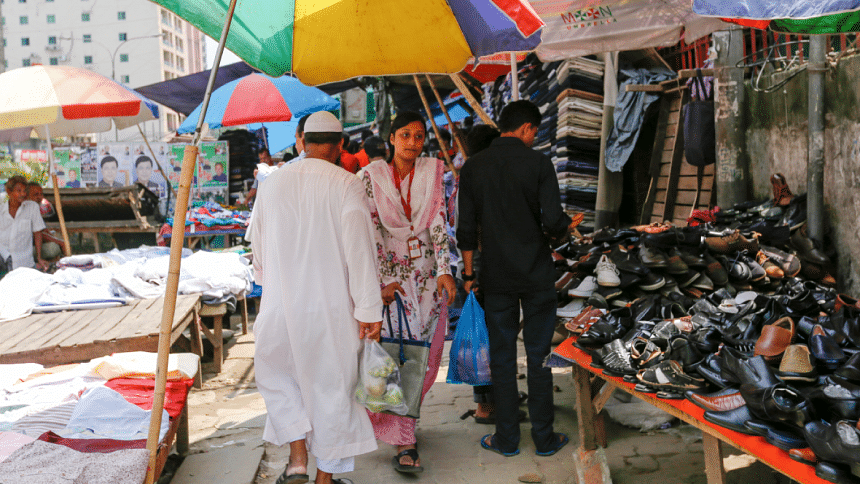 While a walkable city should have 25 percent of greenery, Dhaka only has five percent according to data from 2017. Inefficient street lights, lack of drinking fountains or curvilinear cuts in the footpaths for the disabled prove that Dhaka is a city designed keeping automobiles in mind although 19.6 percent of its trips are made on foot; the number is a whopping 37.2 percent in greater Dhaka Metropolitan Area.
On a quiet Saturday afternoon, those brief five minutes on Minto Road when I don't have vehicles storming up with loud horns or anxiety peeping over my head on how to cross the road, I sense a hint of pride in being a pedestrian. Walking, for countless others like me, is more than just a mere transportation alternative. It helps me look closer and comprehend this quintessential mess that is Dhaka.
I stand quietly in this urban jungle and tell myself that I was here before the chaos and the foggy dust took over. This city belongs to me, a young person.
References
1. Debra Efroymson (August, 2011). Dhaka's BRT Walkability Strategy - Ensuring that Dhaka's Transportation Infrastructure is Pedestrian-Friendly.
2. bdnews24.com (March 26, 2019). Space on Dhaka walkways shrinks as shops, trees or construction encroach them.
3. The Daily Star (September 30, 2019). Why not a national footpath policy?
Remind Ifti to be quieter at [email protected]