BKSP: The commute from hell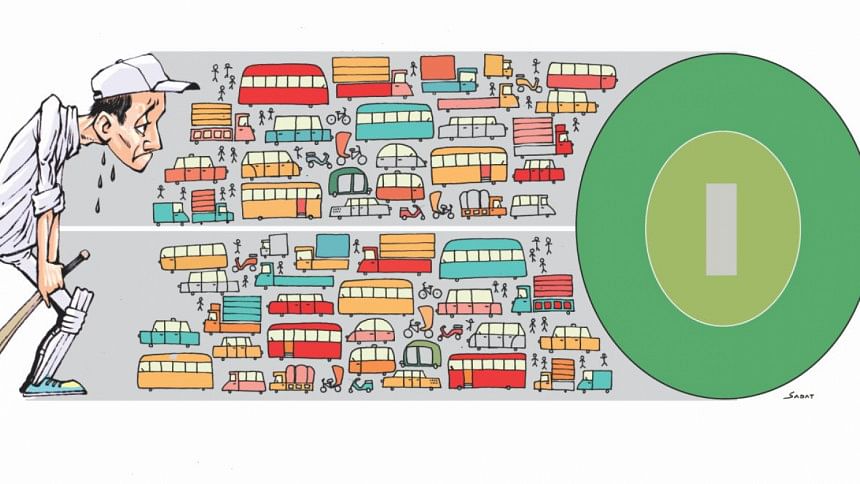 If a player is extremely lucky, a 50-over cricket match will take 14 hours of his time. Under normal -- many may say abnormal -- circumstances, however, it takes about 16 to 17 hours.
A cricketer has to start his preparations from the wee hours of the morning and even if he starts his journey at 5:00 am, there is no guarantee that he will reach the venue before the start of the match at 9.30 am.
But don't be too alarmed about the morning odyssey, because what awaits him in the evening is nothing short of a horror story. Starting at 6:00 pm after the end of the match, he may even need three hours to travel three kilometres and then reach home at midnight. At least then he may feel relief wash over him at having reached home safely to see another fresh morning in his life, because he lives in a time when casualties from road accidents have become almost an everyday affair.
But Alas! His utterly exhausted body will not allow him to think about other than going to bed for a restful sleep -- a prospect that seemed the stuff of fairytales mere hours (or a kilometre or five) earlier. Cricket has thus become a secondary matter when it comes to playing at BKSP because of the unbearable pain caused by severe traffic congestion created at DEPZ on Nabinagar-Chandra road. Once an attractive cricket venue nestled in a tranquil sports institute, BKSP has now become a nightmare for players, officials and journalists due to the rough ride on the road.     
In a Facebook status on April 15, Zahid Reza Babu, official of first division cricket club Udyachal Cricket Club wrote on way to returning to Dhaka after his club's match against City Club: "Coming from BKSP to Dhaka means spending one year in jail. Could cross, at this moment (8.15pm), only 3km after starting at 5pm."
"We woke up at 4:00 am and started off at 5:00 am from Mohammadpur to play our third match at BKSP against Orient Sporting Club, and by 8:00 am we were stuck at EPZ. We started to walk but could not reach on time, so we informed the umpires over phone. The game eventually started at 10:00 am. And it's better not to say what happened on the way back. We feel lucky if we can reach home at 11:00 pm because players of Victoria Sporting Club reached Dhaka a few days back at 3:00 am after having started at 6:00 pm. We have to play a match after a day's break [on Saturday] and when you need to come to BKSP for consecutive matches, you can understand the pain. It's not cricket but the horror of the journey that is playing on the players' minds," Muklesur Rahman Tuhin, a Pegasus player shared his experience with this reporter after yesterday's match against Orient at BKSP.
"I don't even dare to go to my favourite venue [BKSP]. Under such a dire situation a team can play proper cricket only if they stay there [BKSP] overnight, but unfortunately, for many clubs it's not possible to meet the high expenditure for accommodation and food at BKSP. On the other hand there are some rooms under BCB's [Bangladesh Cricket Board's] control but only a fortunate few receive that benefit," said Pegasus official Syed Ali Asaf.
Another club official, on condition of anonymity, echoed the sentiment. "Yes, due to the constraints of venues we have to play at BKSP, but commuting there is a pathetic experience. And it feels really bad when a few clubs get undue advantage in accommodation."
When asked about the complaint, in-charge of Cricket Committee of Dhaka Metropolis, Towhid Mahmood said: "We realize the situation because we also went to BKSP several times and we know how painful the journey is, but we are helpless. We have to finish the league and we will not be able to finish the league if we don't play matches at BKSP. We are accommodating a few teams but there is no way that we can accommodate 100 players and officials at a time. True, initially there was some mismanagement in room allocation but now we provide it on the basis of first-come-first-serve."
In the end, everyone is however searching for an answer: why is a minimum of 10 hours needed to make a return trip totalling 60 kilometres?