Cruella: Enough Originality to Entertain Everyone
I'm long past the age where I get excited about Disney movies, but Cruella's trailer intrigued me enough to give it a try. After the success of Maleficent, another villain origin story seemed to be in the cards for Disney. While Maleficent mostly relied on Angelina Jolie's captivating performance to engage its audience, in Cruella both the Emmas demand attention anytime they're on screen. It also helped that Cruella de Vil's origin story wasn't widely known like Maleficent's, which was basically a retelling of Sleeping Beauty.
The movie follows Disney's classic 101 Dalmatians villain Cruella de Vil's journey from a mischievous orphan to a diabolical fashionista. Like most villain origin stories, this one also provides a tragic background tale to its lead character, and a series of misfortunes that drives them to their dark destiny. It gives off strong The Devil Wears Prada vibes right from the start, complete with the neurotic nightmare of a boss, who is worshipped by everyone.
Cruella's excellent sense of style and the story's backdrop of a couture fashion house makes it a visual treat for fashion fans as well. Even though the iconic villain mostly dons all-black outfits, each of her pieces is memorable and leaves a lasting impression on viewers. There are also a lot of heists involved in the movie if you're into that kind of thing. The cinematography is excellent; the film manages to have a dark, Gotham-like atmosphere and be sleek and stylish at the same time.
Emma Stone overplays the campiness of Cruella a tad bit, but comes off very charismatic, nonetheless. She does a stellar job of switching between her meek alter ego and her villainous persona. Even the sidekicks, Jasper and Horace, seem to have personality and substance and aren't simply there to prop up their boss.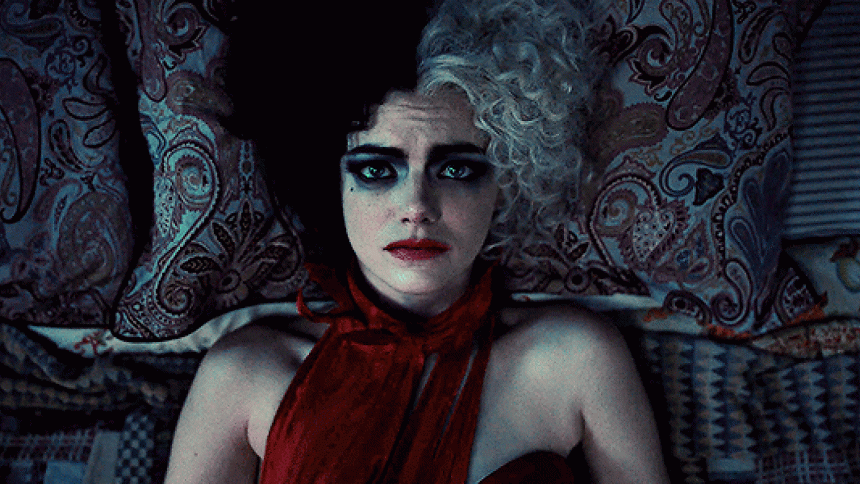 Unlike Disney's other live-action remakes, this one thankfully did not rely on pure nostalgia to succeed and actually had a developed plot that wasn't completely predictable. The element of surprise is something that is typically missing in a Disney movie (which sometimes make them a snoozefest to anyone over the age of 12), but thankfully, this live-action breaks that tradition.
However, it's difficult to tell their target demographic for this film. The story could be enjoyable to teens and adults, but a bit befuddling for kids due to its fast-paced plotlines. There was definitely room for Cruella to be more evil, considering this character was infamous for wanting to harm puppies for making coats out of their fur. But then again, Disney probably wasn't ready to disregard all their decorum in one go.
Minor spoiler ahead:
The best part of these origin stories is that you get to see the bad guy/girl win for once (albeit against another baddie), and the movie ends on a satisfying note for those rooting for the titular villainess.
Ziba Mahdi is your resident pessimist. Cheer her up at facebook.com/ziba.mahdi.735