Can we bring back Rupkothar Golpo?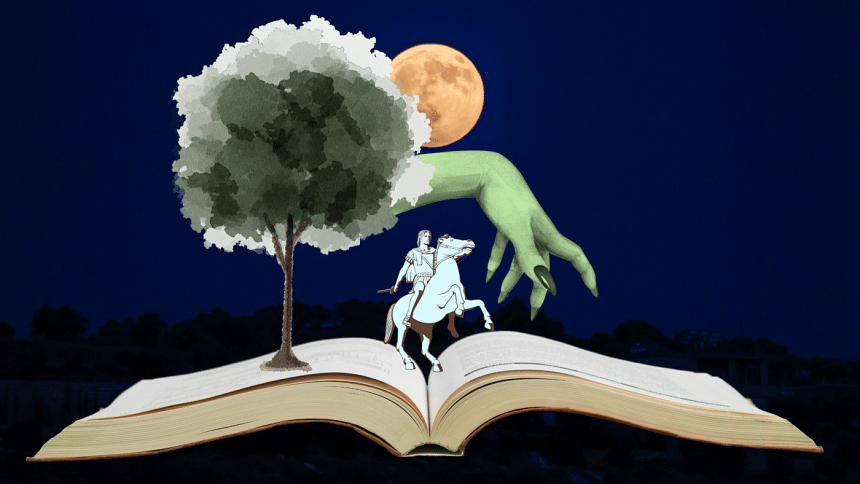 There are many things about my childhood that I fondly look back upon. Rather high up on this list is the fact that I was able to retreat into a magical world of fantastical tales whenever I wanted. This world was readily available to me in the form of richly illustrated storybooks. I didn't have the experience of hearing these tales from my grandmothers like children did in the olden days, but being a tiny bookworm gave me access to this world that was my very own closet to Narnia. Or in this case, my gateway to a "Rupkothar Rajjo".
From that point onward, anything was possible. A rakkhosh holding a princess captive, brandishing gold and silver sticks to cast a sleeping spell, a palace swarming with snakes yet filled with treasures, a king tortured by a thousand needles for his broken promise – these stories are all as magical as they are surreal. Not any less enchanting than Alice in Wonderland or Grimm's fairy tales, and yet, they're becoming less popular as time passes.
When I talked to my friends about this, I realised that many haven't had the same experiences with these stories as I did. Some of them vaguely remember a couple of popular stories, while others know nothing about them. Then there are much younger children, who are even farther removed from this magical world. These kids are more familiar with western fairy tales than they are with local narratives. 
If we look at the current pop culture scene, it's obvious that foreign fairy tales have had a massive impact on the fantasy genre as a whole, whereas Rupkotha has failed to do so. Before I proceed any further, it's important to mention that I don't think appreciation of foreign fairy tales and fantasy is a bad thing. I simply believe that Bangla fairy tales have similar, yet unexplored, potential.
There's a fine line between fairy tales and folktales that we often seem to blur. Folktales are passed down verbally, whereas fairy tales are written down. Either way, the fantasy elements of Rupkotha exist both in fairy tales and folktales. Folktales in general, are heavily influenced by religion and regimes. The influence is obvious from the wide range of tales that are popular here. Arabian Night is one glaring example, as they were compiled in the golden age of Islam and Islamic rule in India starting around the 1500s. When we look at popular tales that feature demons, deities, and mythical creatures, the influence of Hindu mythology is crystal clear.  
Once having been a part of India, we have many cultural overlaps and Rupkotha is one of them. There are indeed elements of Rupkotha in West Bengal shows and movies. There are even some old Bangla films that incorporate fantasy elements, but we rarely see such additions in contemporary movies. Even in Bangla fantasy literature, Rupkotha elements are scarce. The fact that the fantasy genre isn't contemporary Bangla literature's strong suit might be a contributing factor.  
There are brilliantly executed literary examples that prove that Rupkotha has the promise to aid in the creation of fantastic worldbuilding. One such example would be Udash Rajkumar by Sunil Gangopadhyay— a brilliant story that has tropes designed to win the hearts of readers. Threading together a revenge plot, a capable queen, an eccentric king and a fight for the throne, the novel is everything that a contemporary reader can ask for.  
The book is a perfect example of why I believe Rupkotha can be used to spin up amazing fantasy tales. You have capricious kings aplenty, a whole species of intelligent Rakkhosh with magical abilities that have their hierarchies and social system, mythical creatures, talking animals, and so many other intriguing components. If such adaptations were more popular, we would have a fantasy world that is both appealing and relatable to our youth.
The problem begins with how we don't have many palatable forms of consuming these stories. When I recently revisited the book, I realised it was written in rigid Shadhu Bhasha. While inhaling Bangla books from a young age helped in being able to comprehend them, the language is not exactly easy for small children. Moreover, people have an inclination towards consuming visual media, and we don't have much other than Thakurmar Jhuli. 
So, is rupkotha eventually just going to fizzle out? Should we let it die out like many other valuable cultural elements of our own? Is there any way to revive it?
I believe the answer to the first two questions should be negative. The third one is trickier to answer. While it's easy to say that Rupkotha can become source material for fantasy worldbuilding, it takes considerable skill to incorporate in both text and visual forms of media. There also needs to be an active effort to familiarise the younger generation with these stories, with simplified language.
The part of me that grew up with the comfortable warm blanket of these stories gives me hope that it will be rejuvenated one day. After all, it would be quite a shame if Warfaze was right all along about Rupkotha having to end.
Zabin Tazrin Nashita hates Mondays and loves lasagnas, but is unfortunately not an orange cat. Hear more about her woes at: fb.com/zabintazrin.nashita