Bangladeshi cricket fans should learn to behave themselves in the stands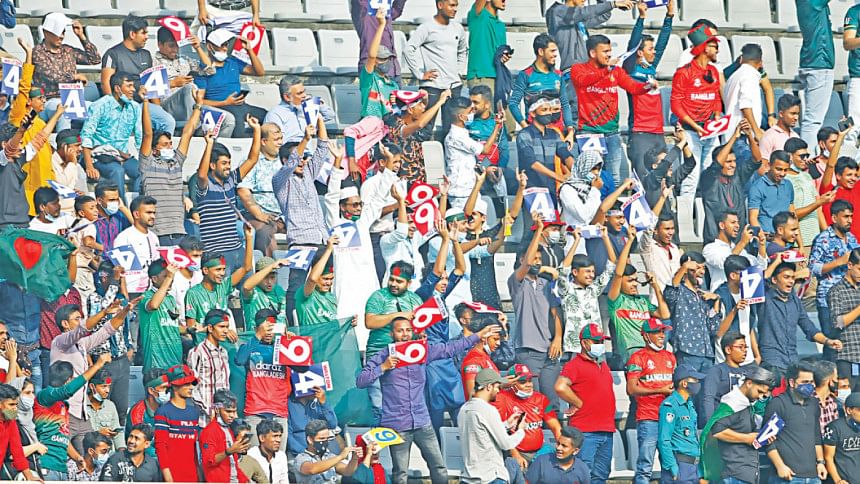 In the last over of the 2nd ODI between Bangladesh and India, things turned ugly in the VIP stand. Two Indian fans allegedly got into a scuffle with a group of Bangladeshis over an abusive comment made towards India.
According to reports on social media, there was heavy police presence nearby, but they barely did enough to defuse the impending fight. Allegations were also made that the cops rejected the Indians' suggestion to check CCTV footage to identify the culprits who made those comments and hence, started the quarrel.
Unfortunately, rogue fan behaviour has been steadily rising in Bangladesh's stadiums for the last few years. In the many games I attended, I have seen at least one instance of discriminatory fan behaviour, with the few foreign fans in attendance taking the brunt of it.
One of the driving forces behind this alarming rise in discrimination is casual racism. Our younger demographic seems to have been desensitised to racial slurs. Fans don't think twice before saying something offensive even in foreigners' presence. In turn, it gives rise to racism and xenophobia in society.
Discrimination of any form, even as a joke, is uncalled for. Not only is it disrespectful and offensive, but it also diminishes the Bengali culture's standing as a tolerant and hospitable nation.
To uproot abusive behaviours from our stadiums, we need to return to its roots and eradicate casual racism from our society first. Bangladesh Cricket Board (BCB) can take a leading role, spreading the message of inclusivity via campaigning with star players.
In addition, fans must realise that a fine line exists between banter and bullying. Light-hearted banters actually make our experiences special as we humorously discuss cricketing tactics and players. In fact, banters are healthy to an extent as through more interaction, fans from both nations might forge friendships.
But when these banters spill into serious issues, things might turn ugly. Fans should never demean each other simply because their country's national structure isn't perfect, nor should they talk about other's religion, gender, or culture in an offensive manner just so they can get one over another to win arguments.
These instances are in direct contradiction to the ethos of Bengali culture. Discriminatory behaviour will only send out the wrong message that Bangladeshis aren't respectful of other nations, ethnicities, and cultures.
In turn, it might get us stadium bans or, worse, discourage teams or opposition fans from abroad, from touring Bangladesh altogether. The Tigers fans should be mindful of our own cultural pillars and be more welcoming to foreign fans, regardless of their nationality, gender, or religion.
Law enforcers should play a bigger role in keeping fan behaviour in check. When entering the stadium, cops should remind fans of the consequences of unruly behaviour. When inside the stadium, they should keep a sterner watch to make sure no Bangladeshi fan gets aggressive towards foreigners and vice-versa.
Fans, for their part, should listen to the BCB announcements intently. In international matches, a message blares out, telling fans the impacts of discriminatory behaviour and potential stadium bans. Sadly, no one listens to this, making sure rogue fan behaviour runs on unabated in the stands.  
Cricket is a gentleman's game which should unify nations. The spirit was evident during the 2nd Bangladesh-India ODI finale when the Bangladeshi players went straight to Rohit Sharma after his innings to console him. As fans, we should take inspiration from our stars and weed out discrimination from our stadiums and society.
Inqiad is a passionate Bucks fan and a certified Giannis stan. Contact him at [email protected]