Argentines want to support the Bangladesh cricket team to connect with Bangladeshis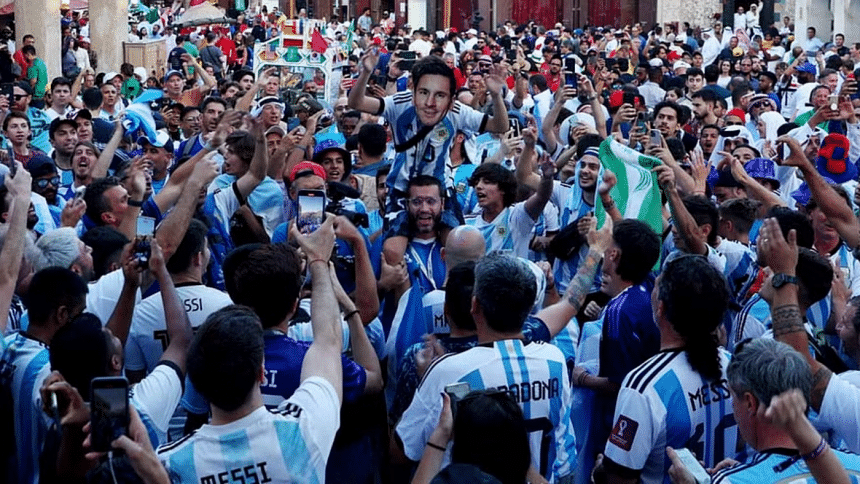 The support for the Argentina national football team in Bangladesh has caught everyone's attention this World Cup. Argentines noticed it and have decided to do something for the Bangladeshi fans as well in return.
After a suggestion from a fellow Argentine on Instagram, Dan Lande from Buenes aires decided to open an Argentine fan group for the Bangladesh national cricket team. The group is called 'Fans argentinos de la selección de cricket de Bangladesh' which translates to 'Argentine fans of the Bangladesh cricket team'.
The news of the creation of the group was shared by Dan on Twitter where the tweet went viral. The news was then shared by famous Argentine author Tefi Russo on her Instagram. As a result, many Argentines found out about the group and began to join.
The Facebook group, which opened just yesterday, currently has more than seven thousand members and is growing at a rapid rate. Both Argentines and Bangladeshis are joining the group to show love and appreciation for each other.
After seeing Bangladeshi people flocking in to join the group, the admin even made a video where he welcomes the Bangladeshi people in Bengali. 
People in Argentina barely know anything about cricket. However, that did not stop them from making this fan group. They have been found asking about where and how they can learn about cricket. Bangladeshi people in the group are sharing tutorials and videos and are using Google Translate to answer their questions in Spanish. This cooperation between the Bangladeshis and Argentines created a very wholesome mood in the group.
The Argentines are also talking about Bangladesh's performance, sharing pictures, statistics, and news surrounding Bangladesh cricket despite having very little knowledge about all these things. They are also inquiring about where they can find Bangladesh's flag and jerseys.
Despite the distance between the two countries, the language barrier, and the lack of knowledge about cricket or Bangladesh, Argentines are coming forward and are willing to bond with Bangladeshi people through cricket. Their effort to communicate their appreciation of Bangladesh despite these obstacles is truly commendable and shows how friendly they are.
Tamjidul Hoque is an Argentina fan and loves football, you can contact him at: [email protected]