3 breakfast in bed recipes for Mother's Day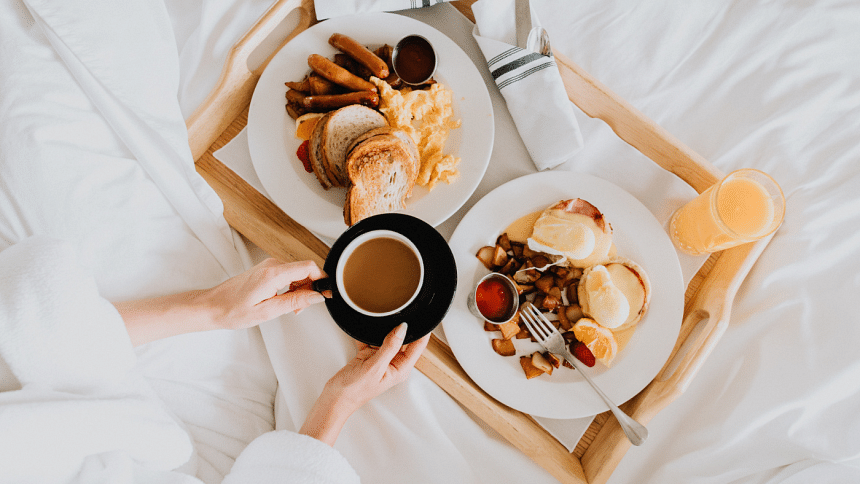 If you're still scrambling for gift ideas for Mother's Day, or looking to add an edge to your already immaculate schedule for the day, I have three words for you – breakfast in bed. 
Getting your mom breakfast in bed will be a great way to pamper her. Treat her to some delicious food and a little less hassle, something every mother out there would love to enjoy early in the morning. 
Here are three easy recipes you can try out this Mother's Day.
1. No-bake cinnamon cheesecake 
Take 4 ounces (approximately 113g) of room temperature cream cheese in a bowl and beat it with an electric mixer or a whisk, until it's soft and creamy. 
In a separate bowl, add 3/4 cup of heavy whipping cream and beat it until soft peaks form, and then add in 1/2 cup of powdered sugar, 1/2 teaspoon of vanilla extract, and 1/4 teaspoon of cinnamon powder and beat the mixture again until they all mix in.
Add half of the whipped cream mixture to the cream cheese and beat until they are smoothly combined. Repeat with the remaining whipped cream mixture. Then, pour the mix into your serving dish and flatten the surface with a spatula. 
Cover with plastic wrap and let the dish rest in the refrigerator for at least 4 hours. Your cheesecake is ready! 
Decorate with a dash of cinnamon powder and strawberry slices.
2. Watermelon Iced Tea 
Boil 4 cups of water and remove it from the heat. 
Add 5 black tea bags and let it sit for 20 minutes. 
Scoop out the flesh of a 1 kg watermelon and blend it. Pour the juice into a pan and sprinkle 1 cup of powdered sugar on top. 
Mix until evenly combined, bring to a boil and cook for 2 more minutes. 
Remove the pan from the heat now and move the juice into a glass jug, followed by the now strong black tea. 
Stir well and let it sit until cooled. Refrigerate if you want to. Serve with mint leaves in glasses filled with ice cubes.
3. Lemon Spaghetti and Shrimp 
In a large pot, boil some sparsely salted water and cook 500g of spaghetti for 9 minutes. Stir occasionally. 
Add 250g of uncooked, peeled, medium-sized shrimps to it and cook for 3 more minutes. Drain. 
In a bowl, whisk together 2/3 cup of Parmesan cheese, 1/2 cup of olive oil, 1/2 cup of fresh lemon juice, 1/4 teaspoon of salt and 1/2 teaspoon of ground black pepper. 
Pour the sauce over the spaghetti and shrimp. Garnish with basil leaves and some grated cheese of your choice and serve hot.
Do clean up after you're done cooking. It will defeat the entire point of breakfast in bed if your mom has to go clean your mess after her meal.
Hope you and your mother have a good one!
Fabiha is secretly a Lannister noblewoman and a Slytherin alum. Pledge your allegiance and soul to her [email protected]