Heat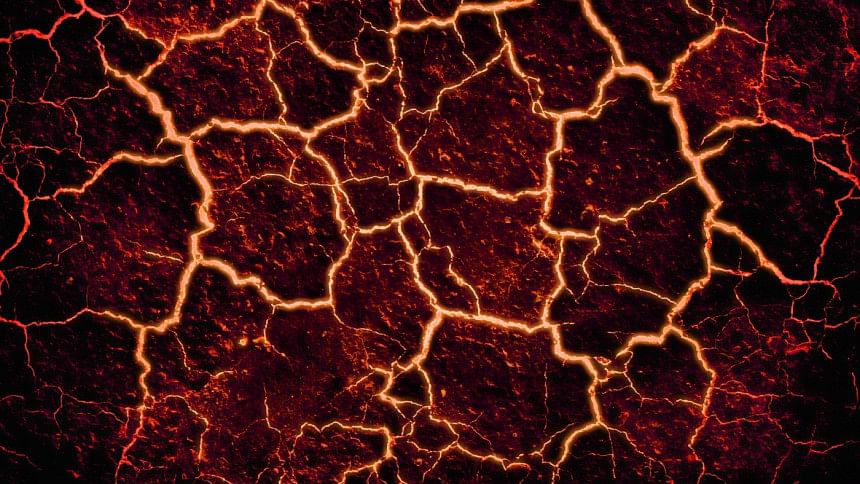 I always found the aftermath of even the lightest of rain showers to be too messy for my liking. That is, until global warming brought about a heatwave capable of causing existential crisis because you cannot discern between being alive and having melted away.
There came a point when I felt physically ill, fluid, and lethargic. Right when I gave up and felt myself begin to melt away completely, the sun suddenly moved away and I barely managed to drag any remaining solid fragments I had left of myself to my balcony in hope of catching a cool draft. On account of my poor luck, however, all I got was a floor that felt like hot coal.
Not even breaking out my handy-dandy haat pakha worked. I lay down looking up at the sky, trying to recall any rain dances I saw in movies, coming up with virtually nothing. Every time I opened my eyes, I'd see my sunlit floor and plants that looked almost as lifeless and dehydrated as I did. I kept my eyes forced shut, hiding from sunlight, until all of a sudden, a cool shade came over me.
And with that, the wind appeared, and I heard the trees whistling and swaying as the sky turned moody and grey. That was when I felt tiny drops of rain being pushed by the wind on to my face. I'd forgotten it could even rain at this point due to the drought. I figured it was probably my sweat being moved about by the wind.
I opened my eyes to see different vivid shades of green adorning the trees and plants before me, and a beautiful scent of dirt and earth wafted everywhere. This sense of peace filled my balcony, and for the first time in my life, I did not mind the rain. As every drop of rain fell, I recalled hiding underneath a library entrance with my grandfather, waiting for the rain to pass, or spending weekends with my grandmother as she'd make me my favourite food on a rainy day. I sat up and looked at how the world seemed cleaner and things reflected off of water in a manner so beautifully natural it would have been easily dismissed as something normal. I missed my family and my friends, because I realized how I spent a number of rainy afternoons discussing the lives of my loved ones and I, over a cup of warm tea.
It is astonishing how sometimes ordinary aspects of life can be so easily taken for granted, and how they impact each life differently, resulting in numerous memories over a lifetime. Sometimes global warming seems like a distant threat. But when it personally affects you and you question how long you'd be able to hold onto something you realize you wish would last forever, it is often too late for a positive change. So, if there were a time that you could start carrying out deeds to protect the environment, I'd say now would be high time.
As for myself, I have become more tolerant of the rain, enough to not mind being drenched in sudden rainfall. If, however, any downpours are expected on a regular basis, this author will be in hiding until the clouds get a grip.