IHSB hosts 8th Inter-School Bangla Olympiad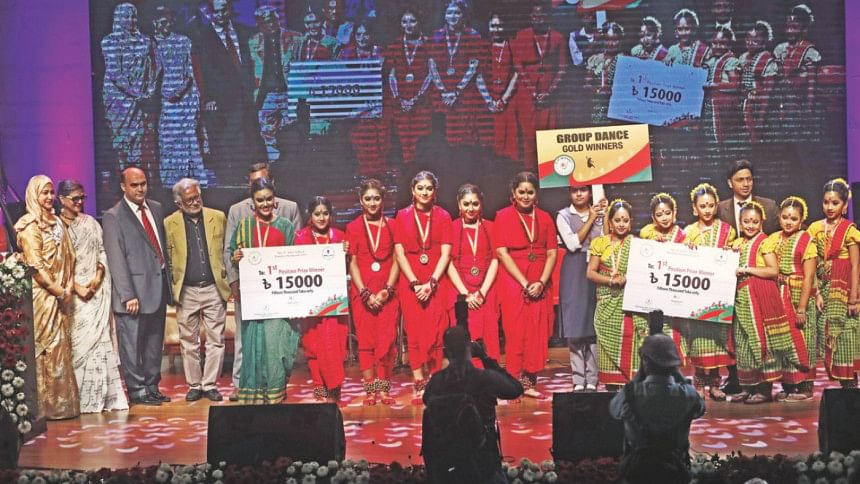 International Hope School Bangladesh (IHSB) hosted the 8th Inter-School Bangla Olympiad at their campus in Uttara on February 23, 2019. The event focused on not only commemorating the International Mother Language Day on February 21, but also on encouraging the youth to learn more about their own language and culture.
The day-long programme welcomed around 1600 students from 99 different schools – all of which have an English medium or English version curriculum.
When asked about this competition, Nazmun Nahar, Head of Pre-school and Primary Section, IHBS, said, "Everyone thinks that English medium students are not very acquainted with their own language. Through this competition we want to change this perception and we also want to help our students appreciate and explore their own culture and heritage."
The gala round of the event took place on March 2, 2019 at the IHSB auditorium, where 143 students were awarded with first, second, and third prizes from each of the categories. Roksana Zarin, Principal of IHSB, in her opening speech during the gala event said, "This competition is a great opportunity for us all to celebrate the beauty and richness of our language and culture. We hope that the competition allows our students to understand the importance of being fluent in their mother language."
Renowned painter Monirul Islam was also present during the gala round along with Yasar Savran, Chairman of IHSB.
Others who contributed as judges during the event included, Liaquat Ali Lucky, Director General, Bangladesh Shilpakala Academy; Selina Hossain, Chairman, Bangladesh Shishu Academy; Anjir Liton, Director, Bangladesh Shishu Academy; and Kristi Hefaz, Principal, Government Music College. Joining them were Bhaswar Banerjee, Jayanta Chattopadhyay, Shimul Mustapha, Ahkam Ullah, Rupa Chakraborty, Chandona Majumder, Malay Bala, Mizanur Rahman Fakir, and Ahmed Riaz.
Students took part in the mega event through six different categories – poem recitation, extempore speech, essay writing, drawing, group dance, and singing.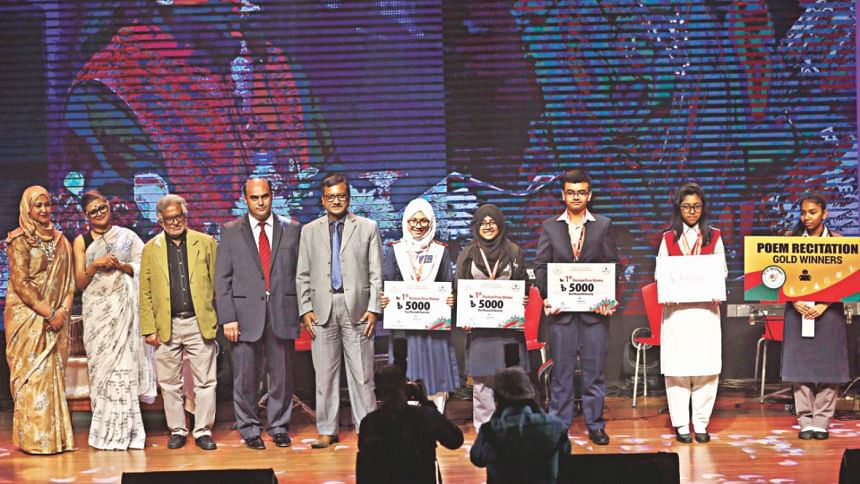 POEM RECITATION
The competition was divided into three groups - Group A: Class 3 - 5, Group B: Class 6 - 8, and Group C: Class 9 - 12. Each contestant was asked to recite a poem relating to Bangladesh. The winners of group A and B were Labiba Binte Ejaj from Academia and Mirza Aiman Iftisam from Summerfield International School respectively, while the winners from Group C were Nowshin Tabassum from IHSB and Irti Ja Alam Joyeeta from Rajuk Uttara Model College.
EXTEMPORE SPEECH
This category included students from Class 6 to 12, who were asked to give a speech on a topic relating to Bangladesh that was picked arbitrarily during the competition. Each participant was given five minutes of speech time. The first prize was awarded to Tonima Islam from Viqarunnisa Noon School and College.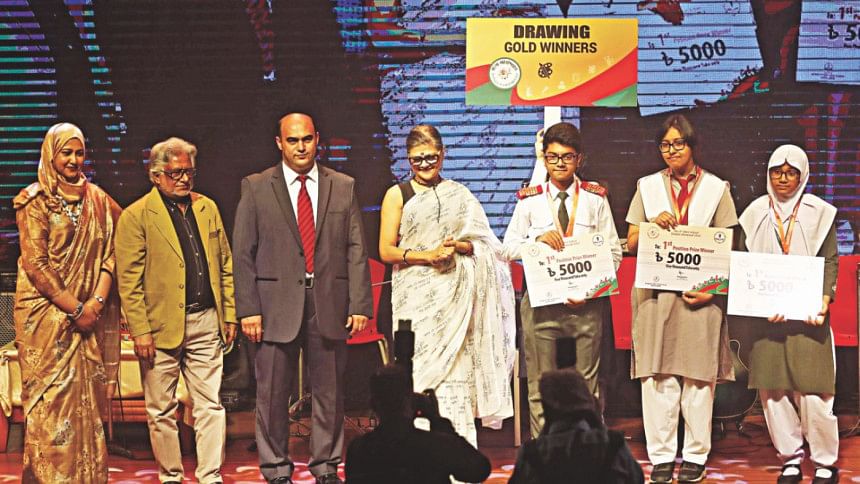 ESSAY WRITING
The competition took part in two groups - Group A: Class 6 - 8, and Group B: Class 9 - 12. A prompt was given to the students right before the competition. The participants were all given an hour to write an essay on their given prompts, with Faiza Fatema Monzur from IHSB taking home the first prize from Group A, and Azmeree Hossain from Hurdco International School winning the first prize from Group B.
DRAWING
This category consisted of the most number of participants with 430 students competing for the first prize in three different groups (Group A: Class 3 - 5, Group B: Class 6 - 8, and Group C: 9 - 12). The subject for group A was "Farmers and Agriculture of Bangladesh", with the medium being pastel. The winner from this group was Jarifa Tasneem from Manarat International School and College. Group B participants were asked to depict "Traditional Sports of Bangladesh" using pastel or poster colours, where Syeda Lemisa Reza from South Breeze School won the first prize. For Group C, Shahariar Latif from Rajuk Uttara Model College took home the first prize for his watercolour painting of Ekushey Boi Mela.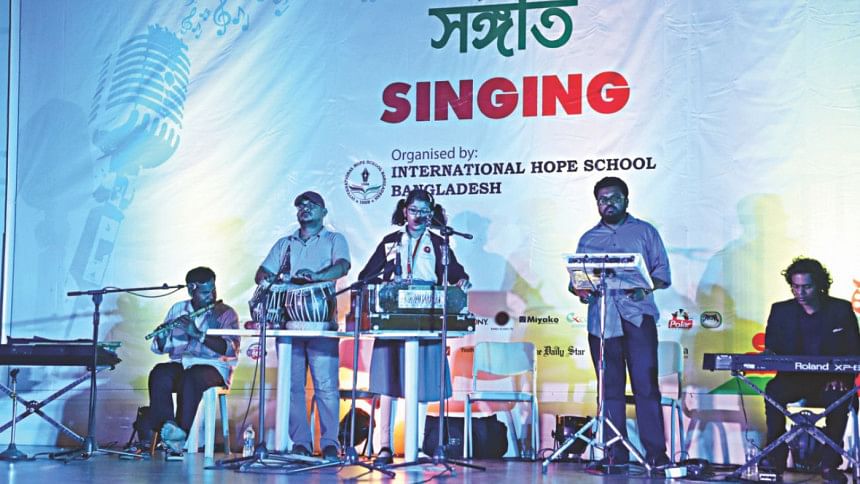 GROUP DANCE
Students competed in two groups (Group A: Class 3 to 5, and Group B: Class 6 to 12) The first prize winning teams included Aajrin Nusrat, Chowdhury Faiza, Aliyana Hoque, Adrita Das, Annasha Datta, Nibras Safeerah, Deeniti Ghosh Saha, Shayra Nawal Kabir, Aporajita Bangali, Faiza Farzana Alif, Waseka Binte Nowshad, and Samanzar Sayeed.
SINGING
This competition included a total of five groups, with two groups dedicated to foreign students. Contestants were asked to sing folk songs, Rabindra Sangeet, and Nazrul Geeti that expressed the spirit of patriotism. The winners of Groups A, B, C, D, and E were Busra Binte Tuba from Life Preparatory School (LPS), Aornob Kumar Modak from Rajuk Uttara Model College, Irtiza Anam from Bangladesh International School & College,  Diksha Jayaweera from DPS STS School, and Shaunak Ghosh from Bangladesh International Tutorial respectively.
During the gala event, Yasar Savran announced that next year, three lucky students will be picked via a lottery and will be given the opportunity to have a trip to the United States.
IHBS was the Prime Sponsor of the event and The Daily Star was the Youth Engagement Partner.